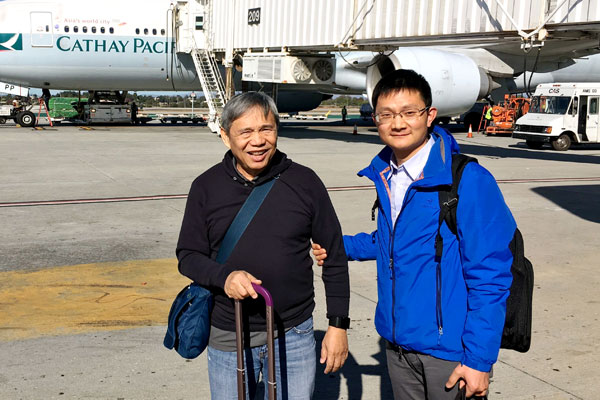 Li Nan (right), a neurology doctor from Changsha, takes a picture with the Filipino-American passenger whom Li provides first aid to after they land at LAX.[Photo by Cao Xuanxuan for chinadaily.com.cn]
  Li Nan, a neurology doctor from Changsha, Hunan province, provided first aid to a Filipino-American passenger on flight CX882 from Hong Kong to Los Angeles on Nov 23, Changsha Evening News reported on Monday.
  On hearing noises, Li sensed an emergency and came to the aid of the 60-year-old passenger, who had suffered severe diarrhea and was streaming with sweat.
  After inquiry, Li heard that the patient had just returned from a funeral and had lots of watermelon and tomato juice on the plane. After ruling out the possibility of food poison, Li concluded that the patient was in hypotonic dehydration, which resulted from tiredness of long journey, poor emotional and physical condition, and diarrhea.
  Although the drugs on the plane were mainly for heart diseases, Li managed to dispense oral rehydration salts with the help of flight attendants. The patient followed the instruction of Li and soon got better. The effectiveness impressed the whole crew members. By the time the patient recovered, they were still more than two hours away from Los Angeles.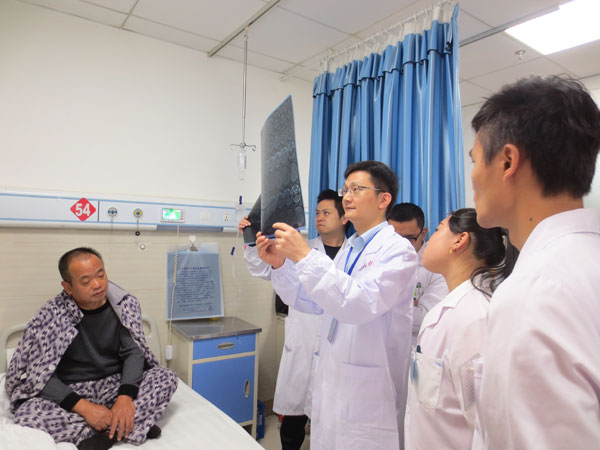 File photo: Li Nan (center) examines a patient in Bijie, Southwest China's Guizhou province. Li participated in a medical aid program there as a member of the national medical team from Xiangya Hospital in Central South University in Changsha, Hunan province.[Photo by Cao Xuanxuan for chinadaily.com.cn]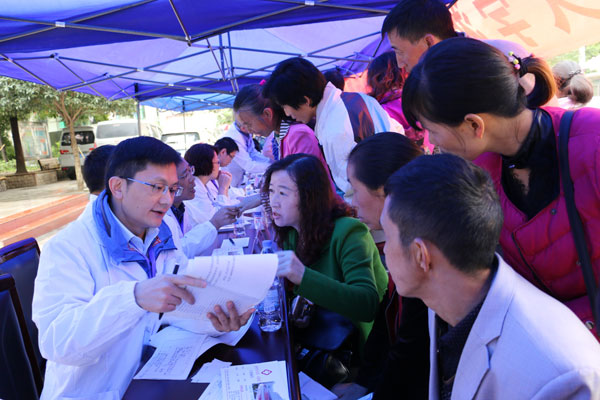 Citizens consult Li Nan in Bijie, Southwest China's Guizhou province.[Photo by Cao Xuanxuan for chinadaily.com.cn]