双语| 长沙彰显省会气度之"万亿俱乐部"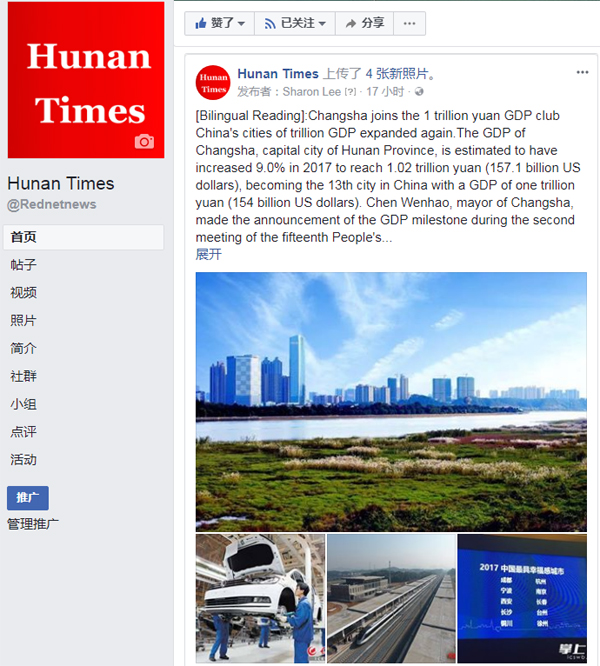 Facebook page
China's cities of trillion GDP expanded again. The GDP of Changsha, capital city of Hunan Province, is estimated to have increased 9.0% in 2017 to reach 1.02 trillion yuan (157.1 billion US dollars), becoming the 13th city in China with a GDP of one trillion yuan (154 billion US dollars). Chen Wenhao, mayor of Changsha, made the announcement of the GDP milestone during the second meeting of the fifteenth People's Congress of Changsha on January 2, 2018, reports National Business Daily. Wuxi Municipal Government announced on January 7 that it is estimated that the city will achieve GDP of 1.05 trillion yuan in 2017.
  中国万亿GDP城市再次扩围。长沙市第十五届人民代表大会第二次会议1月2日开幕,长沙市市长陈文浩在政府工作报告中指出,2017年全市地区生产总值预计达到10200亿元,增长9.0%。这是长沙、无锡GDP首次突破了1万亿元的整数关口。无锡市政府1月7日宣布,预计2017年全市实现地区生产总值10500亿元。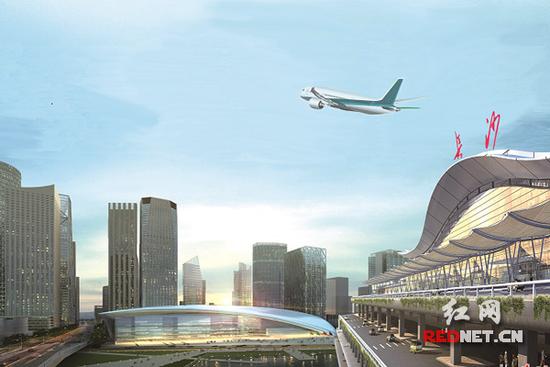 Shanghai took the lead and became China's first city with a total output exceeding one trillion yuan in 2006, Beijing passed the one trillion yuan GDP milestone in 2008, followed by Guangzhou in 2010. Shenzhen, Tianjin, Suzhou, and Chongqing joined the club together with Wuhan in 2011, and Chengdu in 2014. In 2015, the GDP of Hangzhou exceeded one trillion yuan, while Nanjing and Qingdao joined the list in 2016.
  在长沙、无锡之前,中国跻身万亿GDP俱乐部的城市已达12个。上海GDP在2006年率先突破万亿关口,成为中国首个地区生产总值突破万亿元的城市;2008年和2010年,北京、广州经济总量相继过万亿,2011年,深圳、天津、苏州、重庆一同杀入万亿俱乐部,中西部重镇武汉、成都则在2014年携手跨入;2015年,杭州市的GDP超过1万亿,南京、青岛则在2016年完成这一历史跨越。
Chongqing, Chengdu, Wuhan, and Changsha are located in China's central and western regions.The remaining nine cities are on the eastern coast in the three major urban agglomerations of Beijing, Tianjin, Hebei, the Yangtze River Delta, and the Pearl River Delta.
  分地区看,14个万亿GDP城市中,除重庆、武汉、成都、长沙位于中西部省份外,其余10个城市都位于东部沿海地区,且有9个城市(除青岛外)都处在京津冀、长三角、珠三角三大城市群内。分省份看,江苏省共有3个城市GDP超过1万亿元,数量最多,分别是苏州市、南京市、无锡市。广东省则有2个,即深圳市和广州市。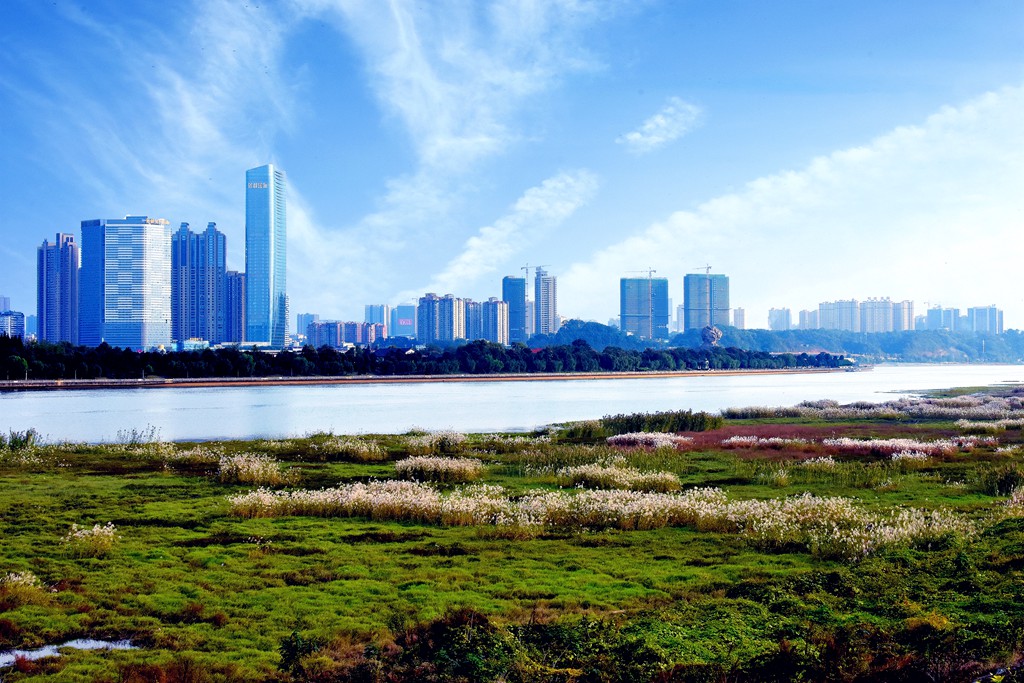 The GDP of Changsha increased by 460 percent in the past 10 years, bringing its ranking in GDP from 24th to 14th. The surging growth rate could be attributed to its modernized manufacturing capabilities, its focus on technology innovation development, and government policy support.Changsha accelerated its efforts in 2017 to become a national intelligent manufacturing center, a national innovation and creative center, and a national transportation and logistics center.
  过去十年,长沙GDP增长460%,排名从第24位提升至第14位,增速领跑全国,今年将跃升"万亿俱乐部",智能制造、科技创新、政策支持占据主导作用。
 Smart Manufacturing 智能制造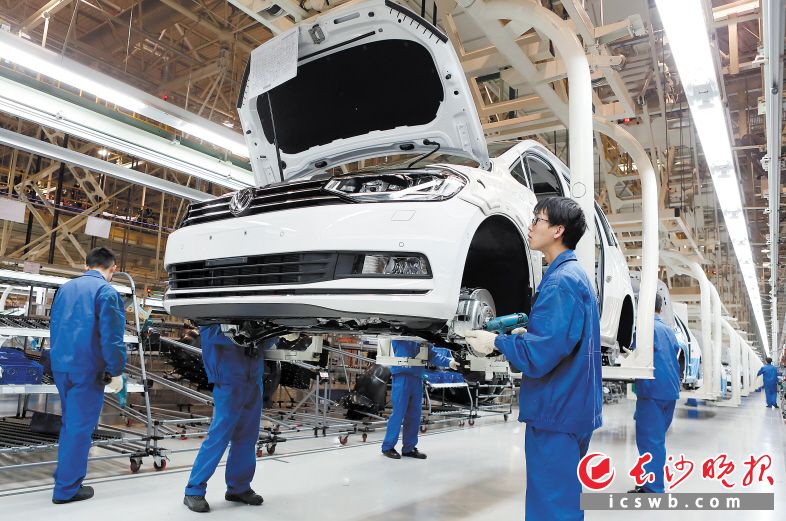 Changsha has started to upgrade its traditional industries and equip them with smart manufacturing capabilities since 2015. Changsha has started to upgrade its traditional industries and equip them with smart manufacturing capabilities since 2015. Its manufacturing sector was introduced to automatic production lines, industrial robots, database construction, and pilot enterprises in these new capabilities.
  早在2015年,长沙传统产业就瞄准智能制造转型升级,引进自动化生产线、机器换人、信息化建设、创建试点示范企业。一时之间,智能制造乘风而起,燎遍全城。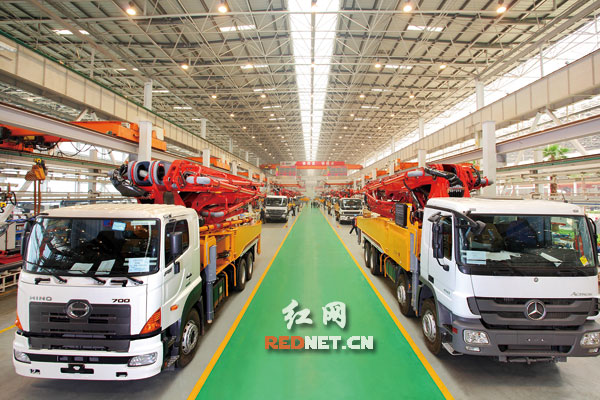 湖南智造名片:三一重工。 Sany Heavy Industry, the brand of Hunan smart
Since then, a total of 330 local companies have been named city-level, province-level, and state-level pilot enterprises for smart manufacturing. More than 20 companies have been certified as state-level pilot enterprises.
  目前,长沙的国家、省、市智能制造示范企业达330家,其中国家级智能制造示范企业及专项20个,在中部省会城市中位居第一。
Within three years, smart manufacturing made construction machinery, automobile and parts manufacturing, rail transportation, food processing, electronic information and clothing industry in Changsha have shown a continuous improvement trends.
  短短三年,智能制造释放强大活力,长沙工程机械、汽车及零部件制造、轨道交通、食品加工、电子信息和服饰等产业纷纷呈现出持续向好态势。
From January to October this year, the added value from industries above the designated scale in Changsha increased by 8 percent year-on-year. Both of these companies' added value and growth rate took the lead ahead of other provincial capital cities including Nanjing, Hangzhou and Zhengzhou, all of which have similar GDPs.
  今年1-10月,长沙实现规模工业增加值同比增长8%,在南京、杭州、郑州等同体量的省会城市中,规模工业增加值和增速均排名第一;全市新增上市企业10家,其中工业企业8家。
Innovative development 创新发展
Innovation has become the impetus for the economic development of Changsha.
  创新成为长沙经济的原动力。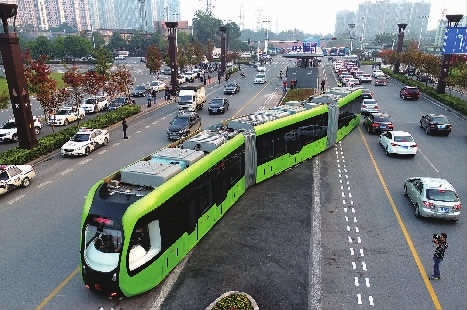 Emerging industries have given the city a much needed boost. They include industries such as new materials, mobile internet, e-commerce, auto manufacturing, big data, 3D printing, Beidou Navigation Satellite System, biological medicine, aviation and space industry, and artificial intelligence.
  近几年,长沙新兴产业持续培育壮大,呈现百花齐放之势,新材料、移动互联网、电子信息、汽车及零部件制造、大数据、3D打印、北斗导航、生物医药、航天航空、人工智能等新兴产业行业影响力持续提升。
The mobile internet industry is growing rapidly in Changsha. There are more than 20,000 mobile internet companies in Changsha, with a total of 150,000 employees and a sales revenue of more than 75 billion yuan (US$11.36 billion). The annual growth rate of the city's mobile internet industry is over 40 percent.
  移动互联网产业异军突起。长沙移动互联网企业已突破20000家,从业人员达到15万人,销售收入突破750亿元,年均增长40%以上,成为我国移动互联网领域"第五城"。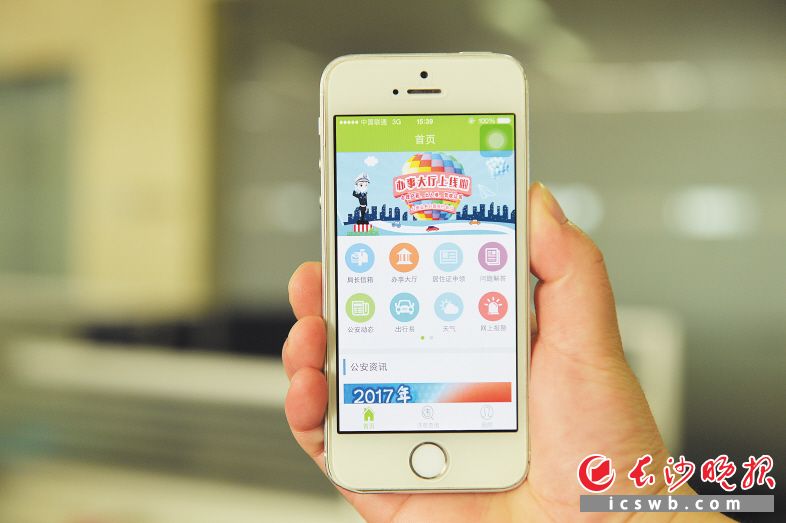 Last year, the number of certified invention patents reached 16,885 in Changsha, accounting for 60.6 percent of the provincial certified innovation patents.
  另一组数据显示,去年长沙有效发明专利数为16885件,有效发明专利数占全省的比重为60.6%,专利密度为22.7件/万人。中民筑友累计申请专利达1030件,成为行业首个"千件户"。
 Favorable policies 政策红利
The local authorities have supported Changsha's industries with new human resource and investment policies this year.
  政策红利的持续释放,优秀人才潮水般涌来。
To facilitate scientific innovation, the municipal government increased the fiscal support to science and research this August. By 2020, the fiscal investment in science and technology will reach 5 billion yuan (US$757 million).
  长沙推出科技创新政策包,实施财政科技投入倍增计划,到2020年,全市财政科技投入达到50亿元,市本级财政科技投入达到30亿元,市本级科技发展专项资金达到6亿元。
Meanwhile, the local authorities also unveiled a new human resources policy to attract more graduates. By the end of November, the local authorities had received 77,300 consultations about the new human resources policy after 100 days of its implementation. More than 21,800 graduates have received local residency and 13,600 graduates have received house subsidies from the local authorities.
  11月底,长沙"人才新政22条"落地百日,全市人才服务窗口共接待政策咨询7.73万人次,受理各类业务办理1.43万人次。其中,公安窗口办理高校毕业生零门槛落户2.18万人次,人才服务窗口受理高校毕业生租房和生活补贴1.36万人次。
幸福指数 Changsha, One of China's happiest cities
The results of the 2017 China's Happiest Cities survey are announced in Beijing, Dec 7. The city of Changsha in Central China's Hunan province is placed in the top 10 of the happiest cities nationwide for the 10th time since the survey's establishment in 2006.
  2017中国幸福城市论坛在北京举行,长沙入选"2017中国最具幸福感城市"并名列第七,这是长沙第十次获此殊荣。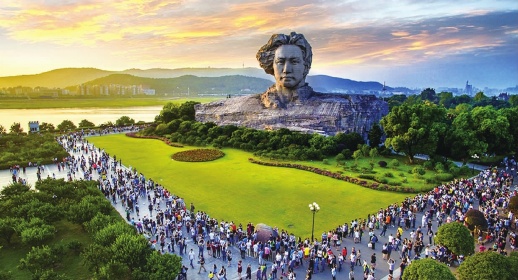 In November of 2017, Changsha launched the Green Action for the next three years. Changsha will rebuild 3000 kilometers of highway with trees from urban to rural area, along with 600 new parks, with 54.9% of forest coverage in 2019, 35% of green space rate in urban area and the green coverage rate of the built-up area to be 41% in total.
  去年11月,长沙启动新三年造绿大行动,将修建城乡绿道3000公里,新建各类公园(游园)600个,到2019年全市森林覆盖率达54.9%,城区绿地率达35%,建成区绿化覆盖率达41%。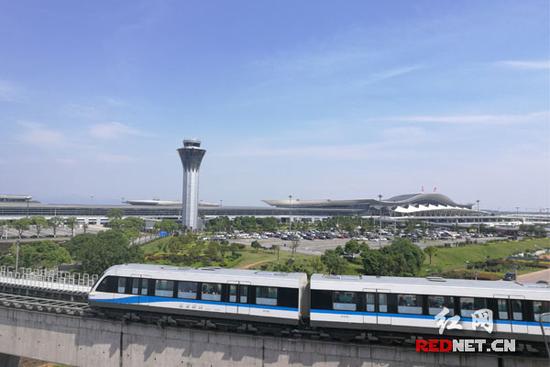 The maglev train passed under the Airport Avenue and it becomes a beautiful landscape in front of Huanghua Airport.
  磁浮列车从机场大道下方驶过,成了黄花机场前一道靓丽风景。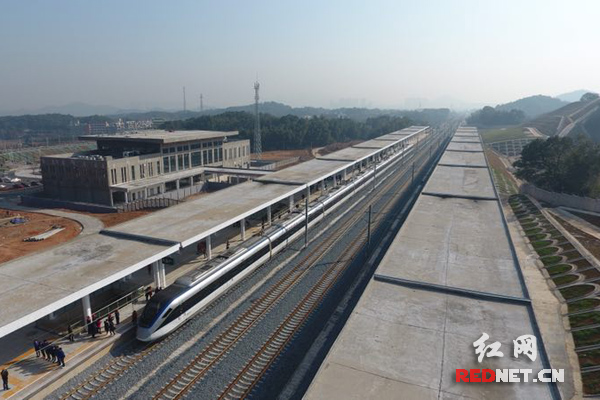 Changsha-Zhuzhou-Xiangtan Intercity Railway is opened, and all the construction projects of subway lines have been accelerated. The urban layout of Changsha has entered the era of Xiangjiang New Area and rapid transit systems.
  长株潭城际铁路全线开通,各条地铁线加快建设,长沙城市格局由"五一路时代"跨入"湘江时代",正奔跑在"地铁时代""磁浮时代""快速路时代""城铁时代"。
The increasing happiness of people's is due to the promotion of people's livelihood in Changsha. From the January to September 2017 , the people's livelihood expenditure in Changsha accounts for 77.5% of the general public budget.For the people's livelihood, the city keep making appropriate services and adjustments on policies.
  幸福指数的提升,得益于长沙民生投入持续加大。今年1-9月,长沙民生支出占一般公共预算比例达77.5%,一切为了民生,一切服务民生,让"幸福指数"跑赢GDP增速。