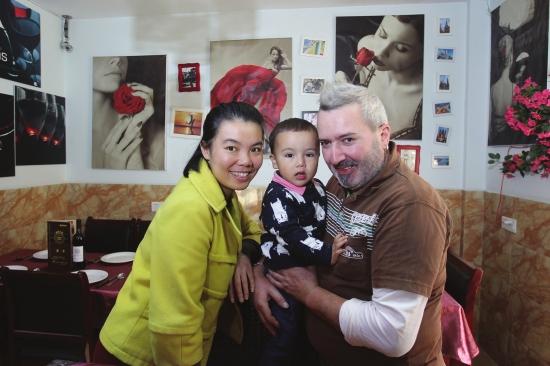 On October 26, German restaurant Mario and his Changsha wife Liu Pei, along with their 2-year-old son, opened the restaurant.
  马里奥的德国西餐厅开在小区里。门店有着"柏林小镇"几个中英文大字。
  Mario's opens his restaurant in the district where he lives. His restaurant is with a sign of 柏林小镇 (meaning Berlin Town) in several Chinese characters.
  马里奥出身厨师世家,曾在多个国家的米其林餐厅工作。10年前,30岁出头的马里奥来到中国,在杭州、北京等地游玩一圈后来到长沙。最开始,他在一家啤酒屋工作,后来被酒店喊过去当主厨,也有了更多朋友。在那里,他认识了同在酒店工作的刘佩。两人走到了一起,后来一起开了这家餐厅。
  Mario is a chef and he has worked in Michelin-starred restaurants in several countries. Ten years ago, Mario came to Hangzhou, Beijing and other places and later he settled in Changsha City. He worked in a beer house, later he worked as a chef in a hotel, where he met his wife Liu Pei who worked in the hotel. The two got married and later opened the restaurant together.
  作为一个创业者,马里奥见证了长沙的变化带给他创业上的便利。举个例子,店里的食材全部空运自德国,一般四天左右就能到达长沙。马里奥说,长沙直飞法兰克福的航班已经开通,只需要16个小时。"长沙的政府服务越来越好了","以前我们去办什么事,要排很久队,现在基本上半小时内就能搞定。"
  As a star-up in Changsha city, Mario witnessed the change that brought him entrepreneurial convenience. For example, the ingredients in the store are all airlifted from Germany to Changsha within four days. Mario said that it is just 16 hours of direct flights from Frankfurt to Changsha."Changsha government service is getting better. We used to wait for a long time for certain service, but now any service can be done in about half an hour."
  Original link: 德国人长沙开餐馆见证创业环境进步