双语|文明之间的"茶叙" 穿越千年万里探寻一杯茶的故事
  Tea tells the stories of drawing the world near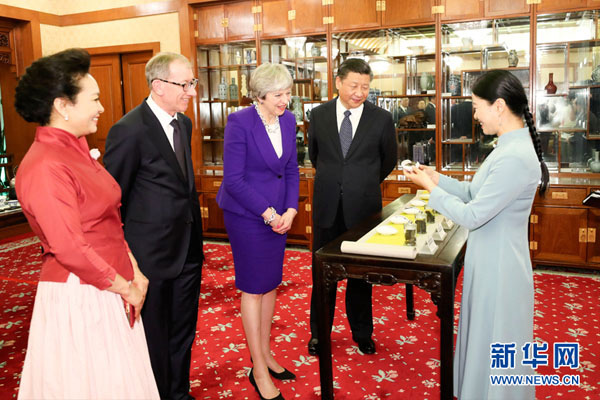 【大国茶叙】2月1日,国家主席习近平和夫人彭丽媛在北京钓鱼台国宾馆,同来华访问的英国首相特雷莎·梅和丈夫菲利普·梅茶叙。中国茶成为了当代中国向世界展现中国人品性的重要手段。
  Xi Jinping and Theresa May take part in a tea ceremony accompanied by their spouses at the Diaoyutai state guesthouse, February 1. Chinese tea become the major object to present the characteristics of Chinese and her culture.
  这不仅是外交礼仪。如果说中英两国人民最大的共同点,可能就是都爱喝茶了。早在17世纪,来自中国的茶就在英国的咖啡店出售了,"China drink"(中国饮料)成为当时风行的"奢侈品"。百年沿袭,"下午茶"成了英国人最重要的生活方式。
  The tea ceremony is not only a diplomatic protocol. The greatest common point between the peoples of China and Britain may be the love of having tea. As early as the 17th century, tea from China was sold in British coffee shops and Chinese Tea became a popular luxury of the time. For hundreds of year, afternoon tea has become one of the most important British lifestyles.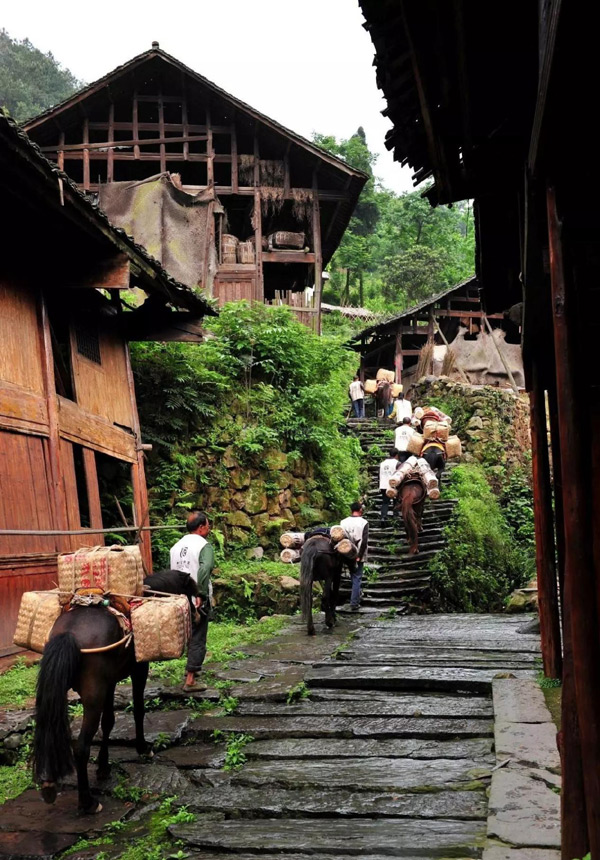 【文明纽带】哪怕生活方式和思维模式各有不同,人们总可以放下差异来"喝一杯茶"。自古以来,中国茶叶随着丝绸之路传到欧洲、逐渐风靡世界。一千多年来,跨越万里的山海之路,茶叶、丝绸和瓷器,是中国与其他文明最重要的交流纽带。
  Tea links various civilizations together
  Even if the way of life and thinking may vary, people always put aside their difference for a tea break.Since ancient times, Chinese tea had been spread to Europe along the Silk Road, later drinking tea became a global fashion. For more than a thousand years, tea, silk and porcelain had been exported through thousands of miles of the trading routes through mountains and over the seas, which became the most important link of cultural exchange between China and other civilizations.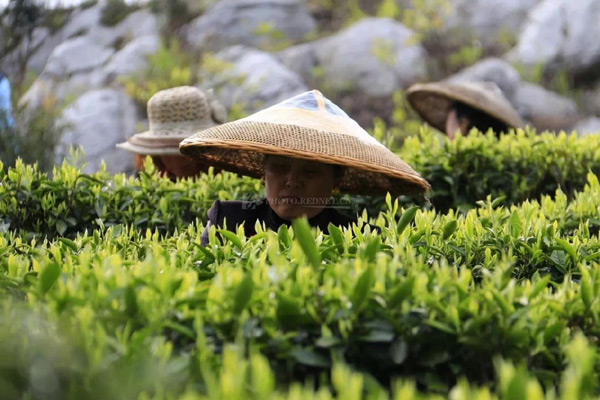 【千年茶源】
  中国是茶的故乡,相传公元前2700多年时由神农氏发现,而考古则证明3000多年前中国南方就开始栽培茶树。可以说古埃及在修建金字塔时,中国人就开始喝茶了。
  Thousands of years of Chinese tea culture
  China is the homeland of tea. Chinese Legend says that tea was discovered by Shennong-shi ( also called as "Agriculture God") before 2700 BC, and archaeologists proved that tea plantations began more than 3,000 years ago in southern China. It can be said that when ancient Egyptians were building the pyramids, Chinese began to drink tea.
  湖南是中国最重要的茶叶产地之一,其中安化县就是最重要的湘茶之源。史料记载,安化产茶自唐代开始,安化渠江产的"渠江薄片",是进献皇室的贡品。宋代,为了开展与西南少数民族"茶马互市",安化作为最重要的茶产地而设县。
  Hunan Province is one of the most important tea producing areas in China, of which Anhua is the most important place of producing Hunan tea. According to historical records, Anhua tea was the tribute to the royal families from the beginning of the Tang Dynasty, especially Qujiang Tablets Tea. In the Song Dynasty, Anhua became the most important county for tea producing due to the Tea-Horse Trading with the ethnic minorities in southwest China.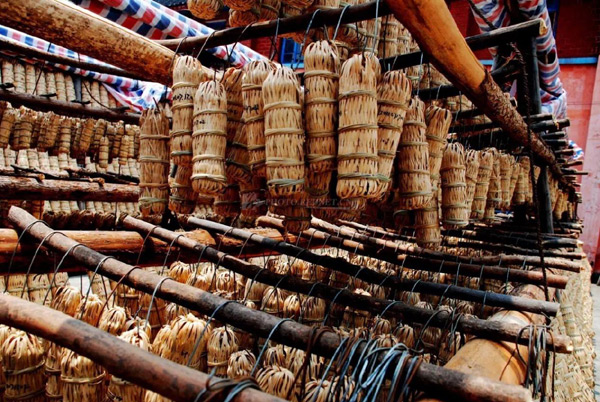 当时以"渠江薄片"为代表的安化蒸青饼茶,还不是现代黑茶。安化茶逐步形成了在初制中进行锅炒、沤堆、火焙等工艺产制的黑茶。清朝嘉庆年间,安化茶人创制了安化千两茶以及天尖、贡尖、生尖等黑茶珍品,千两茶以外形古朴大器、制造工艺特殊而享有"中国茶文化的化身"和"世界茶王"的盛誉。从此,安化和黑茶是两个不可分割的名词。
  At that time, as Qujiang Tablet Tea,the representative of Anhua tea was not a modern Heicha ( translated as Dark Tea in English) , which gradually entered the category of Heicha by the process of pan fried, piling and fire baking in the first stage of producing. During Jiaqing Period Qing Dynasty, people in Anhua created new types of Heicha such as Qianliang Tea, Anqian Tea and Gongjian Tea, Gongjian Tea, Shengjian Tea, etc. Qianliang Tea has a simple and magnificent shape which is made by unique manufacturing techniques, with the reputation of"the representation of Chinese tea culture" and "king tea of the world ". Since then, the two words "Anhua" and "Heicha" become a set phrase .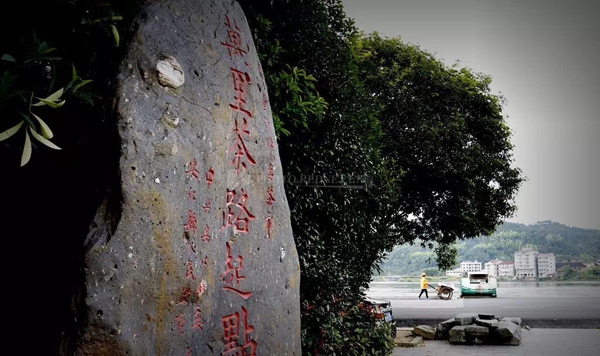 【万里茶道】
  与西南少数民族的"茶马互市"延续千年,直到20世纪,安化也因此成为湖南乃至中国中部地区的茶都。明末清初,湘茶成为西北少数民族进行茶马交易的主要商品,并大量出口欧洲,以安化黑茶、红茶尤为出名。以福建武夷山和湖南安化等产地为源头,一条横跨欧亚大陆的"万里茶道"逐渐打通。
  The Tea Horse Road
  Tea horse trading with the southwestern ethnic minorities continued for thousands of years. Anhua also became the capital of tea production in Hunan Province and even in central China, until the 20th century. In the late Ming Dynasty and the early Qing Dynasty, Hunan tea became the main commodity for tea-horse trades with northwestern ethnic minorities and it was exported to Europe in large quantities, especially Anhua dark tea and black tea. The Tea Horse Road transport tea from Anhua County of Hunan and Fujian Wuyi Mountain by crossing the Eurasian continent.
  两百多年间,安化茶农将茶叶用脚挑马驮运下山,集中于牛田驿今洞市,用竹排木排顺溪而下入资水,然后用船装运顺资水、过洞庭湖、入长江,运抵湖北汉口,然后踏上跨越中、蒙、俄三国长达13000公里的"万里茶路",传入中亚和欧洲其他国家。
  For two hundred years,Anhua tea were traded to the world. First, tea packages were carried down by Anhua tea farmers and by their horses from the mountains, to concentrate their commodities in Niutian station of Jindong City; then they transported tea by boats along the streams to Zijiang River, Dongting Lake and Yangtze River; finally the boats arrived in Hankou of Hubei Province. Those tea then were sent on the long trip of 13,000 kilometers through China to Mongolia and Russia, and later to Central Asia and other European countries.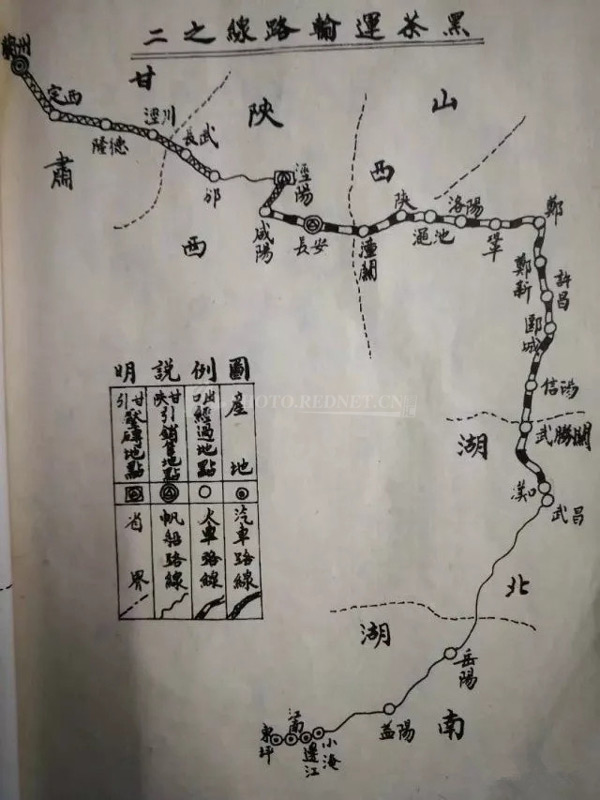 可以说,这是人类历史上最漫长艰苦的一条陆上商路。茶伴随着人们的脚步,从大山走向边疆,再从国内走向世界。漫漫茶路被日光延宕伸长,茶树枝割裂撑开另一个世界的维度。
  It is the longest and the most arduous trading trip in human history. Along with people's footsteps, tea travels from the mountains to the borders, and from the domestic to the world.
  【黑茶上盛开的金花】
  回到茶叙与文化交流。其实文明差异也会造成茶的不同。
  Golden Flower of Anhua Heicha
  Different types of tea are made and defined according to different cultures.
  以北京茶叙为例。对于英国人而言,英式红茶是"黑茶"(black tea);而在中国人看来,湖南安化等地独有的后发酵茶才是黑茶,对于英文中称黑茶为"dark tea"一直有些不解。
  We may take the tea ceremony in Beijing mentioned above as an example. British Black Tea is usually called as Hongcha (which means red tea) in China, and Chinese called their tea Heicha (meaning black tea literally ) only due to the process of post-fermentation in Hunan Anhua and other places. In English, Heicha is called as Dark Tea.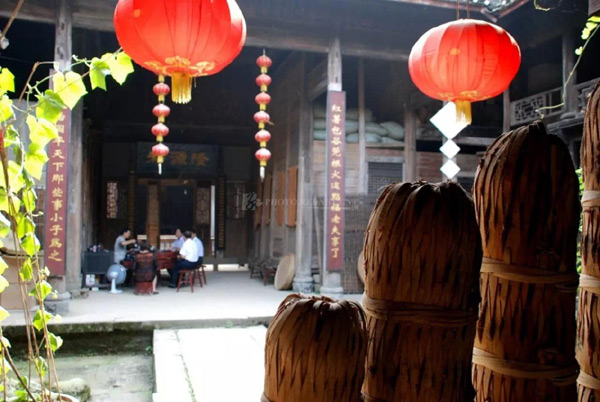 "能开出'金花'的茶叶,不该被说做dark(暗沉)吧",许多安化的茶人会这样说。在他们心目中,安化出产最有特色的好茶。把盏细品,你能在一杯安化茶里品出,千年沉蕴与万里茶路的风霜与芬芳。
  "The tea that can bloom golden flowers should not be called Dark Tea, " says many people in Anhua. In their mind, Anhua produces the most distinctive tea with their unique characteristics.One can taste the fragrance and hardness of thousands years of history after sipping a cup of tea.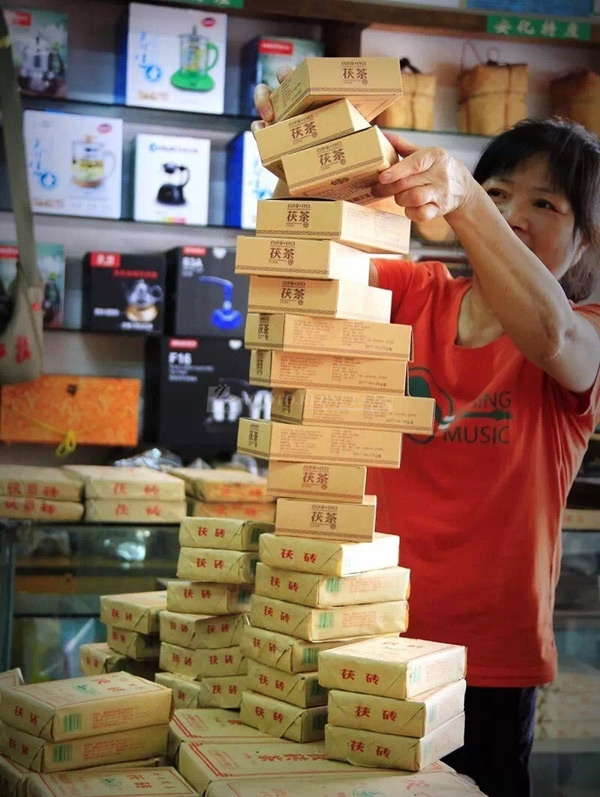 譬如"金花",采用山区大叶种茶叶,经过杀青、揉捻、渥堆、烘焙干燥等传统工艺制成的安化黑茶,会在茶砖内形成一种"金花",即冠突散囊菌。古老智慧的中国人发现在特定的温、湿度条件下,通过特定工艺能生长成一种有着多种保健功能的益生菌,其产生的黄色闭囊壳似细小花斑,均匀地附着在茯砖茶中,加上后期的转化,苦涩味逐渐褪去,生出的茶滋味醇和,更能去油腻,利消化。
  For example, Golden Flower a type of Anhua tea is made up of large tea leaves grown in mountains; after the typical processures of making traditional Anhua Heicha of killing green, fixing, rolling, piling, baking and drying, the bricks of Fucha tea will grow"golden flowers" by eurotium cristatum. Ancient Chinese found that under certain conditions of temperature and humidity, these bricks can grow a variety of probiotics, in result to form yellow shapes like flowers evenly attaching to Fucha Tea bricks. Coupled with the latter transformation, bitterness of the tea gradually fades away, and the taste goes more pure and mild, and it is good for digestion and for cutting down the grease of meals.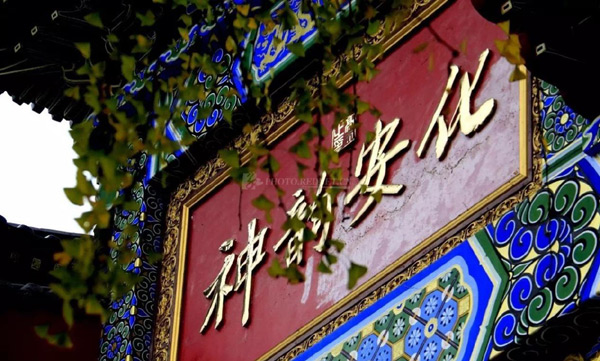 金花的细碎里贮藏了先辈们的生活与智慧,凝合而成的块状茯砖茶落在当代的茶席之间,嘎嘣一声,掷地有声,这是中国人秉持千年的信仰,平和,朴素,但有力量。
  Every "golden flower" presents Chinese ancestors' life and wisdom; Fucha Tea, the brick-shaped tea, shows the faith, the calmness and the strength of Chinese working people.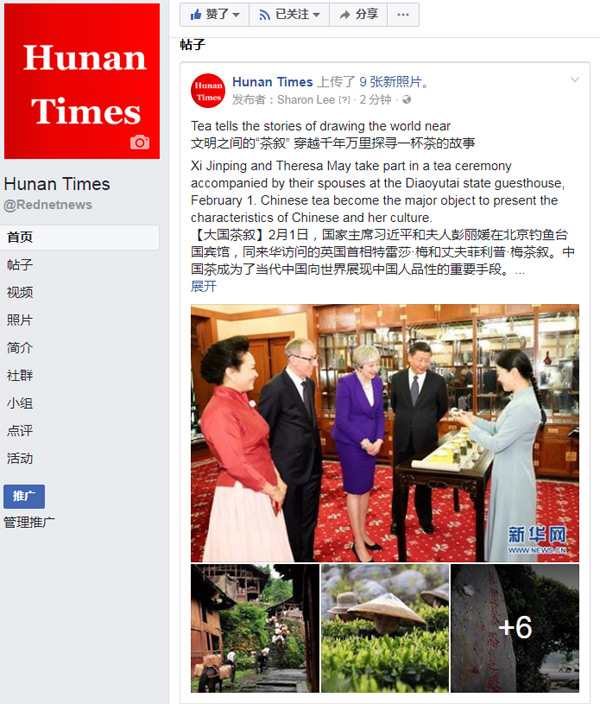 Facebook Page of Hunan Times 时刻脸书主页