常德澧县 Li County of Changde City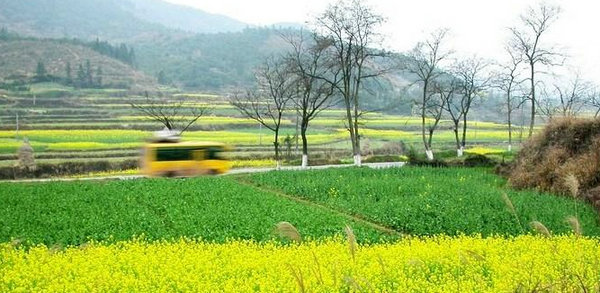 湖南最美油菜花基地,风景美不胜收。One of the most beautiful rape flower bases in Hunan, Li County of Changde City
  线路:下二广高速,沿302省道可达。
  Recommded route: Erlianhaote-Guangzhou Highway, No. 302 Provincial Highwa
  衡山县萱洲古镇
  Xuanzhou Town of Hengshan County
  沿江万亩的油菜与大气古朴的古建筑群相映成趣,其春意散发着幽幽古韵。可游萱洲古河街体验明清穿越。
  Rape flowers along the Yangtze River along with ancient buildings side by side show the charms like time travelling. Xianzhou Ancient Street has the style of Ming and Qing Dynasties.
  线路:下南岳高速,沿035乡镇公路可达。
  Recommded route:Nanyue highway,No.035 Road
  娄底双峰县
  Shuangfeng County of Loudi City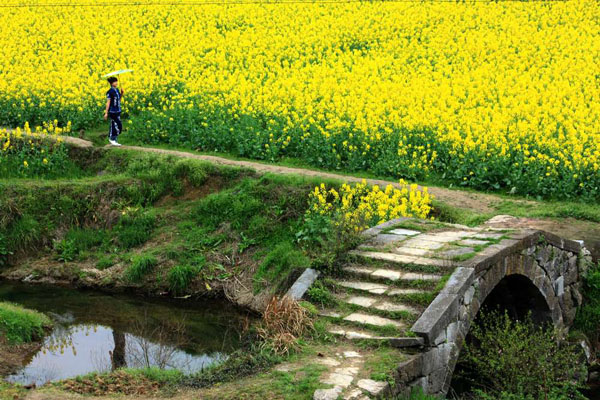 全县有蛇形山镇、花门镇、锁石镇、石牛乡等4个万亩油菜基地,看传统农耕用具表演,逛特色产品一条街。
  The county has 4 acres of rapeseed base in Shexingshan Town, Huamen Town, Suoshi Town and Shiniu Town. The performance for traditional farming to be shown during the Spring.
  线路:下沪昆高速,经210省道到蛇形山镇,然后到石牛乡,接着到锁石镇,最后到花门镇。
  Recommded route: Shanghai-Kunming Expressway, No. 210 Provincial Highway to Shexingshan Town, Shiniu Town, Suoshi town, Huamen Town.
  郴州
  安仁稻田公园
  Anren County : Rice Paddy Field Park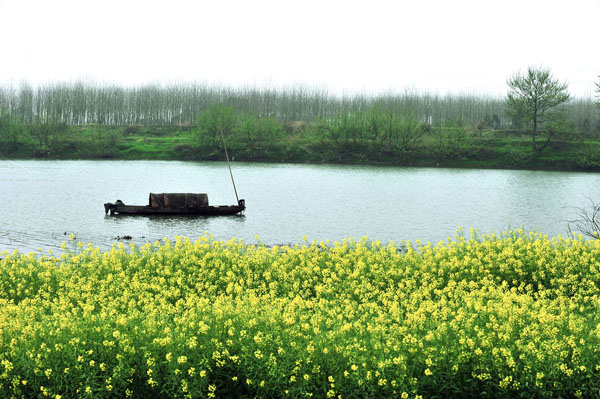 将公园元素融入稻田,与永乐江、神农景区、熊峰山国家森林公园融为一体,山、水、田园浑然天成,流连期间,恍入人间仙境、世外桃源。
  The park combines the elements of the rice paddy fields with the beautiful views of Yongle River, Shennong Scenic Area and Xiongfengshan National Forest Park, Anren County of Chenzhou City. Its harmonious view like fairyland.
  线路:下衡炎高速,经212省道到达。
  Recommded route: Hengyang-Yanling highway, No. 212 Provincial Highway
  资兴蓼江
  Zixing City: Liaojiang Town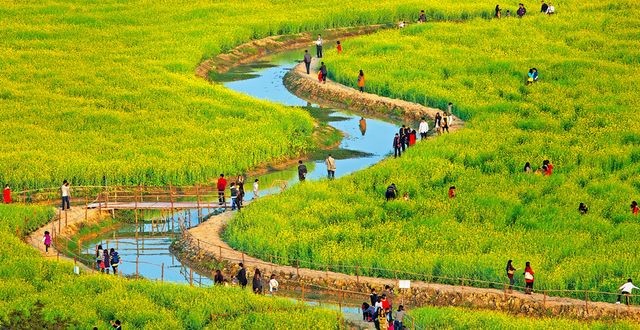 金黄花润,绚丽无边,蜂蝶相戏,花香醉人,形成一道独特的农业生态景观。
  Golden flowers with bees and butterflies form a unique agro-ecological landscape in Liaojiagn Town, Zixing City.
  线路:下京珠高速直走右转,沿工业大道进入资江公路,穿过资兴市,左转沿213省道到达蓼江镇。
  Recommded route::Beijing-Zhuhai Highway, along the Industrial Avenue into Zijiang Road, through Zixing City, turning left along No.213 Highway to Liaojiang Town