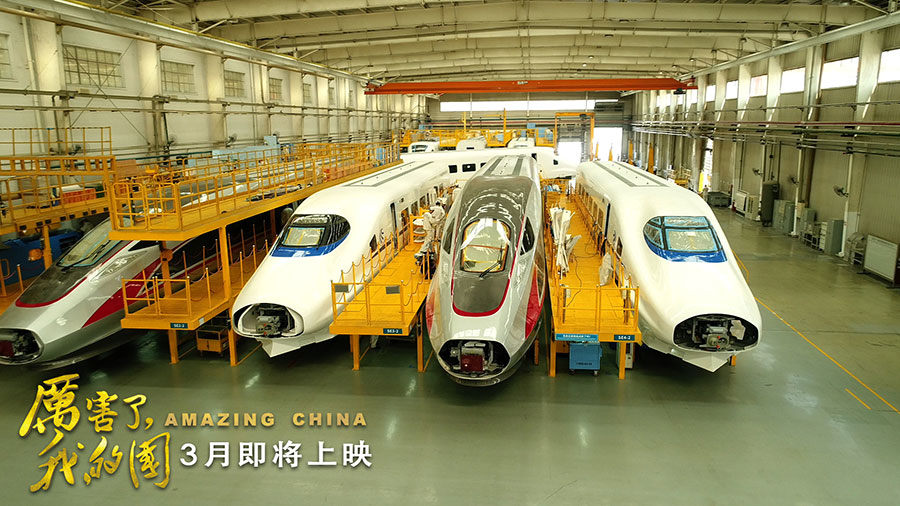 Chinese filmgoers have a chance to gain a comprehensive understanding of their country's strengths from a documentary that premiered on Tuesday in Beijing.
  Amazing China, which reflects the social prosperity and improvements in people's livelihoods during the past five years, was coproduced by China Central Television and China Film Corp.
  The 90-minute film will be publicly screened nationwide on March 2.
  According to La Peikang, head of China Film Corp, the new documentary is to review China's achievement under the guidance of Xi Jinping Thought on Socialism with Chinese Characteristics for a New Era.
  "It's the first time to have a panoramic display of such achievements on the big screen," he said.
  The production spans from construction of "super" infrastructure, the fast growth of high-technology and ecological projects to evacuation of Chinese citizens from conflicting zones and a national endeavor to eradicate poverty.
  For example, the film records China's aerospace projects, development of high-speed bullet trains, the Hong Kong-Zhuhai-Macau Bridge and the Five-hundred-meter Aperture Spherical radio Telescope, which is known as FAST and is the world's largest single-dish telescope.
  "We want to tell touching moments behind those Chinese miracles," La said. "It's about patriotism, but it also to help people better know the status quo of our country."
  Wei Tie, the film's director, said its focus is put on individual stories, so they each can have more vivid details.
  "A country's destiny is closely connected with that of small families," he said. "A grand picture is unrolled reflecting these individuals' efforts."
  Parts of the film were edited from a popular six-episode TV documentary with the same English title, which was broadcast on China Central Television last year. That documentary is rated 8.5 out of 10 points on douban.com, China's major TV and film critic website.
  "It's a good attempt to link the film and TV industries," Wei said.
  "The rising power of China can be felt in cinemas," Wei said, citing Wolf Warriors 2, a 2017 patriotic film that earned 5.6 billion yuan ($887 million) at the box office, the highest-grossing Chinese film.
  "The booming scenario also echoes with core values revealed through Amazing China," he said.