长沙援非医生刘宇荣获"长沙好人·身边雷锋"敬业奉献奖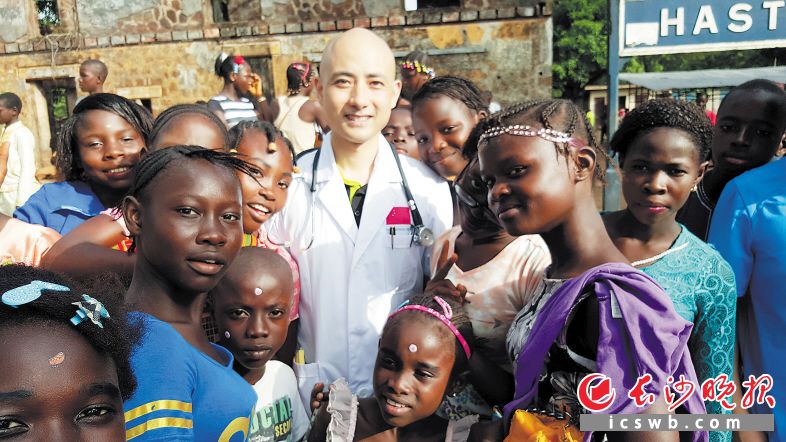 2018年第一季度"长沙好人·身边雷锋"名单出炉,中国(湖南)第19批援塞拉利昂医疗队队员、浏阳市人民医院重症医学科副主任医师刘宇荣获敬业奉献奖,
  On March 18, the list of "Changsha Haoren·Lei Feng"Prize winners was released for the first season of 2018. Liu Yurong, a physician and team member of the 19th batch of Chinese aid medical team in Sierra Leone and the deputy chief physician of Liuyang People's Hospital won the dedication award.
  "虽然,在西非不是人人都知道中国有个乐于助人的雷锋,但我们一定要把雷锋精神发扬到世界各个角落!"记者连线刘宇时,是塞拉利昂当地时间3月16日凌晨3时,他正在值夜班,听到被评为"长沙好人,身边雷锋",他激动地对记者说:"这份珍贵的荣誉,属于我们湖南所有援非医疗队员,他们个个是活雷锋!"
  "Not everyone in West Africa knows Lei Feng (who is a figure of selfless and moest person devoted to help people), but we must promote Lei Feng spirit to the world." Liu Yushi said to the reporter through online interview at 3 am local time in Sierra Leone, March 16th. He was honored as "Honorable Model of Changsha alike Lei Feng". "This precious honor belongs to all our medical workers in Hunan. All of them are Lei Feng!" he said.
  "塞拉利昂是世界上最贫穷落后的国家之一,缺医少药,医院的病房还常常没有水电,没有救命的氧气,药房里最普通的氨基酸、维生素等都缺乏。在这样艰苦的条件下,队员们克服重重困难,创造了许许多多的奇迹。"刘宇介绍。
  "Sierra Leone is one of the poorest and most backward places in the world. Under difficult conditions,Chinese aid medical team members have to overcome many difficulties and create many miracles in the hospital with few medicine and medicine, electricity, water, life-saving oxygen, and the most common amino acids, vitamins, etc." Liu Yu said.