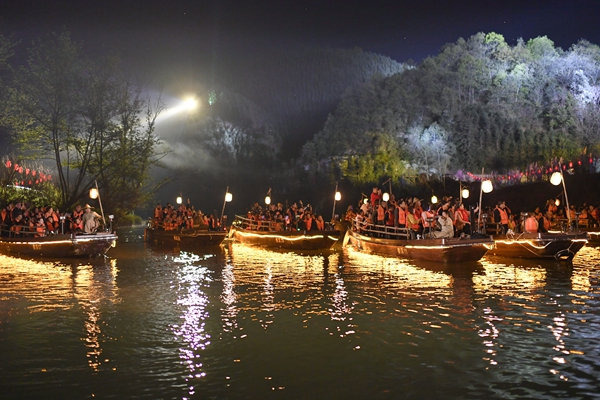 On March 26 evening, hundreds of tourists watch a live-action performance about Peach Blossom Land on boats on Qinxi Brook, Taohuayuan Scenic Area, Changde City. (Photo/Tong Di)

  On March 27, peach blossoms in Taohuayuan Scenic Area are in full bloom, attracting many visitors from all over the country.

  The China Taohuayuan Peach Blossom Festival 2018 and the Spring Plowing Ceremony were grandly held here. The festival is the first one held after the scenic area was upgraded. Vice Governor He Baoxiang announced the opening of the Peach Blossom Festival and the Spring Plowing Ceremony.

  The upgraded Taohuayuan has created a new form of tourism. Several tourist projects in Taohuayuan Scenic Area have been completed, including live-action performances, and sightseeing spots of Qinxi Brook, Qingu Valley, Taohuashan Mountain, Taochuan Wanshou (longevity) Palace. The efforts aim to promote industrial development and vitalize rural areas through "all-for-one" tourism.