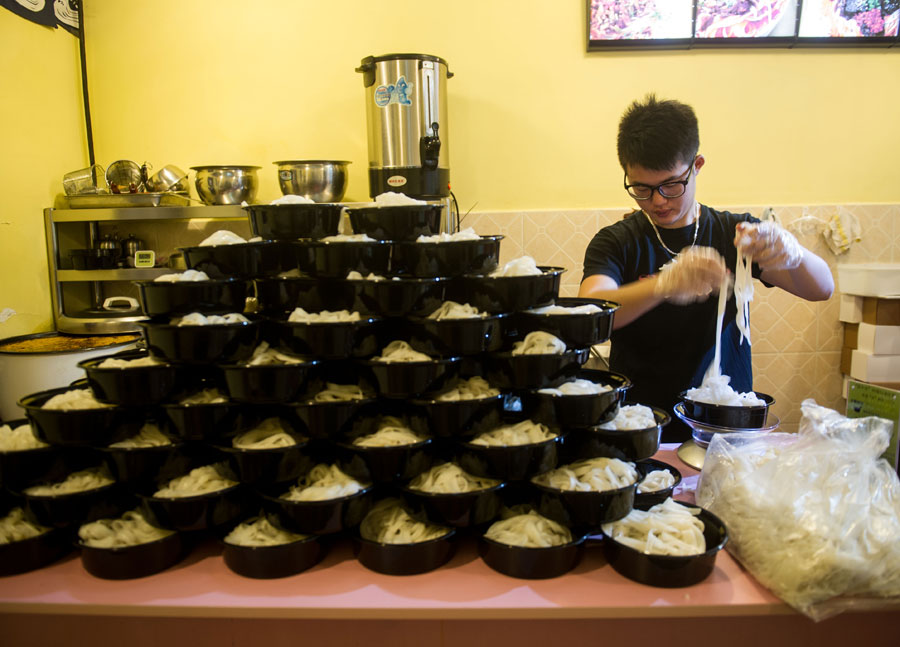 Some thought Zhang Tianyi was wasting his education, but now he is reaping rich rewards
  Zhang Tianyi decided that he never wanted to see, let alone eat, a bowl of noodles again. And who could have blamed him? In the interests of market research, the law graduate sampled 30 tiny bowls of noodles every single day for three months, at the end of which his tongue was numb and his stomach seemed to be perpetually on fire, he said.
  Yet, Zhang somehow convinced himself that his future was inextricably intertwined with noodles, a decision based on his discovery of what he said is the ideal noodle recipe. That recipe brought about Funiutang, his branded beef and rice noodles dish, based on the most common street food in his hometown, one he has turned into a multimillion dollar business success in Beijing, and whose fame he hopes will stretch to the four corners of the globe.
  "As with McDonald's in the United States, I want the name and image of Funiutang to appear wherever the red flag with five stars is raised," Zhang said.
  Since Zhang and three of his classmates founded Funiutang in 2014, and after several rounds of financing, its value is put at up to 500 million yuan ($78 million.)
  As the chief executive officer, Zhang, 28, now manages 17 offline restaurants in Beijing with about 400 employees, in a company that reaped about 100 million yuan in revenue last year.
  Beef and rice noodles, a spicy, salty and oil noodle made from rice, is one of the specialties in Changde, Hunan province, that has a history of 6,500 years and one that Zhang said he and fellow locals eat every day.
  Indeed homesickness was one of the things that set him on his quest for the perfect dish. Another was the potential he saw in rice-based food products worldwide as the status of China, where much of the world's rice is consumed, continues to rise.
  "The world has long been dominated by wheat because it's eaten in Western countries," he said. "It's a pity that rice noodles, despite their long history, don't have a brand."
  He decided to go into the food business three months before he graduated in law from Peking University so that if the venture left him penniless he would still have time to find a job.
  Much to his surprise, things went well. Now, he said, he has enough patience and confidence that he can envisage it taking him 10 years to build a rice noodle brand that is widely recognized.
  Specifically, the goal is to open 500 to 1,000 restaurants in cities worldwide in the future, including in the US and Europe.
  At a Funiutang outlet in Zhongguancun, in the Haidian district of Beijing, all the service and kitchen staff wear black T-shirts inscribed with the word baman, Hunan dialect meaning never give up, dare to say no and be yourself, Zhang said.
  "Just as McDonald's represents Americans' culture of fast, clean and efficient service, we want to share the spirit of Chinese young people with our brand - hard-working, positive about life, and who are ambitious enough to pursue their dreams."
  The company pumps that kind of ethos in many of its marketing products, including decorations, short videos and WeChat stories.
  The distinctive corporate culture plays an important role in brand-building, Zhang said.
  "The domestic dining market is undergoing a transformation with the demand of a rising generation of customers who value the culture and spirit embodied in a product, rather than its price and function."
  Zhang said he is fortunate to be living at a time when the country is promoting innovation and entrepreneurship, and was reported to have met Li Keqiang in 2015 when the Chinese Premier visited Zhongguancun Inno Way, a cluster of startups and entrepreneurs.
  As a master's graduate from Peking University, rated as the country's top tertiary institution, Zhang said some people have taken a bleak view of his career, criticizing him for wasting his education to sell noodles.
  But Zhang said diligently doing things that some may regard as trivial and unimportant is worthy of respect.
  He held down about 50 different part-time jobs when he was at college, he said, including legal consulting, selling insurance, working as a receptionist and being assistant to a chief executive. Once he even tried out begging, just to experience life at its nadir, he said.
  "Doing many different things gave me the opportunity to see how society really works. The perspective on life that formal education provides is far too limited."