Changsha-based manufacturer investing billions in construction
  Sany Group Co Ltd, China's leading machinery equipment maker, will invest billions of yuan in the construction of five heavy truck production bases by 2019, and will road test autonomous trucks this year, executives said.
  The company's massive expansion plan, which could see its annual output rise almost twentyfold, is underpinned by solid demand from the domestic market.
  After more than a year of research and design, Sany's trucks began the first online presale in late March and were heavily marketed, said Zhou Junfeng, research and development engineer and project manager of the company's heavy truck arm.
  "Within just 53 seconds on that day, the first batch of 500 heavy trucks was pre-sold, with the total sales exceeding 135 million yuan," Zhou told China Daily. "As of 8 pm on April 23, we received a total of more than 11,000 online orders."
  To meet the huge demand, the Changsha-based company plans to construct five sites, which will considerably increase its annual output capacity from the current 5,000 units, according to Zhou.
  "Sany is constructing one production base, with annual output capacity of 2,000 units, in Changsha, Hunan province, which will start operation this May. We will replicate that success and build four more sites in 2019," Zhou said.
  Sany, best known for its machinery equipment, began to move into the faster-growing industry about one year ago.
  Last year, China saw the sales volume of heavy trucks surge 52 percent year-on-year to more than 1.11 million units, a new record since 2010, according to the China Association of Automobile Manufacturers.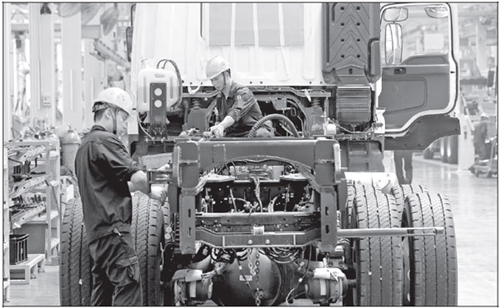 In 2018, the sector is forecast to remain strong, partly due to the upturn in the global economy, solid domestic demand and the replacement of older truck models, said Gao Deng, an analyst at Changjiang Securities, in a research note.
  Zhou attributed the hot sales of Sany's heavy trucks to high quality - including intelligent functions - and a lower price than the market average.
  An intelligent box enables the truck to record the owner's driving habits, trajectory, fuel consumption and other information, which can be used to diagnose the operating status and improve safety, Zhou said.
  "Our trucks are only available online, which reduces extra costs for customers," Zhou said. Sany's heavy truck is priced at 270,000 yuan ($42,710), while similar products from other homegrown companies sell at about 360,000-370,000 yuan.
  Sany is planning to develop this type of heavy truck in autonomous ones, and is partnering with the country's telecom carrier China Mobile in this area, according to Zhou.
  "In December this year, we are going to road test the sample vehicle, which will have Level 4 self-driving technology and apply 5G telecommunication technology," he said.