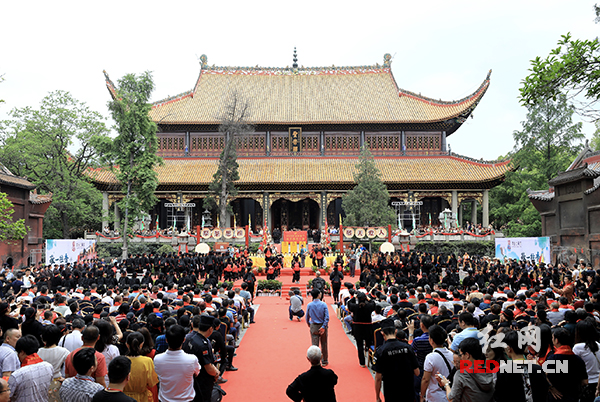 2018 Chinese Tea Ancestral Day: Nanyue (Hengshan) Yunwu Tea Festival is held in Nanyue Mountain, Hunan Province.
  Foreign tourists sit on the lawn and watch the tea ceremony.
  南岳祭茶大典作为一项传承悠久的文化盛会,今年的祭茶大典围绕中华传统文化中的礼乐文明,挖掘茶祖神农、茶神祝融以礼育人、以乐化民的文化内涵,突出儒释道茶文化的体验感,弘扬天人合一、知行合一、礼乐合一的传统文化。
  Nanyue Tea Ceremony is a long-established cultural event. This year's ceremony focuses on the rituals and music of traditional Chinese tea culture of Confucianism, Buddhism and Taoism. It promotes the traditional culture for the unity of nature and man, the integration of knowledge and practice, and the combination of ritual and music.