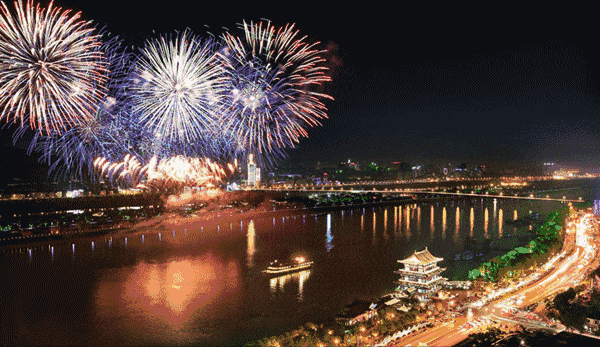 The 2018 Changsha Media Arts Festival and International Youth Forum: Creativity and Heritage along the Silk Road takes place in Changsha from May 20 to 23. International and domestic guests to the Festival and Forum will have a chance to enjoy a fireworks show, which will be displayed on Orange Isle on May 22 (Tuesday). The fireworks display will last between 20:30 and 20:50.
  Schedule of Fireworks Shows 2018
  Jan. 1 (New Year's Day)
  Feb. 15 (Spring Festival Eve)
  Mar. 2 (Lantern Festival)
  May 1 (Labor Day)
  May 22 (newly added show)
  Jun. 18 (Dragon Boat Festival)
  Jul. 1 (Birthday of the Communist Party of China)
  Aug. 1 (Army Day)
  Sept. 24 (Mid-Autumn Festival)
  Oct. 1 (National Day)
  Tips:
  1. The Orange Isle Scenic Area is closed before 18:00 on every scheduled fireworks show day to ensure visitors' safety. Visitors are required to leave the scenic area before that time.
  2. Changsha Subway Line 2 does not stop at Juzizhou (Orange Isle) Station since 18:00 on the day for the fireworks show.
  Best places for viewing:
  Du Fu Pavilion and its surroundings, Siyangfangzun (four sheep statue) Square, Fengfan (sail) Square, and the observation deck on the top of Yuelu Mountain
  The best way to get there:
  Take Changsha Subway Line 2 to Xiangjiang Middle Road Station, and then walk to Du Fu Pavilion
  Chinese source: official wechat account of voc.com.cn