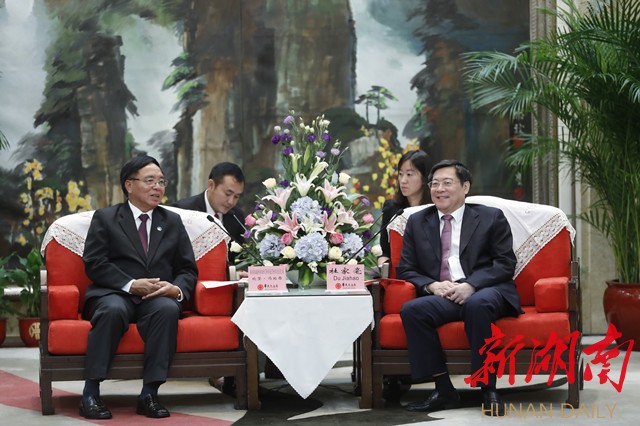 On the morning of May 22, 2018, CPC Hunan Provincial Committee Secretary and Hunan Provincial People's Congress Standing Committee Director Du Jiahao met with Phongsaly Provincial Secretary and Governor Mr. Khamchen Vongphosy, head of a Laos delegation consisting of six northern provincial secretaries.
  Secretary Du said, "Hunan is the hometown of the older generation of proletarian revolutionaries such as Mao Zedong and Liu Shaoqi. Hunan and Laos have deepened communication and cooperation thanks to the steady improvement of the comprehensive strategic partnership between China and Laos." He stated, "The CPC Hunan Provincial Committee and the People's Government of Hunan Province are willing to work together with the six provinces of northern Laos. We may actively implement the important consensus reached by the leaders of the two countries and jointly promote the 'Belt and Road' initiative." "The Consulate-general of Laos in Changsha could serve as a bridge to effectively strengthen mutual communication and cooperation; and to further enhance bilateral economic and trade, and personnel exchanges. We expect to promote Laos local infrastructure construction; deepen collaboration in agricultural science and technology, medical and health, tourism and sightseeing, and culture and education; and promote friendly exchanges between both sides," he added.
  Mr. Khamchen Vongphosy congratulated Hunan on its development achievements in recent years. He remarked that the six northern provinces of Laos will take this visit as an opportunity to further strengthen exchanges and cooperation with Hunan in various fields. He hoped that Hunan will provide more assistance to them on personnel training and medical care. He also expected both sides will make efforts to the early opening of a direct flight from Louangphabang to Changsha.