As part of a bilateral cooperation agreement, teams help address shortage in African country
  Nine specialist doctors from China have begun a one-year tour of duty in Zimbabwe under a technical cooperation agreement between the two countries.
  Gerald Gwinji, permanent secretary of the Ministry of Health and Child Care, says the team of specialists from Changsha, Hunan province, comprises two urologists, one general physician, two orthopedists, two radiologists, one obstetrician/gynecologist and one anesthesiologist.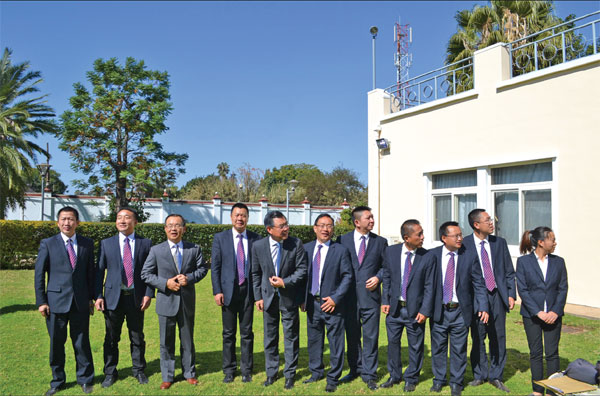 The arrival of the doctors is expected to offset a shortage of specialists as well as enhance the capacity of local doctors at the country's public health institutions.
  The medical teams are sent from China for 12 months and arrive in June each year to offer medical assistance and to share experiences with their local counterparts.
  "They used to come for two years, but it was changed after consultations between both governments," Gwinji says.
  The medical teams bring their own equipment and medicine, which officials say benefit marginalized people in rural areas. They offer free clinics and will mostly be working at Parirenyatwa General Hospital, the country's largest medical center. The team will also provide teaching and clinical services.
  The specialists have been coming to Zimbabwe since the first memorandum of understanding was signed in December 1983. "Since then, we have received a total of 160 medical specialists. The current team is the 16th brigade," Gwinji says.
  Zimbabwe has a massive shortage of medical specialists - particularly orthopedic surgeons and anesthesiologists - a situation that has forced many patients to seek specialized treatment outside the country, where services are deemed cheaper and more readily available.
  The two countries are similarly exploring ways in which to widen their cooperation in traditional medicine. The market for traditional Chinese medicine and nutritional herbal supplements has been growing, in keeping with the growth in trade and increased cultural exchanges between the countries.
  Since the establishment of diplomatic relations between the two nations, China has provided development assistance and financial support for large energy, utilities, transportation and telecommunications infrastructure projects.
  Information from the Chinese embassy in Zimbabwe shows that from 1980 to now, China has completed more than 93 development aid projects in Zimbabwe, including 10 school and hospital projects, at least 12 technical cooperation projects and 48 material assistance projects, in addition to sending the medical teams.
  In the medical sector, the Chinese government has also sponsored construction of the $6 million, 15-bed Mahusekwa Hospital in Mashonaland East province by China's Nantong Construction Group Co.
  Last week, when welcoming the Chinese medical specialists to the country, Chinese Ambassador to Zimbabwe Huang Ping said Mahusekwa Hospital was undergoing a second phase of construction, which, upon completion, will see the district hospital upgraded to a provincial hospital.
  Huang also said China has secured funding for the construction of a major pharmaceutical warehouse for Zimbabwe, and construction will start soon after the design plan is completed.
  Zimbabwe has challenges in finding space to store drugs, as NatPharm - the government company that procures, stores and distributes medicines and medical supplies to public sector health institutions - is small and underfunded.
  The shortage of storage space has over the years forced drug company to incur millions of dollars in debt, accrued from charges levied on the warehousing of drugs supplied to it by donors.
  For China Daily