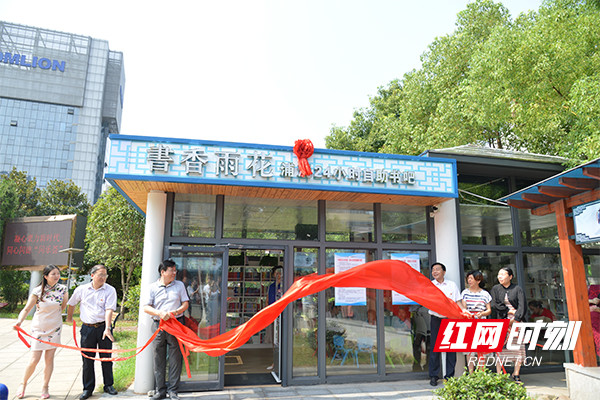 A 24-hour self-service library became available at the Puyuan residential community in Changsha's Yuhua district on July 23.
  With an area of around 30 square meters, the free library is equipped with Wi-Fi access, air conditioners, and green potted plants.
  Readers can swipe their registered ID cards and borrow books via an intelligent self-service kiosk. Over 2,000 books of various categories are on hand, from self-help bestsellers and history books to youth and chic literature.
  Volunteers from the Jiusan Society often come to offer help and instructions, which earns them many commendations. They do the cleaning and maintain order in the library freely and in their spare time, and sometimes join readers to learn something from the books.
  According to Wang Lin, director of Yuhua district's culture, sports, press and publication bureau, the library, the first of its kind in the Dongtang business circle, is a result of the district's cultural program designed to cultivate people's reading interest. More libraries will follow to promote civil reading, she added.
  A community leader said that a host of events will be carried out in the library, like book sharing, parental reading and reading seminars.
  Zhang Jian, vice chairman of the Hunan Provincial Committee of the People's Political Consultative Conference and chairman of the Hunan Federation of Industry and Commerce, attended the opening ceremony and unveiled the library's nameplate.