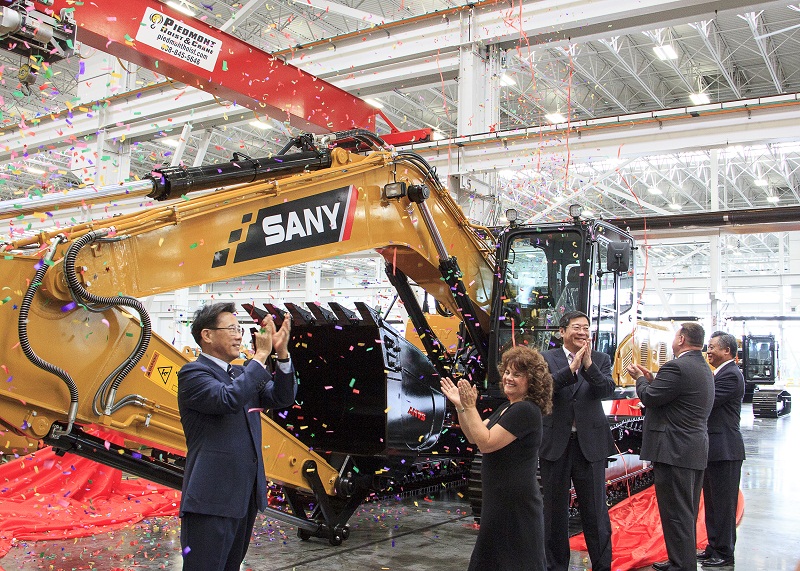 SANY America, the US subsidiary of China's heavy construction equipment manufacturer from Hunan province, celebrated the sale of its 2,000th excavator in the North and South America market in Peachtree City, Georgia.
  The ceremony on Thursday was combined with a welcome reception for Du Jiahao, secretary of the CPC Hunan Provincial Committee and his delegation.
  Du, along with SANY Heavy Industry Company's founder and Chairman Liang Wengen, Consul General of China in Houston Li Qiangmin, Georgia State Representative Josh Bonner and Peachtree City Mayor Vanessa Fleisch, pulled a red cover and revealed the SY500H model excavator.
  A group of SANY dealers representing markets in Texas, Missouri, Tennessee, Illinois, California, Kentucky and Florida attended the ceremony and met with the delegation.
  Doug Friesen, CEO of SANY America, said the dealers not only represent the SANY brand of excavators and heavy construction equipment, but also represent China.
  "The perception in the US is that when they get a new product, it's always hard for them to accept new product. Then if it's from a different country, it's even harder for them to accept at the beginning. The dealers are the people who work every day to change that perception," Friesen said.
  In addition to Georgie, SANY Chairman Liang said that SANY has a factory in Wisconsin that manufactures and sells pump trucks and has made $350 million in sales.
  The SANY factory in Peachtree City started manufacturing exactors at the end of August ahead of its original October schedule.
  Friesen said the factory assembles equipment and two more buildings are planned. One will be used for steel manufacturing and fabrication, and the other for painting and supply parts in North and South America market.
  "So we can build everything right here. We hope we can prove to be a huge manufacturing facility that even Europe will buy product from here. We want to be a manufacturer for Europe, North and South America, and not ship as much from China," Friesen said.
  SANY America's goal is to manufacture eight excavators a day, and a total 3,000 in 2019, and 5,000 in 2020.
  Du, in addressing the crowd, said that SANY has grown along with China's opening-up and development.
  "SANY was started with three people playing with some machinery. Today it has become a leading manufacturer in heavy construction equipment in the world. Under Chairman Liang Wengen's guidance, SANY is geared up to incorporate internet and AI into their manufacturing to usher into era of Industry 4.0," Du said.
  Du said SANY's daily business operation data worldwide is being gathered by the Information Office of China's State Council as part of the information for world economic analysis. "SANY plays an important role in shaping China's important decision-making," he said.
  Du said Hunan province has a strong economic relationship with US. "The US is Hunan's number two export market, and US imports account for one-third of Hunan's total import."
  He said the business cooperation between Hunan and the US includes a wide range of fields: 3D printing, medical equipment, heavy machinery, environment protection products, processing and trade. "More than 100 Hunan enterprises have made investments in the US," Du said.
  Du also met with Georgia Governor Nathan Deal and officials from the state's department of Economic Development on Thursday morning. "They are very supportive and are full of confidence in the future development of SANY here," he said.
  Du also expressed wishes for and confidence in a more harmonious China-US trade relationship down the road.