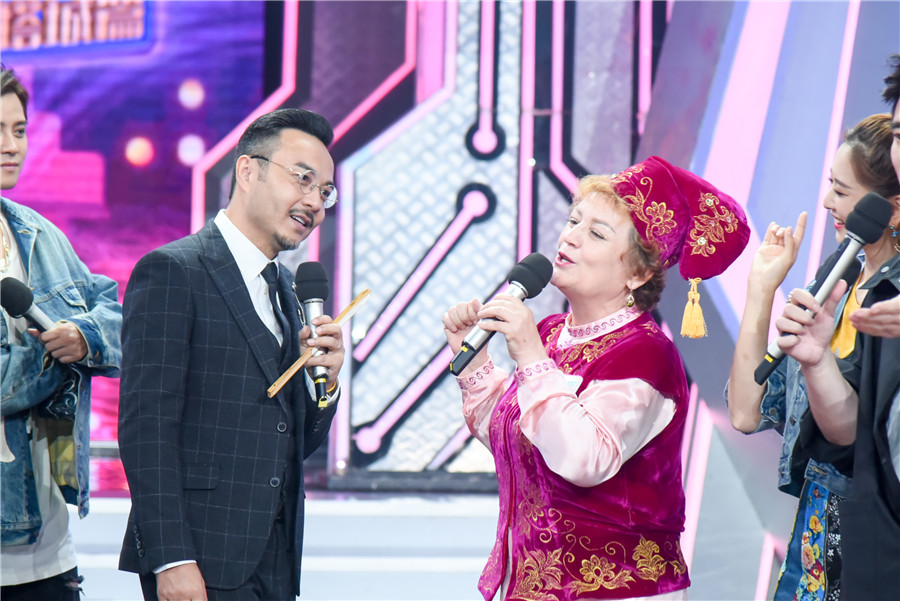 "I've told many young hosts that the very first thing about being an anchorperson is to listen to and understand the interviewees, rather than being eager to express your own opinions. A host should be a reflection, clearly conveying what people say," said Wang Han, a senior host with Hunan Broadcasting System.
  The 44-year-old anchor, who was born in Suzhou, Jiangsu province, and graduated from Hunan Radio and Television College in 1996, has worked at HBS for over 20 years.
  In his first two years at the broadcaster he worked as a general handyman, helping to set up stages and film snippets of the romantic drama series Huanzhu Gege - set in the Qing Dynasty (1644-1911) - despite having no experience as a camera operator.
  He fronted his first talk show in 1998 and was selected as a co-anchor for the Super Girls talent show in 2005, winning praise for his humorous style and quick-witted responses.
  "Actually, my peers and I had no idea how to present a show that could appeal to an audience at that time," he recalled. "But we got great help from producers and show directors from Taiwan as we had shows in cooperation with them. We also watched video clips of Taiwan variety shows to learn how to make our own programs funnier and more attractive to the viewers."
  Wang went on to join one of China's most-viewed talk shows, the HBS production Day Day Up, in 2008.
  Day Day Up is a variety show featuring celebrities including actors, singers and sports starts. Its first episode aired on Aug 7, 2008, and it was broadcast every Friday night for almost a decade before switching to a Sunday night slot this April.
  The show, co-hosted by Wang, Da Zhangwei, Qian Feng and Wang Yibo, is dedicated to promoting traditional Chinese culture in a relaxed and humorous way, and has received positive responses from audiences and governments overseas.
  Wang Han said the show's Chinese title had connotations of developing civilization and the individual pursuit of culture.
  "Civilization makes people act alike, while cultures make people different, with various identities," he said.
  For the past five years, Wang Han has been transitioning from anchor to producer.
  "People get to know the world outside their own environment through the cameras on our shoulders and microphone in our hands," he said. "A TV show can educate people and help promote values. We are encouraged to make use of that power to correctly guide the audience rather than pander to them."
  Wang Han said he and his team want to show the world the essence of China through their TV shows.
  "We think of enthusiasm when we talk about Spain, and romance for Italy, but there's no exact word to describe China," he said. "We are dedicated to showing the world what exactly China is and show them the wisdom and kindness of Chinese people."
  Wang Han, who grew up in a household where dialects were spoken - his father is from Jiangsu and his mother from Hunan - has made great efforts to protect dialects from around China since 2014.
  "As a host, I've tried many ways to better communicate with my guests," he said. "And I found that greeting guests in their native dialect can quickly boost familiarity and make them relaxed during an interview."
  He borrowed 5 million yuan ($720,400) from his wife, fellow HBS host Yang Lele, to set up a dialect-protection workshop that now has about 70 members, jokingly calling it an "interest-free loan".
  "We plan to collect dialects from 57 sites in Hunan in the next five to 10 years, recording their sounds and donating them to the Hunan Museum," he said. "I hope that in maybe 300 or 500 years, young people will be able to hear their ancestors' using dialect for everyday words. It will be amazing."
  Wang Han was honored by UNESCO for his contribution to protecting dialects in China at an international conference on the role of linguistic diversity in building a global community with a shared future that was held in Changsha in September.