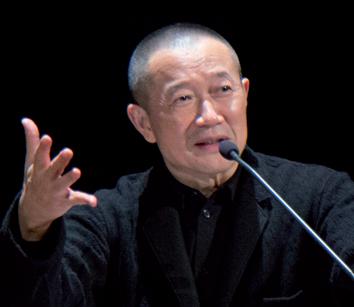 When he was in the Mogao Caves in Dunhuang on the ancient Silk Road, gazing upon mural after mural of musical scenes, Tan Dun realized that those ancients were still talking to him.
  Inspired, he embarked on a five-year journey to create his new monumental work, Buddhist Passion.
  The celebrated Chinese composer made an appearance at the Asia Society Texas Center in Houston on Friday night and shared his creative journey, treating the audience to excerpts from a performance of the work's premier at the Dresden Music Festival in May.
  "Life is short, but when you bump into certain things, or meet some interesting people, they can enhance your life and change your attitude towards life," Tan said.
  Tan was invited by the Dunhuang Foundation to visit the legendary Mogao Caves. He traveled into the vast desert in western China and entered caves where he saw thousands of beautiful paintings depicting hundreds of different musical instruments, musicians and orchestras playing.
  "When I showed the huge orchestra paintings to my European friends, they were shocked. Everybody thinks orchestral history is only four or five hundred years old since Baroque time," Tan said. "But maybe that history should be pushed back another thousand years."
  There are a lot of stories associated with the caves. Some caves were sealed off from the inside — people closed themselves with the paintings to pray forever, said Tan.
  He encountered human bones, sutra music scrolls and gazed upon countless murals. He felt that those people were still praying and playing in the caves.
  "They live a long life," he said. "When I was in those caves I realized that those people can still talk to me, I can still exchange ideas with those treasures."
  He slowly breathed in and touched the details of the paintings, and felt those people from ancient times come alive around him. The music seemed to flow into him from the paintings.
  "I want to live forever like them. If we could do something together, we could make our lives go on and on," said Tan.
  Inspired, he spent two years traveling to national libraries in France, Great Britain and China to locate and research musical manuscripts from the Dunhuang Library Cave. Through slides and videos, he offered a glimpse of his journey.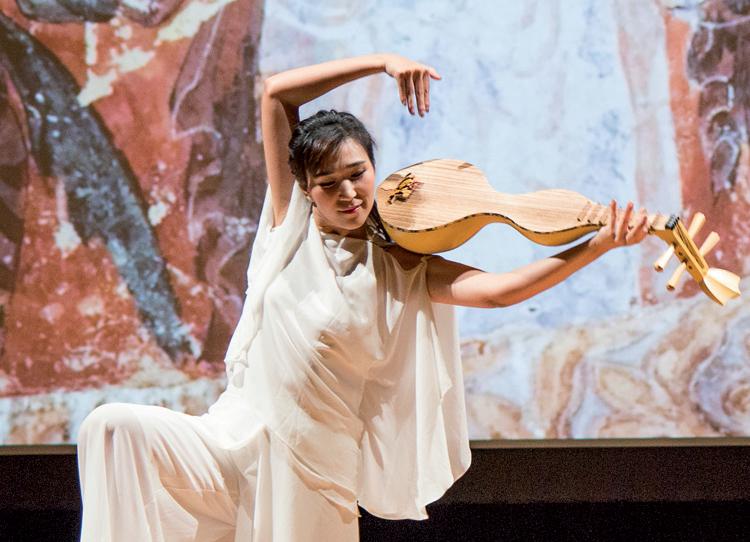 In Paris, he was shown 25 Dunhuang music scrolls from more than 1,000 years ago. One scroll was titled Changsha Girl. Being a Hunan native himself, Tan decided to make "Changsha Beauty" the first piece in his oratorio.
  In Japan he discovered a Japanese family that had been making musical strings in the Tang Dynasty style for eight generations. The strings were yellow and Tan asked for a different color; but he was told no — yellow was the color of Buddha.
  In the Silk Road capital city of Quanzhou, Tan discovered musical instruments depicted in Mogao cave murals and the ancient sounds came to life. One family specialized in making pipas generation after generation for more than 1,000 years. Sometimes one instrument could take more than a year to make.
  Also in Quanzhou, Tan discovered another family with deep musical roots — the skill of foot drumming had been passed down in the family for 15 generations.
  During his research, Tan gathered about 15 instruments he found in the paintings and incorporated them into his new composition.
  He translated the ancient music scrolls to modern notation, recomposing and rearranging what he found, trying to capture the ancient sounds.
  "The music is not 100 percent how it sounded a thousand years ago, but at least 40 percent is there, the rest came from my heart," he said.
  The end result is Tan's new ambitious Buddhist Passion, weaving chants, stories, and sounds of Dunhuang into an oratorio of six individual short stories.
  Through this work, Tan tried to capture the ancient narratives of the Buddha's teachings, the universal concepts of love, forgiveness, sacrifice and salvation, ultimately telling the stories found in Mogao Cave paintings in music.
  To capture the true essence of Dunhuang music, Tan sent pipa player Shi Wenqing to learn how to dance, and after more than a year's effort, Shi became the first performer who could truly play one of the famous Dunhuang scenes Reversed Pipa.
  Shi made a special trip from Shanghai and performed "Changsha Beauty" and "Reversed Pipa" in between Tan's talks, much to the delight of the audience. Tan also shared "Heart Sutra" and "Foot Drumming" through videos.
  Buddhist Passion has been performed in Germany, Australia and Hong Kong since May. The US premier is set in February next year in Los Angles.
  Tan said his next ambition will be to transform his oratorio into an opera.