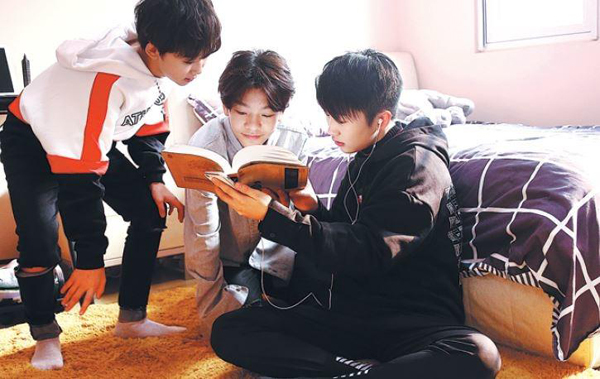 A turning point for the Chinese pop industry came in 2005 when some young musicians rose to become big stars on the reality TV singing competition Super Girl aired by Hunan Satellite TV.
  Audiences voted for their idols, propelling Li Yuchun, who was studying at the Sichuan Conservatory of Music in Chengdu, to national fame.
  In 2007, Si joined E.E Media, a big name in China's entertainment industry - which produced the Super Girl competition - and launched a Chinese male group, Top Combine.
  He said: "The need for and creation of pop groups has never stopped in China. Compared with young people who wanted to become pop stars about 15 years ago, the younger generation is taking more initiative.
  "They know what they want and they work hard to achieve their goals. It's just like teenagers who train to become athletes. They start from a young age, have their own athletics idols and work hard to win."
  One of the biggest stars in Si's company is Duan Aojuan, a 17-year-old singer from Sichuan province, who is a member of the group Rocket Girls 101.
  As one of 11 young women selected from the reality show Produce 101, released on Tencent's video platform this summer, Duan has more than 3 million followers on her Sina Weibo account.
  Idol Producer, a male counterpart of Produce 101 launched by the online streaming service iQiyi in January, also led to the birth of the nine-member boy group Nine Percent. The show highlighted the intensive training the competitors went through and their individual talent.
  Fans interact with their idols and vote for them via social media.
  On Nov 12, Nine Percent gave a live performance at M Space, a popular venue in Beijing, to about 500 screaming fans. The show was also streamed live through online platforms by Tencent Music Entertainment Group, netting more than 15 million views.
  Qi Qi, a 20-year-old woman from Beijing, who went to Nine Percent fans' meetings and other public events, said: "I became a big fan of theirs after I watched the show. They worked so hard and they are so talented. Their songs deliver positive messages of individuality, ambition and hope. Their performances onstage are so cool.
  "It's like witnessing our mutual dream coming true together, which make the fans feel connected."