[Hello, 40 years]① Ding Shibiao: I, tourist guide in Zhangjiajie
  2018,改革开放40周年,红视频特别策划推出《你好,40年》融媒新闻大片,以身边人物的真实讲述,记录个人、行业的成长,见证改革开放40年时代大潮的辉煌成就。
  The year 2018 is the 40th anniversary of China's reform and opening up. Rednet makes a series of videos named as "Hello, 40 Years" to record personal or industrial growth in Hunan Province, by the stories of people around you. You will witness of the brilliant achievements of the 40-year-era of reform and opening up in China.
  本期为您讲述的是以丁石彪为代表的旅游业故事。
  Ding Shibiao talks about his career of being tourist guide and the tourism development in Zhangjiajie.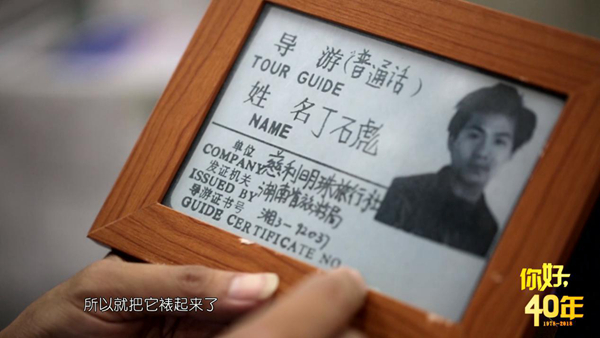 Ding Shibiao, a 49-year-old tourist guide, is one of the first batch of qualified tourist guides in Hunan Province. Being a tourist guide for 28 years, he has experienced the whole process of tourism development in Zhangjiajie.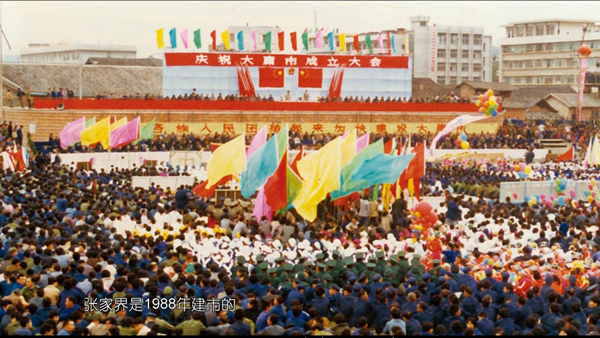 Zhangjiajie city was established in 1988 .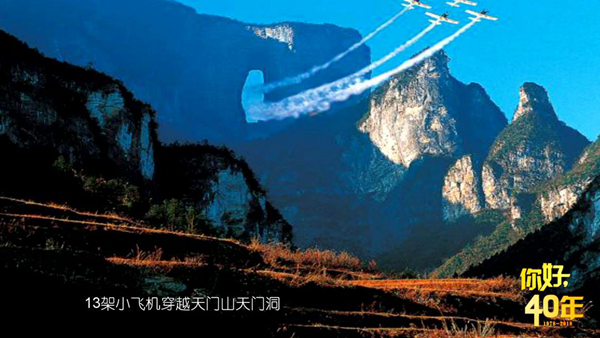 In 1999, 13 planes crossed the Tianmen Cave and 800 million people watched the live broadcast. A series of outdoor live broadcasts such as wing-fly flight and tightrope performance promoted Zhangjiajie to the world.
  2008年,科幻大片《阿凡达》剧组在张家界取景,张家界再度吸引全球目光。
  In 2008, the sci-fi blockbuster "Avatar" attracted global attention. The film's director and production designers said that they drew the inspiration for the floating rocks from mountains of Zhangjiajie.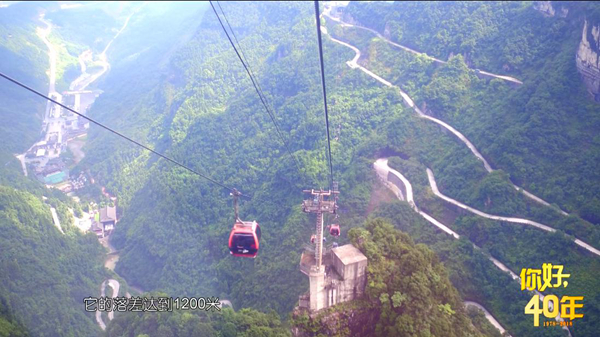 From 1998 to 2013, Changde-Changsha Expressway, Changsha-Changde Expressway and Zhangjiajie-Huayuan Expressway were opened to traffic. In 2005, the Tianmen Mountain sightseeing cable cars were put into operation. The improvement of the traffic environment has doubled the number of visitors to Zhangjiajie.
  在旅游业的带动下,张家界从一个落后的小县城发展成了国际化旅游城市,50%的张家界人从事与旅游相关的职业,民宿、餐馆、旅游汽车、景区服务……丁石彪如今也成长为带国际旅行团的英语金牌导游。
  Propelled by tourism industry, Zhangjiajie has developed from a backward small county to an international tourism city. 50% of people in Zhangjiajie are engaged in tourism-related occupations, home-stays, restaurants, tourist cars, scenic services. Ding Shibiao has been an excellent guide of mastering English for international tourists.
  丁石彪,张家界,一个人,一座城,都是中国旅游业40年改革开放的一个缩影。
  A story of a person is a chapter of the story of Zhangjiajie City and a microcosm of China's tourism industry during 40 years of reform and opening up.
  如今,中国已经成为了世界最大国内旅游市场和国际旅游消费国:2017年,中国人均国民出游3.7次,国内旅游人数达50.01亿人次。
  Today, China has become the world's largest domestic tourism market and international tourism consumer.The number of per capita travel times by Chinese tourists reaches 3.7 times in 2017. Chinese tourists made more than 5.01 billion domestic visits.
  Original link:【你好,40年】①资深导游丁石彪:山不倒,导游干到老