An International Symposium on Dongting Wetland Conservation and Green Development was held in Yueyang on December 6, 2018.
  More than 120 experts from the America s, Europe, Southeast Asia, and international environmental organizations in China, attended. They exchanged views on lake improvement, and wetland conservation, renovation, and management; and, discussed the Dongting Lake National Park development plan, and ecological protection and green development.
  The symposium was organized by the Hunan Forestry Department, Yueyang Municipal People's Government, UNFAO (United Nations Food and Agriculture Organization), GFF (Global Environment Facility), WWF (World Wildlife Fund), and Beijing Forestry University.
  Participants included: international experts from U.S.A, U.K, France, Germany, Russia, WWF, FAO, and GEF; scholars from the Chinese Academy of Science (CAS), the Chinese Research Academy of Environmental Science (CRAES), Beijing Forestry University, and Central South University of Forestry and Technology; directors from financial, natural resource, ecological environment, forestry, and animal husbandry and aquatic products departments; and, representatives from the protected natural areas nationwide.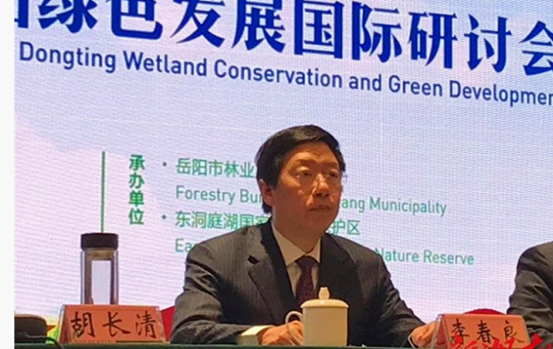 1. Ecological protection and green development approaches for national parks;
  2. Wetland ecological protection and renovation;
  3. Bird migration and habitat conservation; and,
  4. International collaboration on protecting Dongting Lake.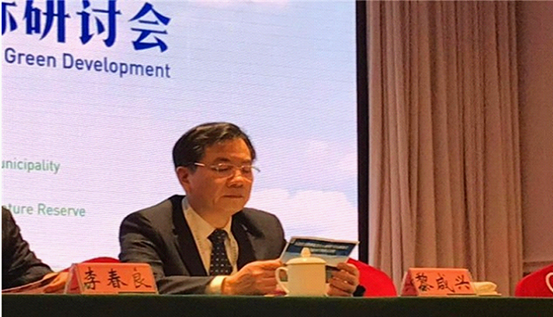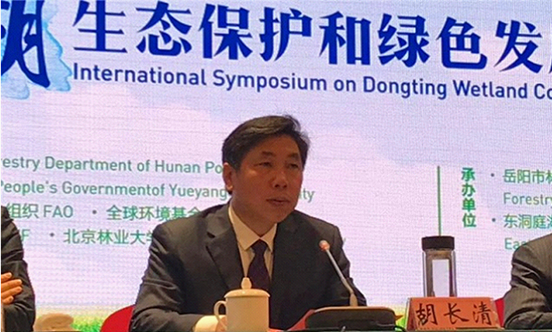 NFGA survey and planning director, Yuan Jun talked about the biodiversity, threats, and management strategy for Dongting Lake, and presented FAO/GEF projects' findings. WWF Hong Kong Mai Po training director introduced wetland restoration and species conservation cases.
  Russian researcher Diana V. Solovyeva described the protection of Chinese mergansers in Russia.