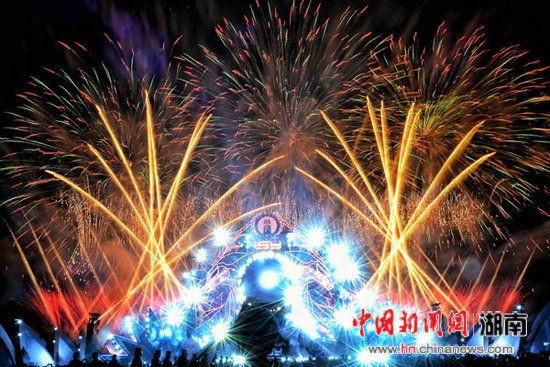 On December 31, 2018, five wonderful fireworks shows were held simultaneously in Sanya, Macao, Taipei, Changsha, and Xiangxiang to welcome the New Year. They were designed by the Hunan Spark Theatre Troupe.
The five fireworks shows were displayed at the landmarks and/or places close to the landmarks of the cities:
Taipei: Taipei 101;
Macao: the Parisian Macao; the Venetian Macao;
Sanya: Haitan Bay, the venue of the ISY Sanya International Electronic Music Festival;
Changsha: HB Town; and,
Xiangxiang: Kela Town
At the ISY Sanya International Electronic Music Festival, a digital optoelectronic spark show was displayed as the opening programme. Twenty world famous DJs, including Martin Garrix, Arminvan Buuren, and this spectacular fireworks show made the festival unparalleled.
The New Year fireworks show displayed at Taipei 101 combined the elements of fireworks, image and music for the first time. It was the third fireworks show that was co-designed by the Hunan Spark Theatre Troupe and Taiwan's local agency. The 360-second-long fireworks conveyed such featured elements of Taipei as night life, inclusiveness, and fruit. The color, design, and order were perfectly compatible with the LED images displayed on the screen wall of the building. A traditional, diversified and dynamic city was introduced.
General Manager of the troupe Huang Cheng said that China's fireworks enjoy high reputation worldwide while Liuyang's fireworks is the most famous one in China. The series fireworks shows this time displayed Hunan fireworks' latest achievements in products, technologies, and new orientations. They have also been combined with modern technologies. All these fruits are undoubtedly the contributions to Hunan Culture's "Go Global".
This article is from Hunan Provincial Government. www.enghunan.gov.cn.