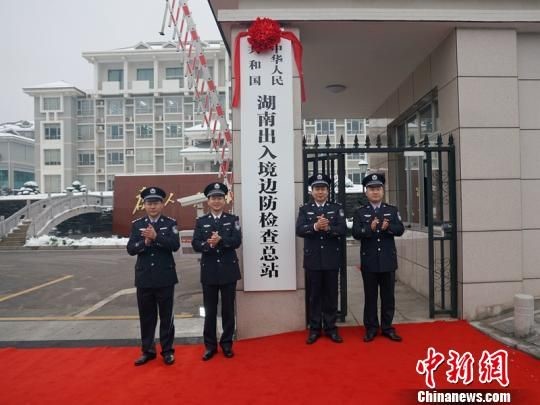 In line with the National Immigration Administration plan, the Hunan General Station of Immigration Inspection was officially established on January 1, 2019.
The Communist Party of China (CPC) Central Committee released a plan on deepening reform of Party and state institutions in March 2018. In accordance with the deepening military-civilian reform arrangement, the reformed Hunan General Station of Immigration Inspection is under the administration of the National Immigration Administration. Changsha, Zhangjiajie, and Yueyang subsidiary stations will be set up. The subsidiary immigration inspection stations exercise their functions, in Changsha Huanghua International Airport, Zhangjiajie Hehua Airport, and Yueyang Chenglingji Port respectively, including:
Carrying out frontier inspection on persons leaving or entering the country and their luggage, and on means of transportation leaving or entering the country and their freight;
Guarding restricted areas in ports and maintaining the order of exit and entry;
Checking and issuing temporary entry permits;
Exercising border controls;
Fending off and handling illegal exit and entry activities.
There are 65 international flight routes to 23 foreign countries and regions, such as USA, UK, Germany, and Australia, operated at Hunan's first-class open ports. In peak periods, the number of international flights that leave and enter these ports reached more than 350. In 2018, the Hunan General Station of Immigration Inspection exercised inspection on more than 2.8 million persons leaving or entering Hunan, increasing by 11.7% over last year. And, the inspected number of planes and ships entering and leaving Hunan was 17,700, increasing by 14.6%. The inspection workload tops among six central China provinces.