诗意地栖居:渚清沙白鸟飞回 麋鹿飞奔江豚跃
Dongting Lake is a place of clear water and better condition for wild lives by Yangtzi River.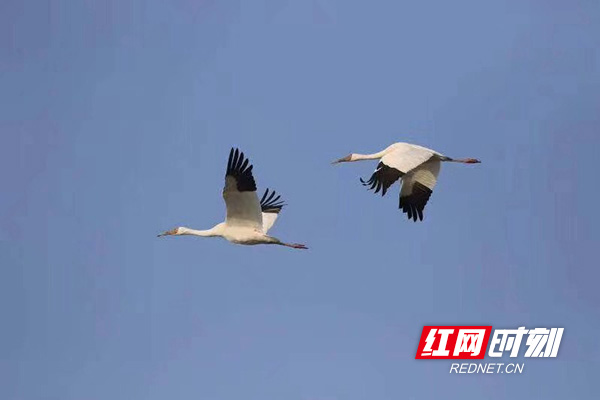 Oriental White Stork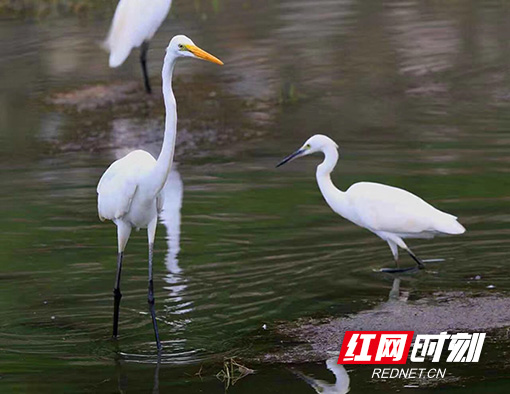 东方白鹳,国家一级保护动物。常在沼泽、湿地、塘边涉水觅食,主要以小鱼、蛙、昆虫等为食。
Oriental White Stork, national protected animals, is often found in in swamps, wetlands, and ponds, feeding on small fish, frogs, and insects.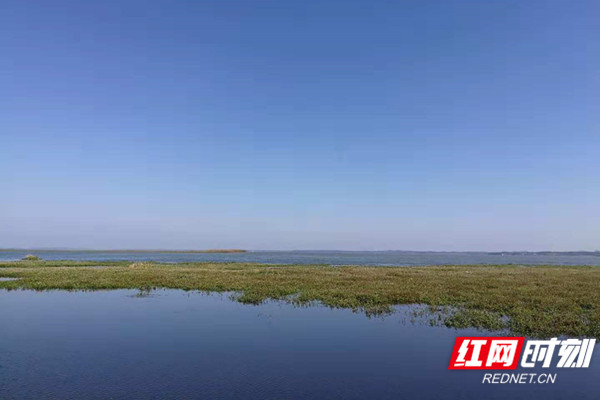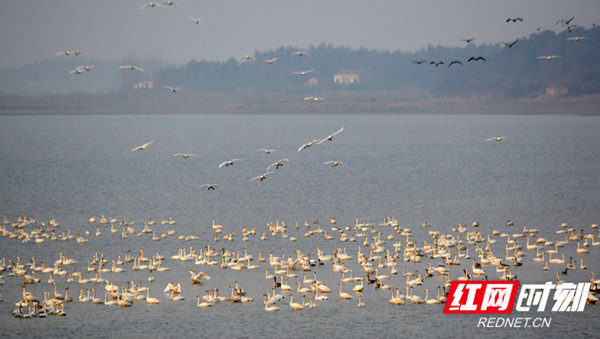 候鸟称得上是环境质量的"晴雨表",因为候鸟种群的变演、迁徙路线的变迁,背后反映的就是生态环境的变化。
Migratory birds can be regarded as a measure of environmental quality, because the changes in the ecological environment reflect the changes of the populationsin migratory bird and their migratory routes.
洞庭湖是世界自然保护联盟首批认定的全球23处绿色保护地之一,湿地总面积3930平方公里,占长江流域14个省国际湿地总面积的71.4%。
Dongting Lake is one of the world's first 23 green protection sites identified by the World Conservation Union. The total wetland area is 3,930 square kilometers, accounting for 71.4% of the total wetland area of 14 provinces by the Yangtze River.
据湖南省林业局发布数据称,目前洞庭湖栖息了1200多种高等植物、1120多种脊椎动物种类,2017年至2018年,来洞庭过冬候鸟达348种、22.64万只,比上年增加了18.9%。过境候鸟数百万只,均呈历史之最,生物多样性得到进一步巩固。
According to the data released by the Hunan Provincial Forestry Bureau, there are more than 1,200 species of higher plants and more than 1,120 species of vertebrate species living in Dongting Lake currently. From 2017 to 2018, there are 348 species of migratory birds and 226,400 birds coming to Dongting Lake in winter, and it increases 18.9% than the previous year. Millions of migratory birds have been stayed at Dongting Lake, and their biodiversity has been further developed.
此外,作为国家一级保护动物,野生麋鹿由2012年的65头增加到2017年的164头,长江江豚监测记录数量也达到220头,稳定栖息种群达120头。
In addition, as a national first-class protected animal, the number of milu (Père David's deer) has increased from 65 in 2012 to 164 in 2017; the number of monitoring records of Yangtze finless porpoise has reached 220, and the number of stable habitats has reached 120.