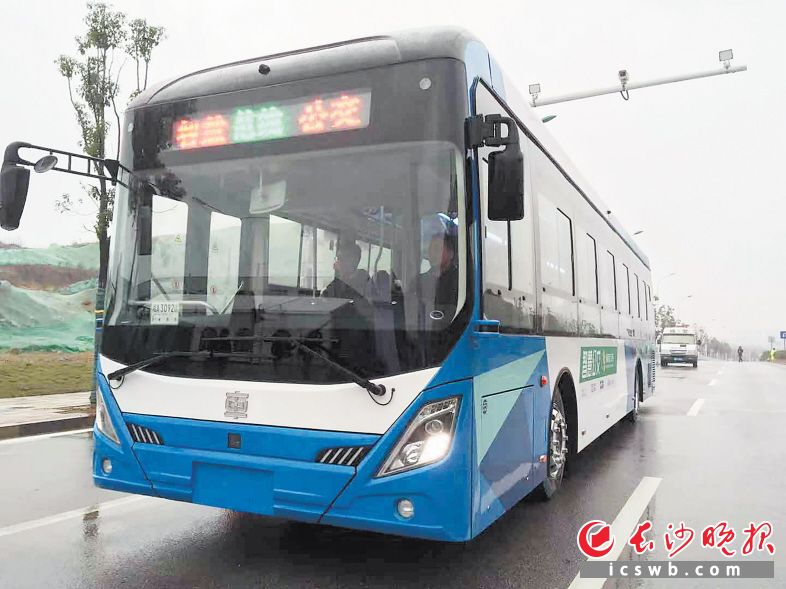 When the staff activated the smart bus's automatic driving mode with a light press of the button, the vehicle detect the surroundings through the radar to ensure that there are no obstacles on the road, and then the bus slowly entered the pre-planned lane. The automatic bus freely completed the movements of turning, passing traffic lights, etc in the National Intelligent Network (Changsha) testing area which has the first smart bus line in China. The smart bus must undergo rigorous closed tests before it runs on the open roads.
At present, the biggest highlight of the testing area is under the full coverage of the 5G signal. The 5G network helps vehicles to process road conditions quickly, to achieve low-latency communication between vehicles and vehicles, and to improve the reliability of autonomous driving. Vehicles can smoothly carry out different kinds of tests with high bandwidth and low latency.
The project of Hunan Xiangjiang New District Smart Bus Demonstration Line has launched 4 smart buses with the line of 7.8 kilometers long in total. Smart buses will identify obstacles by sensors (such as laser radar, ultrasonic radar, millimeter wave radar, visual sensors, etc.). With the help of 5G signals in the testing area and open roads, smart buses are capable of making accurate judgments within 5 milliseconds. "Our smart buses can stably detect obstacles 100 meters away, with a smooth stop from the obstacle in 3 meters."
5G network connection device is set every 400 meters on the road of the smart bus demonstration line in Hunan Xiangjiang New District. These networked devices are equivalent to our home network card and Wifi. The networked equipment collects vehicle driving information to the debugging center of the testing area, and it sends the command information to the vehicle. That is to say, this smart road connects the intelligent bus and the debugging center, and it provides decision-making basis for the intelligent bus.
工作人员轻轻按下一键启动,便激活了智慧公交的自动驾驶模式——车辆会通过车身外部的雷达检测周围,确保路面上没有障碍物后,便慢慢驶入预先规划好的车道,开始自动行驶过程,自如地完成出入公交站台、转弯、通过红绿灯等动作……近日,长沙晚报全媒体记者实地走访了国家智能网联汽车(长沙)测试区,揭秘全国首条智慧公交线路。
智慧公交在开放道路试运行前必须经过严格的封闭测试,"考试"合格发放路测牌照后才能正式投入开放道路测试。
目前测试区最大的亮点是实现了园区5G信号的全覆盖。5G网络可以帮助汽车更快处理路况、实现车对车的低延迟通信,提高自动驾驶的可靠性。车辆可以在高带宽、低时延的情况下顺利开展各项测试。
湖南湘江新区智慧公交示范线项目投放了4辆智慧公交车,全长7.8公里。智慧公交车辆会通过传感器(如激光雷达、超声波雷达、毫米波雷达、视觉感应器等)识别前方障碍,同时在测试区及开放道路上5G信号的帮助下,智慧公交车能在5毫秒之内做出精确判断。"我们的智慧公交车可以达到在100米外稳定检测到障碍物、离障碍物3米处平稳停下的水平。
在湖南湘江新区智慧公交示范线的道路上每400米就设一处5G网联设备,这些网联设备就相当于我们家里的网卡和Wi-Fi。网联设备能将收集到的车辆行驶信息,反馈到测试区的调试中心,同时把调试中心的指令信息发到车辆上。也就是说,这个智慧的路搭起了智能公交车与调试中心的桥梁,及时收集发布路况预警信息,为智能公交车的大脑提供决策依据。