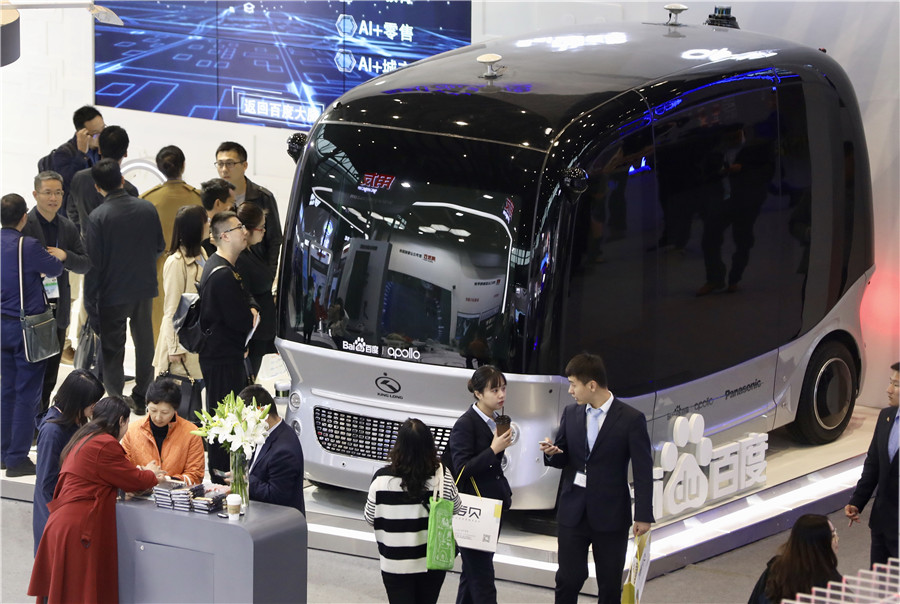 Visitors check out a self-driving bus during a high-tech expo in Wuzhen, Zhejiang province. [Photo by Zhu Xingxin / China Daily]
  In Changsha, capital of Hunan province, a bus avoids pedestrians, speeds up, slows down, makes an emergency stop, overtakes other cars and navigates traffic lights.
  Though it might look like a normal bus at first glance, and even has a driver in position for safety, the new vehicle is in fact controlled automatically along the whole route without a driver's hands ever touching the wheel or feet hitting the brake.
  The bus is one of the four being tested on public city roads since December 2018, as Hunan works hard to gain a place in the nationwide race toward commercializing automatic driving. The central province is hoping to leverage local elite companies' research and development of cutting-edge transportation technologies as well as some favorable regulation policies to gain a lead.
  Li Kang, an engineer at the Changsha Intelligent Driving Institute, which manages the bus, said closer observation of each vehicle reveals the technological secrets that drive them ahead. Each comes with a string of cameras, laser radars and antenna devices which can function as eyes to help see pedestrians, and other obstacles on the road.
  Within the bus, sits a big-box-shaped industrial computer to process all the information absorbed and make proper decisions, facilitating road-to-road communication, Li added.
  The test road, located in Xiangjiang New Area, is also specially modified. The 7.8 kilometer, 11 stop route is fully covered with signals from 5G, or fifth-generation mobile communication technology, which offers reliable and real-time communication among vehicles, and between the bus and a cloud computing platform.
  "More than 70 high-definition cameras have been installed along the road, passing video information back to a control center. Coupled with the in-vehicle data, it can help boost efficiency in tracking the road and four buses. Information can also be transferred to the buses to help them make decisions on their own," said Liu Kai, a technical official at the Hunan Xiangjiang Smart Tech Innovation Center, which runs the testing area in Changsha.
  In the first phase, four electric intelligent driving buses are scheduled to be put for trial runs. They were all produced by CRRC Zhuzhou Institute Co Ltd. Located in Zhuzhou, Hunan, the firm is a wholly-owned subsidiary of China Railway Rolling Stock Corp, one of the largest railway transportation equipment suppliers in the world.
  Of the four buses, two are based on L3 level, or conditional automation, meaning that the system can handle driving as long as it is within its operational design domain. The other two will be based on L3 or upgraded to higher levels such as L4 or L5 later by the Changsha Intelligent Driving Institute.
  The Xiangjiang New Area aims to build a 100 kilometer public testing road by the end of 2019 for self-driving vehicles, including taxis, logistics trucks, sanitation trucks, and smart parking as well other applications.
  The development has attracted some of the country's biggest firms. Baidu Inc will team up with other companies to deploy about 100 autonomous taxis in the area for testing, while JD will use the area to test its smart delivery trucks.