The Hunan Provincial People's Government top leaders met with ministers of central ministries and leader of an enterprise in Beijing on February 21 and 22, 2019. The counterparts included the China Life Insurance Group (CLIG), the Ministry of Commerce (MOC), the Ministry of Industry and Information Technology (MIIT), the National Health Commission (NHC), and the Ministry of Education (MOE). They exchanged ideas on assisting Hunan in fighting the 'three tough battles' of preventing and defusing financial risk, targeting poverty alleviation, and pollution control; building Hunan a strong sci-tech, education, and manufacturing powerhouse; and, promoting Hunan's opening up and health construction. Hunan Governor Xu Dazhe, MOE Minister Chen Baosheng, MIIT Minister Miao Wei, MOC Minister Zhong Shan, NHC Director Ma Xiaowei, and CLIG Chairman Wang Bin attended.
MOE Vice Minster Sun Yao, MIIT Vice Minister Xin Guobin, Hunan Vice Governors He Baoxiang, Chen Fei, and Wu Guiying, and Hunan Secretary General Wang Qun also joined the meeting.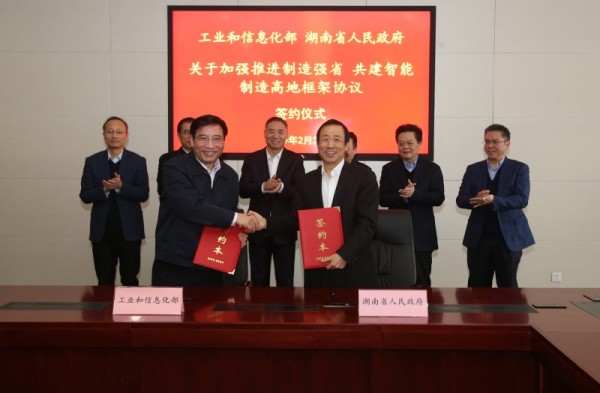 Hunan Governor Xu Dazhe and MIIT Minister, on behalf of either party, sign a framework agreement.
Hunan and MOE agreed to deepen cooperation in "Double First-Class" universities construction, vocational education development, and education modernization promotion. Hunan and MIIT reached an agreement on promoting the building of a strong manufacturing province and a smart manufacturing highland, and discussed a series of specific issues. Hunan and MOC held talks after the first session of the China-Africa Economic and Trade Expo Organizing Committee. MOC listened to Hunan's initiatives and achievements in promoting opening up development, and promised to support Hunan in replication and implementation of the free trade zone experiences to establish an inland opening up highland.
Hunan and NHC reached consensus on the establishment of national and regional medical centers to promote health-oriented poverty alleviation. In the meeting with CLIG, the two sides inked a strategic cooperation agreement and exchanged views on further providing high-quality financial services and supporting the key projects construction in Hunan.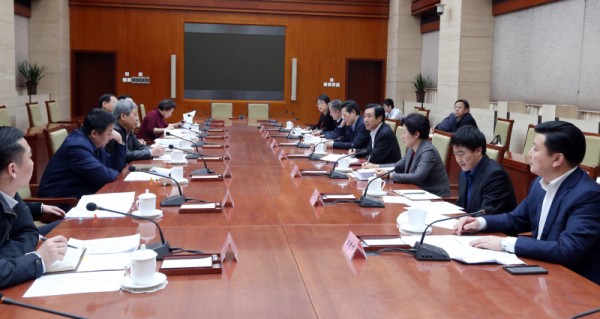 Hunan Governor Xu Dazhe talks with MOE Minister Chen Baosheng.