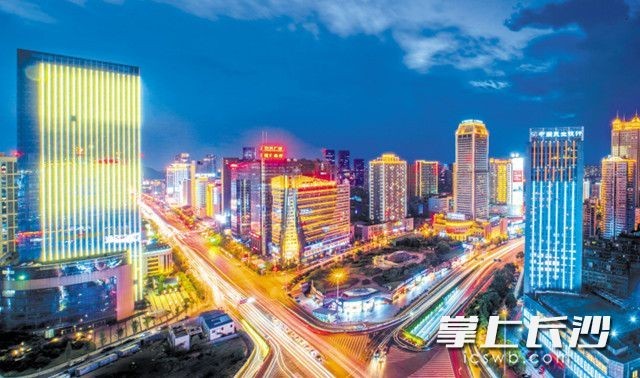 The night view of Furong Square, Changsha. (Photo/Zou Lin)
Changsha was recently listed in China's top 10 provincial capitals and municipalities on the "Good Life Index", according to the "CCTV Economic Life Survey 2018-2019".
On February 23 evening, a meeting in Beijing released the survey results. Shu Xinggang, Standing Committee member of the CPC Changsha Municipal Committee and executive vice mayor of Changsha, accepted the trophy on behalf of Changsha.
The list is based on the results of questionnaires responses from 100,000 Chinese families conducted by the "CCTV China Economic Life Survey" program. The top 10 are: Nanjing, Changsha, Hefei, Guangzhou, Kunming, Hohhot, Chongqing, Haikou, Zhengzhou, and Yinchuan. The program will be broadcast on CCTV Finance channel during the national "two sessions" on March 7.
The survey focuses on the theme of "good life". It aims to learn about people's degree of all-around satisfaction with their personal life and work, public services, and social governance; and their feelings about the good life from the perspectives of achievement, security, and happiness. Based on the poll results, a "good life index" was formulated to embody the population's true feelings about the good life.
Among the 10 cities on the list, some have high-quality economic development; some have done well in entrepreneurship and employment; and some receive high praise for their ecological environment.
Undoubtedly, the list reflects economic and social development trends in the new era. GDP is no longer the crucial indicator of urban competitiveness. The goal of "good life" has become a new engine of urban development, and high-quality development has become a common path for cities to upgrade their driving forces.