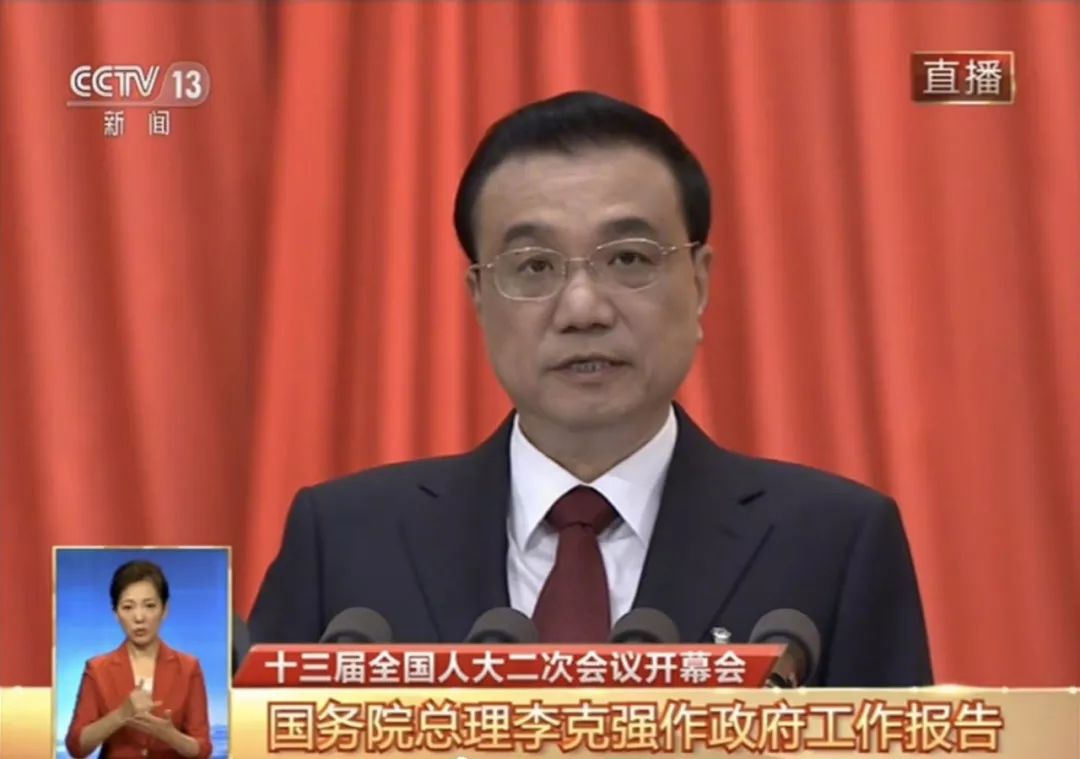 今天上午,十三届全国人大二次会议开幕,国务院总理李克强作政府工作报告。红网小编跟你一起了解政府工作报告中词汇的英文表达。
Fiscal deficit ratio 财政赤字率
积极的财政政策要加力提效。今年赤字率拟按2.8%安排,比去年预算高0.2个百分点;财政赤字2.76万亿元,其中中央财政赤字1.83万亿元,地方财政赤字9300亿元。
China will raise its fiscal deficit target to 2.76 trillion yuan, or 2.8 percent of GDP, this year from 2.6 percent in 2018.
适度提高赤字率,综合考虑了财政收支、专项债券发行等因素,也考虑为应对今后可能出现的风险留出政策空间。
The measure is being taken to stabilize economic growth by enlarging government spending. As a major measure to tackle economic risks, the proactive fiscal policy in 2019 will become stronger and more efficient.
今年财政支出超过23万亿元,增长6.5%。
Total government expenditure is budgeted at over 23 trillion yuan, up by 6.5 percent from last year.
Corporate burdens 企业负担
确保减税降费落实到位。全年减轻企业税收和社保缴费负担近2万亿元。今年务必使企业特别是小微企业社保缴费负担有实质性下降。
China aims to reduce the tax burdens and social insurance contributions of enterprises by nearly 2 trillion yuan ($298.3 billion) in 2019, as part of its broader push to promote manufacturing and fuel the growth of small and micro businesses.
深化增值税改革,将制造业等行业现行16%的税率降至13%,将交通运输业、建筑业等行业现行10%的税率降至9%。
The government will deepen the value-added tax reform, reducing the current rate of 16 percent in manufacturing and other industries to 13 percent, and lower the rate in the transportation, construction, and other industries from 10 to 9 percent.
Broadband, mobile internet rates 宽带移动网络速率
China will further cut the rates for broadband and mobile internet services, as the nation steps up push to nurture innovation and speed up the growth of emerging industries.
开展城市千兆宽带入户示范,改造提升远程教育、远程医疗网络,推动移动网络基站扩容升级,让用户切实感受到网速更快更稳定。
China will speed up broadband and lower internet rates, with measures including launching demo projects to extend 1,000M broadband connectivity into urban homes, upgrade networks for telemedicine and online education.
今年中小企业宽带平均资费再降低15%,移动网络流量平均资费再降低20%以上,在全国实行"携号转网"。
This year, average broadband service rates for small and medium enterprises will be lowered by another 15 percent, and average rates for mobile internet services will be further cut by more than 20 percent.
Green measures 绿色发展
要改革完善相关制度,协同推动高质量发展与生态环境保护。绿色发展是构建现代化经济体系的必然要求,是解决污染问题的根本之策。
China will pursue both high-quality development and environmental protection by reforming and refining relevant systems. Green development is a critical element of modernizing an economy and a fundamental solution to pollution.
加强污染防治和生态建设,大力推动绿色发展。
"We will strengthen pollution prevention and control, enhance ecological improvement, and make big advances in green development," the report said.
Elderly care sector 养老服务业
我国60岁以上人口已达2.5亿。要大力发展养老特别是社区养老服务业。
China will take significant steps to develop the elderly care sector, especially community services, in 2019 as the number of people aged 60 and above has reached 250 million.
对在社区提供日间照料、康复护理、助餐助行等服务的机构给予税费减免、资金支持、水电气热价格优惠等扶持,新建居住区应配套建设社区养老服务设施。
The country will provide support to institutions offering services in communities, like day care, rehabilitation, assisted meals and assisted mobility, by using measures such as tax reductions, fee cuts and exemptions, funding support, and reduced charges for water, electricity, gas and heating.