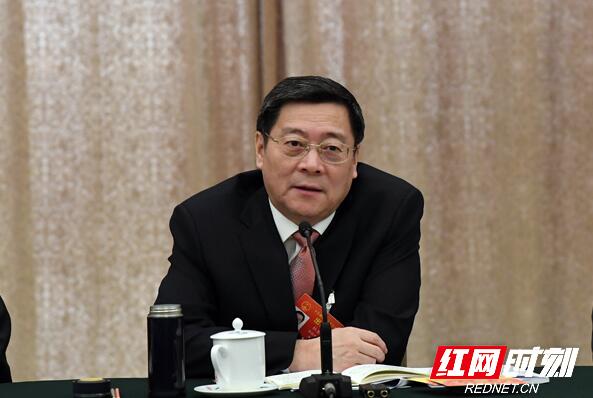 3月7日下午举行的全国两会湖南代表团媒体开放日上,这些话题成为湖南代表团的"吸睛"热点。

作为"精准扶贫"首倡地,在回答记者关于湖南这些年扶贫攻坚所积累的经验做法时,湖南省委书记杜家毫开门见山:"脱贫攻坚,最鲜明的特色、最显著的特点就是'精准'二字。"
Hunan province has established an effective and efficient set of measures for poverty alleviation, according to a top provincial official.
Du Jiahao, Hunan's Party secretary and head of the provincial legislature, said on Thursday that the provincial government has been sparing no efforts in implementing President Xi Jinping's instructions on targeted poverty reduction, and has worked out various methods to address poverty issues.
据他介绍,5年多来,湖南着力推进精准扶贫,到去年底,全省累计脱贫680多万人,贫困发生率从13.43%下降到1.49%。他表示,预计今年底湖南可基本实现贫困县全部摘帽,明年可实现全部贫困人口脱贫。
Du said that in the past five years, Hunan province lifted nearly 6.8 million rural residents out of poverty from the impoverished areas list. The rate of poverty in Hunan among the general population has also fallen sharply from 13.4% to 1.4%, during a panel discussion of the Hunan delegation to the ongoing second session of the 13th National People's Congress in Beijing. Du said the province is determined to eliminate absolute poverty by 2020.
杜家毫介绍,为"守护好一江碧水"、推进长江经济带发展,湖南主要抓了三件事:一是长江岸线的保护治理和生态修复,二是继续实施好湘江保护治理"一号重点工程",三是开展洞庭湖生态环境专项整治。
Local governments in Hunan have also created and maintained many jobs that carry out environmental protection efforts such as forestry preservation and riverside patrols.
杜家毫提到,有着"水中大熊猫"之称的江豚,从最少时只有72头,现在已恢复到了110头;珍贵可爱的洞庭湖野生麋鹿群,也在不断繁衍壮大。他相信有朝一日,"漫江碧透、鱼翔浅底"的美丽景象,一定会在"一湖四水"和长江得到恢复和重现。
Du said that there was only 72 finless porpoise before, and it recovered to 110 ones. The number of milu constantly expands by Dongting Lake. He believes that the scene of "clear water and prosperous wildlife" will be restored and reappeared in Hunan and by the Yangtze River.
Link: 湖南代表团开放日"划重点"