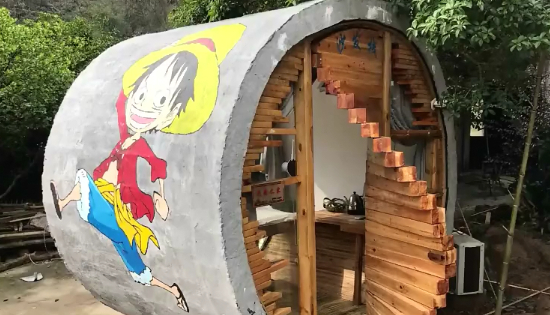 A young man in Central China designed, constructed and decorated a unique cement pipe room in 45 days, and made short videos to record the whole process and put them online, attracting many followers.

  The man surnamed Long, 28, used to serve in the army and now runs a home "agritainment" inn in Shaoshan, Central China's Hunan province, the Xiaoxiang Morning Herald reported Wednesday.
  Long said he has been a fan of Japanese animation and manga since childhood — especially Doraemon, in which a pile of cement pipes is a place for Nobita Nobi to play with his friends and a shelter from bullies.
  Inspired by the scene, Long has always dreamed of actually living in a concrete tube.
  In January, Long started his ambitious construction plan. He used planks to form the tube frame fastened by steel bars, and filled it with cement. After the tube was done, he set out on interior design and decoration.
  He made furniture like a bed, a door, a window and a bamboo lamp by hand. He even learned how to sew and make curtains out of cloth. Finally, he painted the interior wall white and another cartoon character — Monkey D. Luffy from One Piece — outside.
  On March 10, the cement pipe room was done. The pipe is 2.6 meters in diameter and has a living area of 5 square meters, enough to accommodate a couple and their child.
  The videos recording his progress have attracted lots of followers, and one clip even drew more than 10 million views. A number of netizens have given him a thumbs-up after watching his step-by-step home building series. One commented: "I have watched all the videos from Day-1 to Day-45. You are truly an ingenious man and good with your hands."
  Long said there will be a cluster of 20 special home inns in his future plans, each with a different theme — and a camouflage military-themed one has already begun preparations.