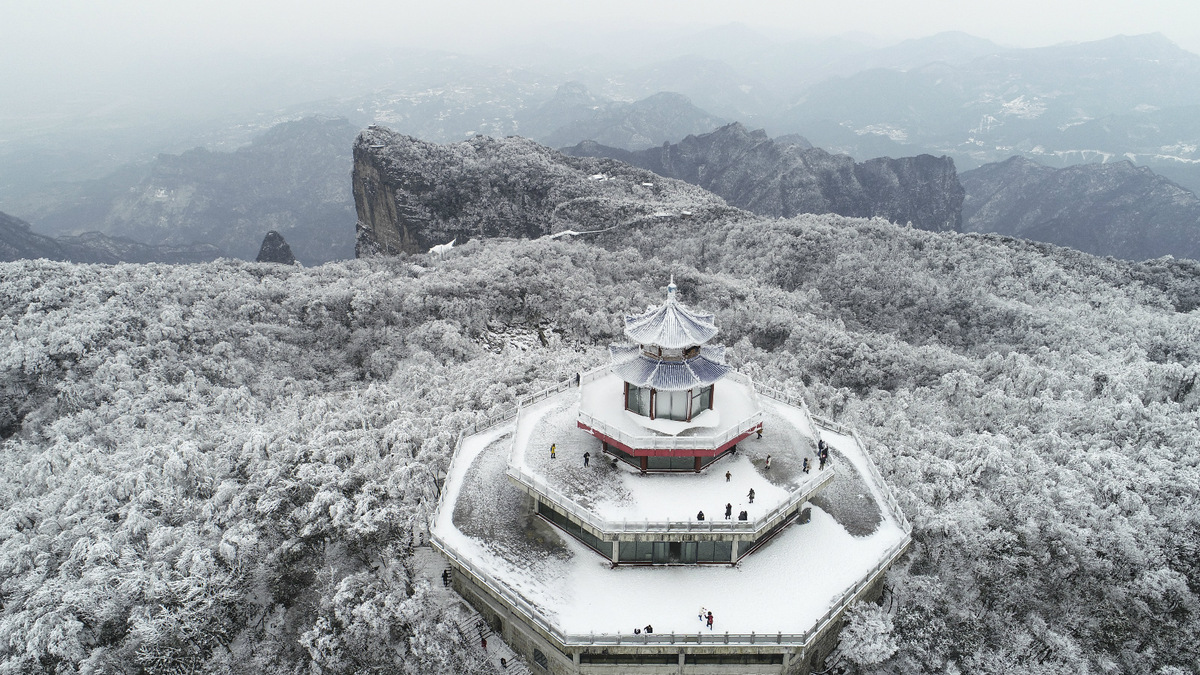 Nantian Yizhu, or Avatar Hallelujah Mountain, is in the same mountain range as Tianmen Mountain, pictured above, in Zhangjiajie, Hunan province. SHAO YING/FOR CHINA DAILY
  Hunan province's Zhangjiajie, one of China's most picturesque tourist areas and home to Avatar Hallelujah Mountain, is planning to build itself into a magnet for global sightseers, with tailored services and more convenient transportation, a senior local official told China Daily on Saturday.
  The surrounding breathtaking views inspired the floating mountains in the 2009 sci-fi blockbuster Avatar, and the area has emerged as a global tourist hub over the past few years, receiving more than 5.6 million tourists from 117 countries and regions last year.
  "That's a year-on-year increase of 58 percent," Liu Gean, mayor of Zhangjiajie and a national legislator, said in an interview during the ongoing session of the National People's Congress.
  Tourism and related industries now constitute over 60 percent of Zhangjiajie's GDP.
  Forty percent of those whose incomes climbed over the national poverty line-an annual income of 2,300 yuan ($342) set in 2010 and adjusted annually for purchasing power parity-over the last few years are involved in the burgeoning tourism sector, Liu said.
  The city started to see an increase in its international fame in 1992 when its Wulingyuan Scenic Area was added to the UNESCO World Heritage Site list.
  Overseas visitors have come mainly from Hong Kong, Taiwan, and neighboring countries including Japan and South Korea. "Our international appeal is mainly an outcome of the word-of-month publicity back then," he said.
  As Zhangjiajie aims to boost its visitor numbers even more, it has bolstered efforts to open international air routes, and overland connections that link the city with other major tourist destinations in China, according to guidance released by the city government in 2016 aimed at spurring inbound tourism.
  Local authorities have been urged to provide services that cater to inbound sightseers, including developing online reservation homestays, and recruiting multilingual tour guides.
  Government data show that last year, Zhangjiajie launched air routes to Hanoi and Ho Chi Minh City in Vietnam, and to Jakarta, Indonesia, bringing the number of the city's international air routes to seven. In addition, Zhangjiajie also has regular flights to 45 domestic cities.
  The enhanced air connections are showing clear benefits, with the number of Vietnamese tourists jumping to more than 80,000 last year, and Indonesian visitor numbers also surging, the mayor said.
  Liu added that city authorities have also stepped up exchanges with cities in Japan, the United States, South Korea and Thailand, as part of efforts to boost global appeal and recognition, as well as hone tourism management skills.
  In response to environmental concerns following the rapid growth of the tourism sector, he said, the city would not develop at the cost of the environment, and this sensibility lies at the center of its competitiveness in the tourism market.
  "We've phased out a number of polluting industries near the reserve, and helped people living in protected areas to relocate," he said.
  To further tap Zhangjiajie's cultural and tourism potential, the mayor said they've been in close contact with a number of filmmakers in the hopes that another phenomenal movie like Avatar could help make the city better known worldwide.