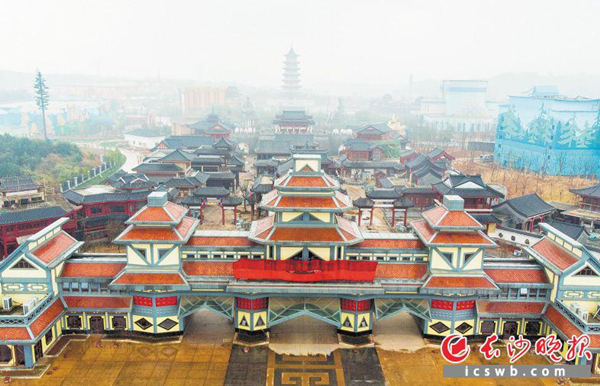 The main part of the Changsha Fantawild Oriental Heritage (the first phase of Beauty China Changsha Cultural Demonstration Garden) is expected to finish construction by April. [Photo by Zou Lin/icswb.com]
  Construction on the Changsha Fantawild Oriental Heritage is expected to be mostly complete by April and the theme park is expected to open to the public at the end of June.
  Just a one-hour drive from downtown via Yuening Avenue, the breathtaking Chinese-style complex composed of 11 palaces will dominate the skyline of Ningxiang Weidong New Town. Each palace is themed around a myth or legend and allows visitors to immerse themselves in the mythical world.
  The Themed Entertainment Association honored Fantawild Oriental Heritage with the "2018 Outstanding Achievement Award" and praised its integration of high-tech immersive entertainment with ancient Chinese culture. The park now holds 1,000 patents and has adopted leading-edge VR, MR, and AR technologies that allow it to present Chinese culture in an innovative way.
  The idea of such a project dates back to 2014 when a Hunan delegation visited Shenzhen Huaqiang Group during the China (Shenzhen) International Cultural Industries Fair. The Hunan and Changsha governments showed strong interest in the Beauty China Cultural Demonstration Garden program being planned by Huaqiang at the time. After a year of negotiations, the project finally landed in Changsha.
  The project will help nearby areas by speeding up transportation and increasing the number of academic institutions. It is also expected to boost cultural innovation, tourism, and commercial industries in Changsha and Hunan.