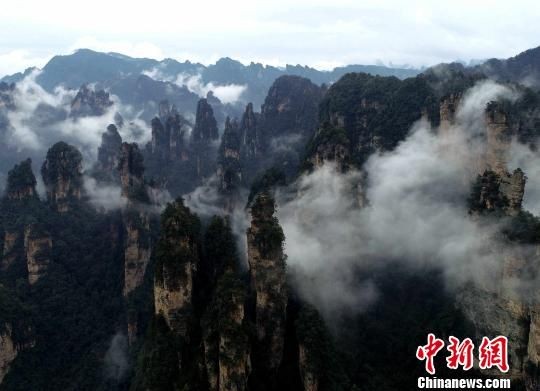 An aerial view of undulating karst peaks at Zhangjiajie Wulingyuan Scenic Area (file photo/Wu Yongbing)
"In 2020, Zhangjiajie's annual tourist arrivals will reach 100 million and tourism revenue will stand at 100 billion CNY. It will be one of the world-class tourist cities," said Ouyang Bin, vice mayor of Zhangjiajie City. He added that Zhangjiajie is aimed at building itself into a national model city for all-for-one tourism; a city of the innovative port economy and investment attraction, and with strong international friendship; and, a hub of tourist products. Ouyang Bin made the statement in an interview on March 27.
With the rapid development of all-for-one tourism, the city received more than 85 million trips in 2018. Its accelerated pace of internationalization requires higher urban tourism carrying capacity and better service quality.
Ouyang Bin related, "Zhangjiajie will speed up all-for-one tourism while taking domestic and foreign top tourist destinations as benchmarks such as Thailand's Pattaya, USA's Orlando, and China's Guilin and Hainan."
As one of the two international airports in Hunan Province, Zhangjiajie Hehua International Airport is the only national first-class airport in Wuling mountain area. Taking this advantage, Zhangjiajie started to build an aviation logistics park. Zhangjiajie's port economy is booming. The city is applying for a 144-hour visa-free entry for tourist groups and approved as a designated port for the import of fruit, edible aquatic animals, chilled aquatic products, and plant-derived materials. A public bonded warehouse is built. The first international cargo route will be opened in June this year.
"Insufficient consumption level and poor international presence are still the bottlenecks impeding Zhangjiajie tourism development. This requires us to boost international sister city relationships," said Ouyang Bin. He added that Zhangjiajie will establish a friendly relationship with 20 international cities within two years, and cooperate with a group of international tourism organizations. "The wider Zhangjiajie as a tourist city opens to the world, the closer it will connect with the world."
The Oriental Manhattan Global Bonded Shopping Mall in downtown Zhangjiajie will put into service in late September this year. More than 20,000 imported goods from the Shanghai Free Trade Zone and more than 15,000 ones from the Zhejiang Free Trade Zone will be put on shelves. A new mode of "tourism + shopping + purchasing" will take shape, making Zhangjiajie a global tourism and shopping base.