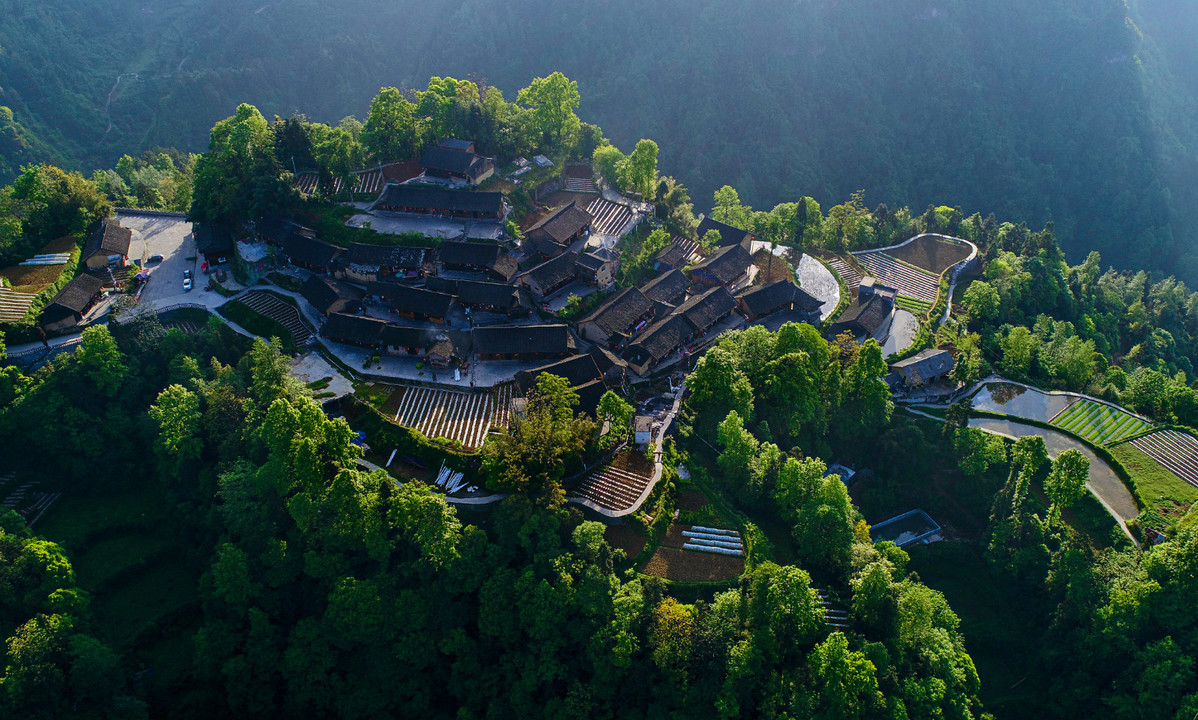 Shibadong village in Hunan province has a new look that shows some of the achievements of poverty alleviation policies. [Photo provided to CHINADAILY]
Shibadong village, a once destitute backwater in central Hunan province, is setting a good example in poverty alleviation.
The village, located in Huayuan county, Xiangxi Tu autonomous prefecture, has 225 households and 939 residents, most of whom had been afflicted by poverty for years.
Things started to turn around after President Xi Jinping visited the village in November 2013 and called on governments at all levels to lift the impoverished villagers out of dire straits through "targeted" measures.
In early 2014, a work team stationed in Shibadong broke poverty-alleviation policies down into specific actions, and 136 households with 542 people were identified as impoverished.
The village, which is endowed with rich natural and cultural resources, has been built into a multiple-industry base covering tourism, kiwi planting and Miao embroidery. The kiwi even tapped into markets in the Hong Kong and Macao special administrative regions.
Long Jinbiao, 27, a villager who once worked in Taizhou, Zhejiang province, has been impressed with the tremendous changes over the past few years.
"I came back to the village every two years to visit my parents during the Spring Festival holiday. But I chose to stay in 2017 because of the promising future here," he said.
Long is now chairman of the village's tourism cooperative, which was established in September.
Sun Zhongyuan, Shibadong's Party secretary, said the diversified industries have brought more jobs.
"Before 2013, about two-thirds of the villagers were out of work. That has decreased to one-third now."
According to a news release on the province's website, the average income per capita in the village increased to 10,180 yuan ($1,490) in 2017 from 1,668 yuan in 2013.
The targeted poverty alleviation in Shibadong village also inspired neighboring areas in the prefecture.
Longbizui village, about 60 miles from Shibadong, is the traditional home of 3,195 people, with 90 percent of its dwellers being of ethnic minorities such as Miao, and 568 trapped in poverty.
The village used Shibadong as an example and took anti-poverty measures focused on rural tourism development based on its natural resources.
So far, 124 households with 513 people have been lifted out of poverty.
Shi Chengyuan, a 64-year-old from Longbizui who has heart disease, was in a financial predicament after his two sons died of illnesses years ago.
Shi now works for the village's travel company, earning 1,500 yuan per month cleaning the river.
"Thanks to the village's booming tourism, my wife also got a job selling tea, earning 1,500 yuan every month," he said.
Zhong Haowang, assistant to the village director, said that about 520 jobs were created for villagers last year, of which 148 positions were given to people who were impoverished.
He said the village received more than 1 million visitors in 2018, generating revenue of 150 million yuan for the village and strongly driving the poverty reduction work.
Ye Hongzhuan, Party secretary of the province's Xiangxi Miao autonomous prefecture, said targeted and specific poverty alleviation work has been introduced in the prefecture's impoverished areas and has received encouraging feedback.
As of the end of last year, 874 of 1,110 impoverished villages had shaken off poverty, with more than 550,000 people lifted out of poor financial conditions, he said. Disposable income per capita rose to 9,183 yuan last year from 4,229 yuan in 2012.