Recently, Songya Lake in Changsha county was dubbed as the "Beautiful River (Lake) in the Yangtze River Economic Belt" at an annual national competition led by the All-China Federation of Trade Unions and organized by the Ministry of Water Resources and Agricultural, Forestry, Water Conservancy and the Metrological Worker's Union of China.
  The competition covers the assessment in four categories: major project construction, ecological environmental protection, leading innovations, and staff training.
  A total of 19 rivers or lakes across the country won the title and Hunan province has two, the other being Tuojiang River in Fenghuang county.
  Hunan Songya Lake National Wetland Park covers an area of 5,475 mu (365 hectares), including 4,116 mu of water area, all of which are wetland conservation areas. With a water storage capacity of 8.38 million cubic meters, it is the largest urban ecological wetland lake in Hunan province.
  Since 2017, Changsha county has implemented a "River Chief" system and strives to enhance water resources protection. The river chiefs are, much as mayors and county heads, responsible for their beats, and are responsible for the management and protection of the watercourses. Now Songya Lake is clearer, more attractive, and has better water quality. At the beginning of 2019, the lake was enlisted in the Top 30 Beautiful Rivers and Lakes in Hunan Province in a competition held by the provincial river chief office.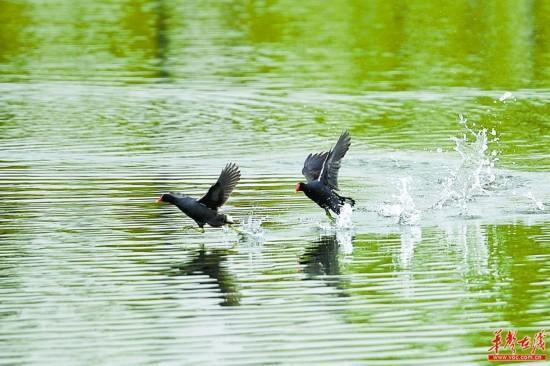 Birds flap their wings on the surface of Hunan Songya Lake National Wetland Park in Changsha county. [Photo/voc.com.cn]