Valin ArcelorMittal Automotive Steel (VAMA), located at the economic zone of Loudi in Hunan province, is a joint venture between Hunan Valin Steel and one of the world's largest steelmaking company ArcelorMittal. It is a state-of-the-art automotive steel production facility with an annual capacity of 1.5 million metric tons. VAMA produces world-class, advanced high-strength steel. This helps carmakers to reduce vehicle weight, lower emissions and enhance passenger safety. VAMA's CEO Fernando Ribeiro Teixeira recently sat down with China Daily to give his thoughts on the company's future growth in China.
  What has VAMA done to differentiate itself from its competitors?
  VAMA has a deep understanding of the automotive steel industry and is committed to providing the most advanced comprehensive steel solutions.
  With ArcelorMittal's technology know-how and global resources such as 12 R&D centers and 1,300 professionals worldwide, VAMA is bringing cutting-edge technology to China and delivering leading comprehensive steel solutions to the market with unique ultrahigh strength steel and a full range of steel capacities.
  By introducing Early Vendor Involvement across all stages of a vehicle's life, VAMA will help customers to meet the requirements and challenges from the industry, shorten the R&D phase to achieve Body in White weight lightening, cost reduction and performance enhancement, and thus increase competitiveness.
  VAMA also works together with GONVVAMA's four plants in China and sets up satellite offices in major auto hubs to provide an extensive network of tailor-made local services.
  How does VAMA reinvest in the community and the environment?
  VAMA is devoted to working with Chinese automakers to elevate China's automotive manufacturing to a new level. Our mission is to make sure everybody in China can afford a car that is safe.
  As a responsible company, VAMA is also committed to meeting both Chinese and global standards in disposal of toxins and waste, fire prevention, recycling and reducing pollution. VAMA's plant complies with emission standards required by China's environmental law implemented on Jan 1, 2015.
  Since its founding, VAMA and its subsidiaries have served as a bridge between China and Luxembourg. What do you think of the Belt and Road Initiative?
  The initiative will benefit countries involved in technology exchanges and expanding markets. It will also bring development opportunities to the automotive industry.
  The initiative will enlarge the market prospects and encourage Chinese automotive manufacturers to "go global". With ArcelorMittal's extensive industry experiences and close cooperation with global R&D professionals, VAMA is positioned to provide world-class products and services and comprehensive steel solutions to help Chinese automakers to meet targets and the market requirements of China and abroad.
  To answer the BRI's call for technological innovation and industrial upgrading, especially in the new energy vehicles, VAMA will evolve range of automotive advanced high-strength steels by reducing the weight to reduce environmental harm, enhance safety, support trends and drive innovation in the industry.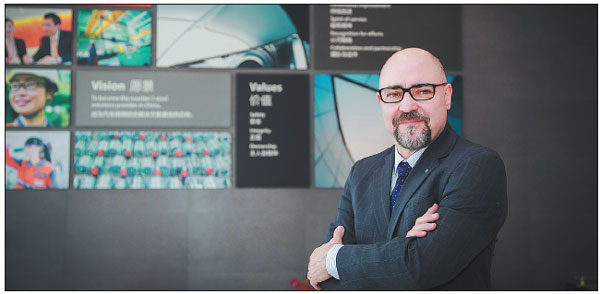 Valin ArcelorMittal Automotive Steel's CEO Fernando Ribeiro Teixeira. provided to China Daily