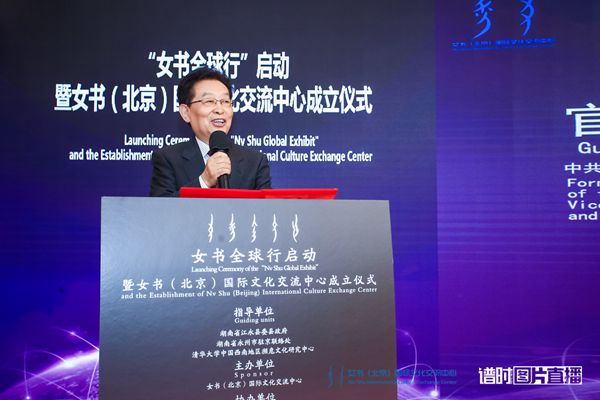 To promote nvshu, a language used by women only, the Nv Shu (Beijing) International Culture Exchange Center was recently established, marking the launch of the "Nv Shu Global Exhibit" project.
  Nvshu, which literally means "women's writing", is a syllabic script used only by women from Jiangyong, in Hunan province. Though it remains debatable when and why the language came into being, nvshu facilitated communication among women and the development of relevant customs and practices.
  Zhao Liming, a professor of Tsinghua University and expert on nvshus, points out that it served as a tool for women in the feudal system to enrich their spiritual world and brighten up their life.
Link: [Hunan Culture] Jiangyong Nvshu (Women's Writing): The World's Only Existent Women Character So Far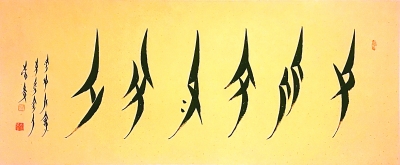 "文明交流互鉴"。Exchange and mutual learning of civilization in Nvshu writing.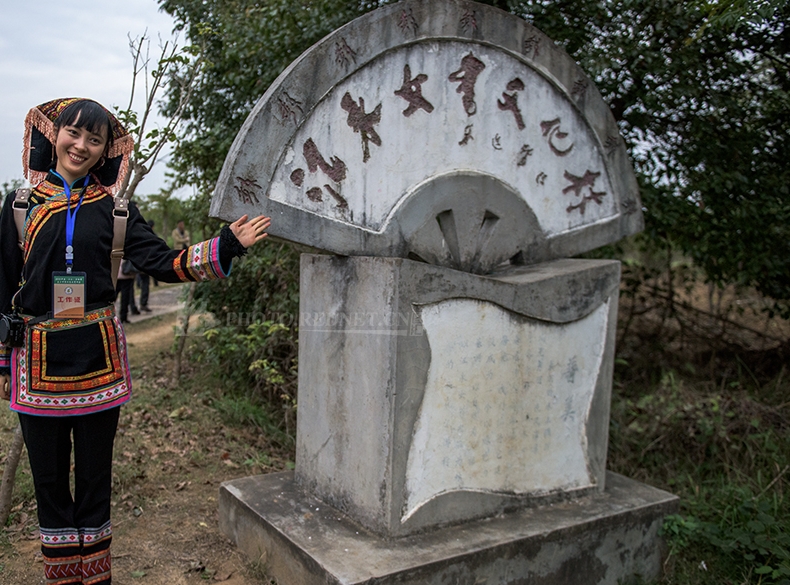 江永女书文化村。Jiangyong Nvshu Culture Village.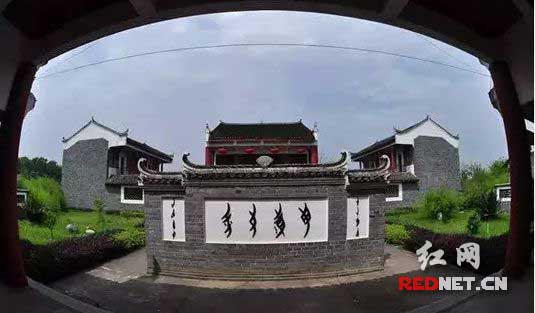 江永女书生态博物馆(资料图)Jiangyong Nvshu Ecomuseum (File photo).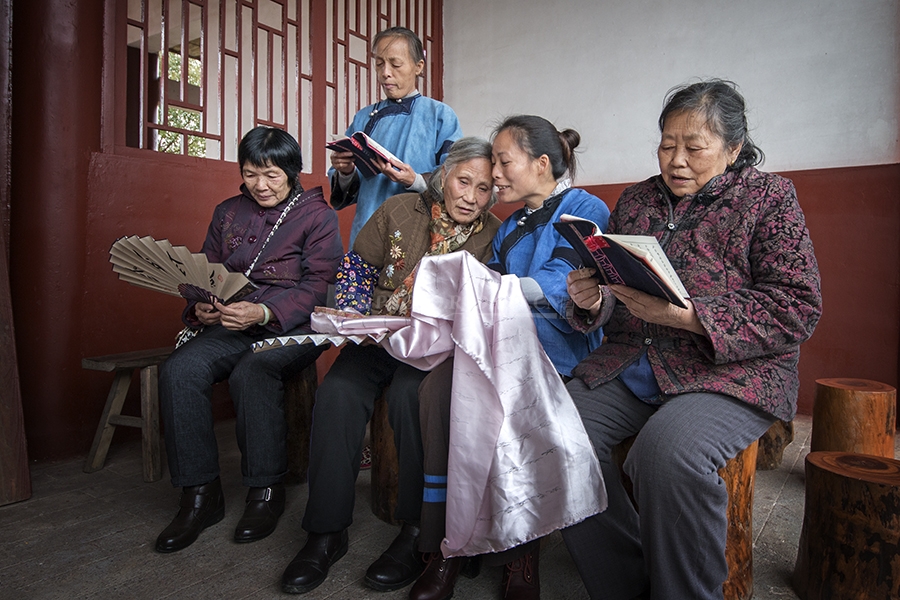 江永妇女们进行女书交流学习。Mutual learning and exchange of Nvshu among Jiangyong women.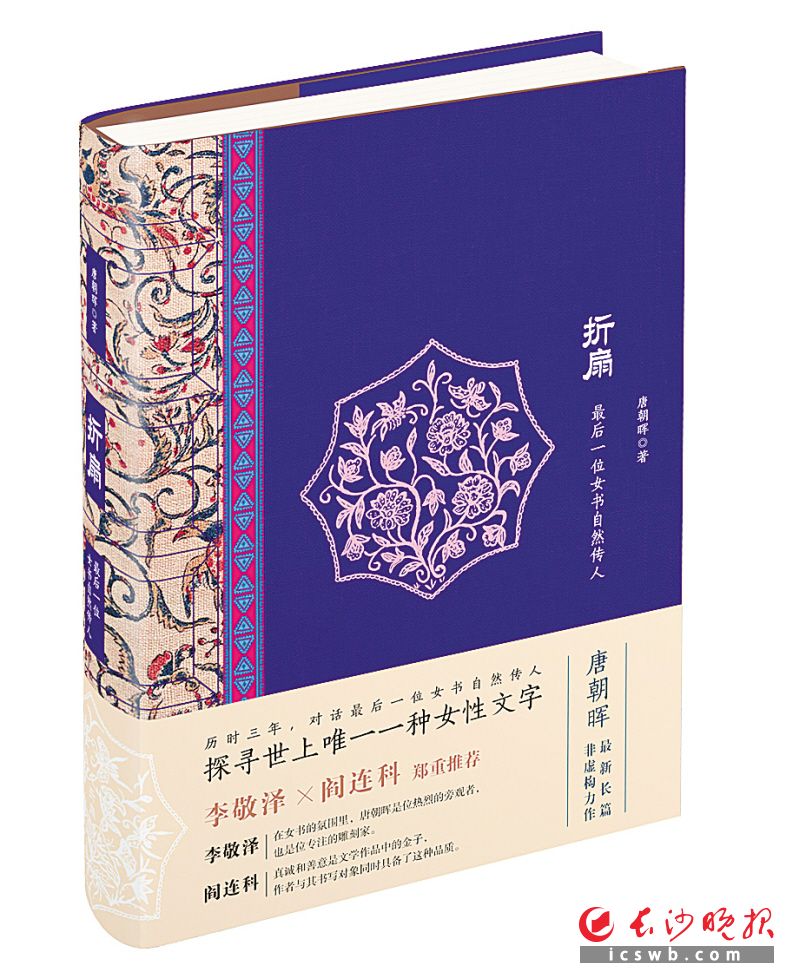 《折扇》:为女书立传,也为女人立传,作者是唐朝晖,70后,湖南人。
Folding Fan written by Tang Chaohui in the 70s from Hunan Province to speak for Nvshu and Women.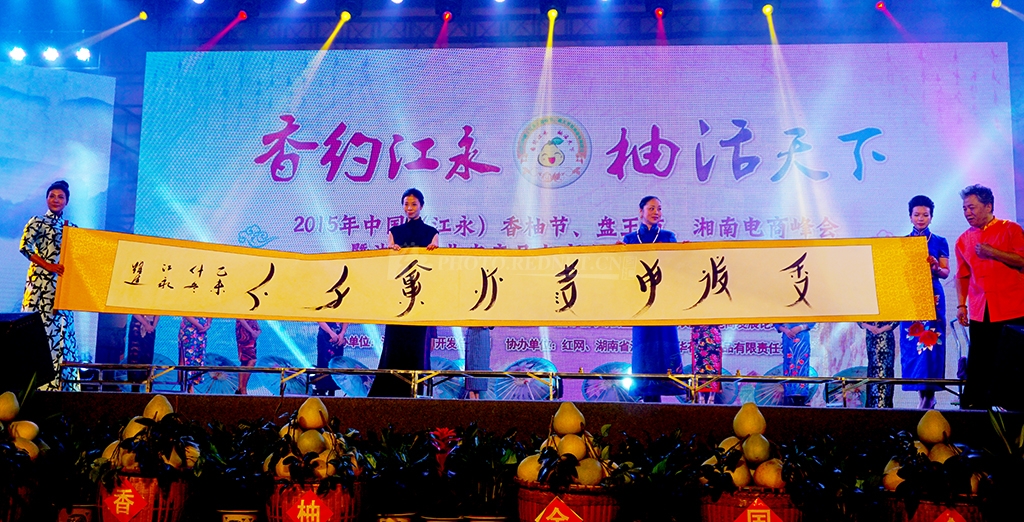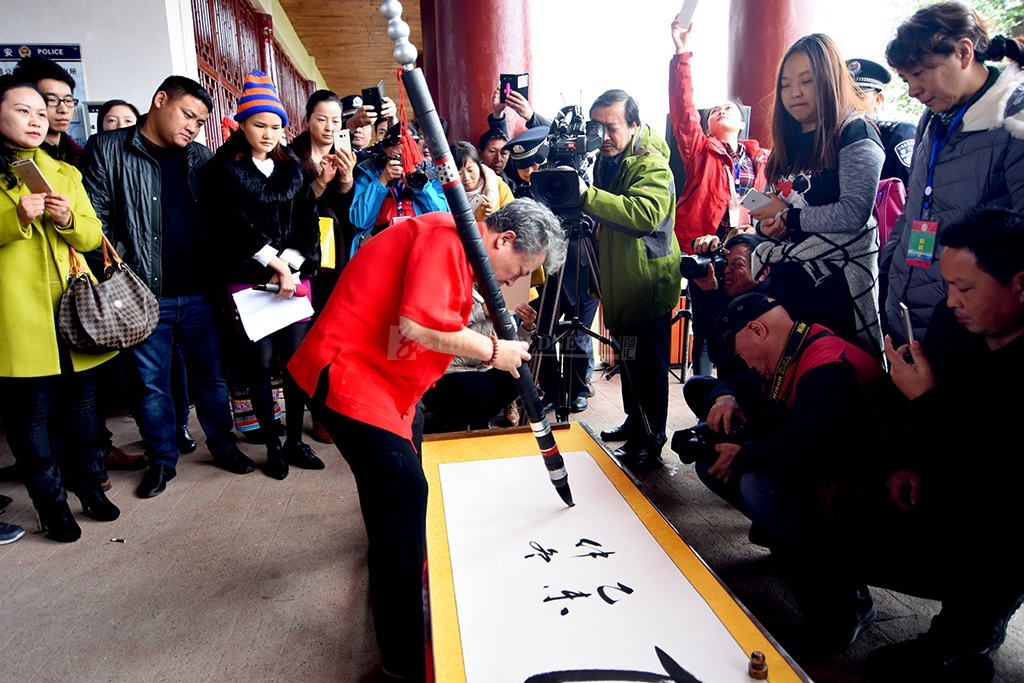 书法家杨跃进持1.35米长、重17.51公斤的硕大铁杆毛笔,书写了"香约江永、柚活天下"的女书大字,创下了世界最重铁笔写女书的世界纪录,当场获得世界吉尼斯纪录证书。
"香约江永、柚活天下" in Nvshu characters written by the calligrapher Yang Yuejin with an iron-holder Chinese writing brush in 1.35 meters length and 17.51 kilos weight, which createdthe Guinness World Records on the Nvshu writing with the heaviest iron pen.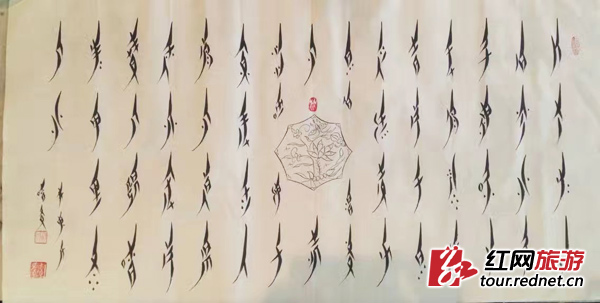 2017年3月,江永女书入列国际标准字符集从此可与其他文字互译。
In March 2017, Jiangyong Nvshuhas been listed into International Standard Character Sets that can be inter-translated with other characters.
江永女书是目前世界上发现的唯一女性文字,文字造型奇特,书写呈长菱形,自上而下,从右向左,因独特的造型,被称为"长脚字"或者"蚊(蝇)形字",主要在永州市江永县上江圩镇及其近邻一带的妇女中传承,并为妇女所专用,先后被列入"中国档案文献遗产名录""世界吉尼斯纪录大全""中国首批非物质性文化遗产名录",今年3月成功列入国际标准字符集,从此可与其他文字互译。
Nvshu (women's writing or womanese for "女书"),the sole women character discovered in the world so far, originates from Jiangyong County, Yongzhou City, Hunan Province. Nvshu has been listed into International Standard Character Sets since March 2017 that can be inter-translated with other characters. Besides, Nvshu enters the Guinness World Records and First-batch China Intangible Cultural Heritage List.
女书作为女性书写的一种字体,主要载体是绣在扇、布、纸上,其独特的符号和形式,反映了江永女性特有的生活场景和情感世界。因此,当地人将这种文字称为"女书"或"女字",并出现了以这种特殊表音文字为内核的社会文化现象——女字、女歌、女红及传承女书活动中的民间习俗,均统称为"女书习俗"。
Jiangyong Nvshu, traditionally written on the hand fans, cloth and paper, reflects Jiangyong women's distinctive life scenes and emotional world, and hence generates Nvshu-cored folk custom, such as Nvshu songs, Nvshu needlework, and so on.
作为世界唯一女性文字的湖南江永女书,已三次与联合国"结缘"。
Here lists three-time attachment of Jiangyong Nvshu to the United Nations:
2017年5月13日,来北京出席"一带一路"国际合作高峰论坛的联合国教科文组织总干事博科娃,收到了一份特殊的礼物——一幅写有"文明交流互鉴"六个女书文字的书法作品。
In May 2017, Irina Bokova, Secretary-general of UNESCO received a calligraphy Nvshu work that means exchange and mutual learning of civilization on her attendance to the Belt and Road Forum for International Cooperation in Beijing.
2016年4月19日,江永女书第二次走进联合国。中国代表团向联合国赠送了《世界人权宣言》女书长卷。
In April 2016, Chinese delegation presented Universal Declaration of Human Rights in Nvshu writing to the UN.
2012年4月中旬,在联合国总部美国纽约举办的"第三届联合国中文日——女书习俗展"活动中,江永女书第一次走进联合国的视野。女书文化交流代表团分别向联合国、中国常驻联合国代表团、联合国妇女署赠送女书长卷《联合国宪章序言》《爱莲说》《消除对妇女歧视宣言》。
In April 2012, in the event of "the 3nd UN's Chinese Day: Nvshu Custom Exhibition" held in New York, Chinese Nvshu Cultural Exchange Delegation presented Preface of Charter of the United Nations, Ode to the Lotus Flower and The Elimination of Discrimination Against Women Declaration in Nvshu writing to the UN, the Permanent Mission of China to the UN, and the UN Women.