Ling Tech's book-reading robot Luka spins big money in early education sector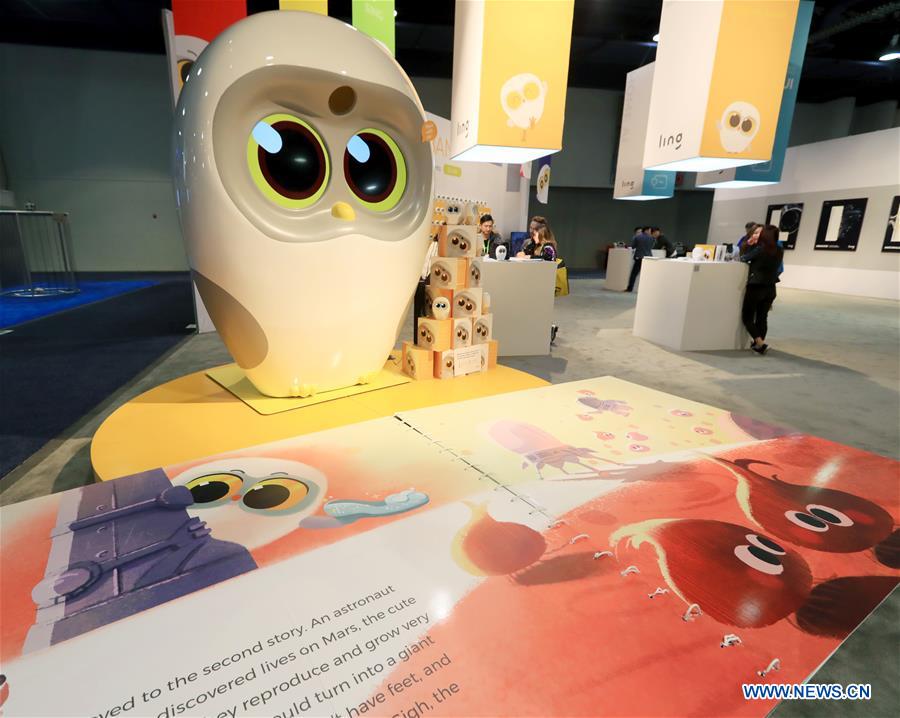 Luka, a reading robot produced by Chinese company Ling, reads a picture book at Consumer Electronics Show (CES) in Las Vegas, the United States, Jan 10, 2018. [Photo/Xinhua]
  At the Consumer Electronics Show 2017 in Las Vegas, an owl-shaped robot named Luka, which was powered by artificial intelligence to read books for children, proved to be popular among the visitors.
  HBO even featured it in its TV series Silicon Valley. It invited the robot's developer, a Chinese company called Beijing Ling Technology Co Ltd, to Disney headquarters to highlight the device's features.
  Luka can read all types of early education books that are currently in the market. When you place a book in front of Luka and turn a page, its 'eyes' can recognize the page and read out aloud the content on it. When you point at a picture on the page, Luka immediately reads out what is in the picture. It can even ask questions about the book and interact with children.
  Equipped with language systems covering Chinese, English, German, Korean and Spanish, Luka is now sold in many countries in Asia, North America, South America and Europe. The company is planning to further expand its footprint.
  "Our book-reading robots are the first of their kind in the world. They are different from general electronic products such as mobile phones and speakers. Luka specializes in the content of early education books. Therefore, for the research and development of our export products, it is not just about switching languages," said Gu Jiawei, CEO of Ling Technology.
  Typically, the company researches a local market before foraying into it. It signs contracts with the local publishing houses for authorized reproductions on its device. It also invests considerable money and efforts in branding, marketing and promotions.
  According to Gu, many domestic companies encounter difficulties when they go global. That's because they don't pay much attention to the differences between China and overseas markets, in terms of user activity, laws and regulations, as well as distribution channels.
  Therefore, before launching its products abroad, Ling Technology does thorough due diligence of markets and local consumers, the local intellectual property scene and distribution channels.
  "Once we are fully aware of the overseas situation, we launch our products. One can't merely think of going global. If we have to go global, we can't take a step forward without being fully prepared," Gu said.
  Persuading foreign consumers to accept Luka has proven to be challenging because they perceive the product as a new type of robot.
  In some overseas markets, a robot plays the role of a kid's companion during childhood. This scene is even common in TV series and movies, he said.
  "Parents' need to have someone accompany their children when they are busy is universal. These days, parents want their children to learn a second language. In some foreign countries, the preferred second language is Chinese, just as Chinese parents ask their kids to learn English or other foreign languages in China," Gu said.
  The overseas business accounts for roughly 14 percent of the company's total business. Last year, it sold over 260,000 Luka units worldwide. This year, it plans to sell several millions.
  In addition, Luka maintains high user activity, which is 60 percent to 80 percent. That means, customers are willing to spend money on the product-they buy picture books, audio books and even live streaming classes that go with Luka.
  Gu explained that the global success of Luka can be attributed to its early exposure at some international expos, making consumers aware of the product in a short time. Besides, the company adjusted its strategy according to the local market's copyright environment, laws and regulations.
  Apart from exporting China's technology and manufacturing prowess, Ling Technology endeavors to build and export its own IP. Besides Luka, it developed other robots each of which has a name and a certain character.
  "Children love these robots. Each has a unique personality. This is probably why Disney wants to cooperate with us," Gu said.
  Chu Zhaohui, a senior researcher at the National Institute of Education Sciences, said: "Children's early education requires multisensory motivation, such as visual, audio, and tactile. The way a learning-related robot interacts with children is multisensory education, and both Chinese and foreign parents have the need to educate their children in this way. This is probably why the robot is popular overseas."