Recipes and stories of life in HK's cramped shared apartments have been compiled in an extraordinary new cookbook. Dorothy So reports.
  Five years ago, Hu Haiyun left her office job in Dongguan to come to Hong Kong. She moved into a tenement building in Sai Ying Pun, where she now lives in a single bedroom with her son and husband. The space is barely 70 square feet. To create walking space in their unit, the family's belongings are piled high atop one another. And yet the rent takes up close to a third of the family's income. Hu works part-time as a waitress to help cover the expenses.
  Such living conditions are not uncommon in Hong Kong, a city as known for the density of its high-rises as its dearth of affordable housing. According to the city's 2016 population by-census, 209,700 people live in subdivided units - flats that are partitioned into two or more smaller rooms and leased out individually.
  Hu's experience is shared in the pages of Neighbourhood Cookbook. Published by Caritas and property developer Grosvenor Asia Pacific, the book is a collection of personal stories and recipes from a group of people living in subdivided flats in Hong Kong's Western District. With less than 75 square feet to call their own, many of these tenants don't have easy access to proper kitchens and some resort to preparing their meals in rice cookers or on hot plates stashed in their tiny living spaces.
  Community hub
  The cookbook is an extension of an earlier collaboration between Caritas and Grosvenor. Last September, the two organizations launched a self-service communal cooking space in Shek Tong Tsui. Aptly called Neighbourhood Kitchen, the shop is designed for those living in subdivided flats, allowing them the space and facilities to prepare and enjoy a proper family meal.
  The significance of the Kitchen goes beyond its tables and stovetops. As Charlie Chan, head of Caritas Youth and Community Service, explains, the space has become a community hub - one that lends practical as well as social support to grassroots families in the vicinity. Services such as counselling, tutoring and assistance with public housing applications are provided on a regular basis. Utensils and fresh ingredients are donated by restaurants and business-owners in the surrounding area, many of whom have been acknowledged in the book.
  "Because of the vast amount of wealth in Hong Kong, not many people are aware of the 1.37 million people in Hong Kong living below the poverty line," says Tim Jowett, executive director and chief representative Hong Kong at Grosvenor. He says that the cookbook is a chance to give a voice to these often forgotten individuals. "Their stories are rife with struggle and hardship but the common theme is that family, friends and a shared meal can sometimes make life a little easier."
  Positive vibes
  While the majority of such cramped housing is clustered in Kowloon, a survey conducted last year by Caritas Mok Cheung Sui Kun Community Centre and the University of Hong Kong estimated that there are more than 3,400 cubicle homes in Hong Kong Island's Western District. Following the extension of the MTR line in 2014, property prices in the area have skyrocketed and the average monthly rent for these subdivided flats has become significantly higher than in other parts of Hong Kong. According to the study, the median rent-to-household income ratio in this district is 36.4 percent, much steeper than the citywide figure of 32.3 percent.
  Despite the financial pressures of living in Western District, Hu says her family has found a sense of belonging in the local community. Unless offered public housing, "we would never consider moving," she says.
  Indeed, like many others featured in Neighbourhood Cookbook, Hu does not consider herself particularly unfortunate since she has the support of her family and community. "People like me who live in subdivided units still have the strength to face their challenges. We remain positive and we are optimistic about handling any difficulties that come our way," she says.
  It's fitting that the recipe she shares in the book is that of fish head steamed with chopped chilies, a specialty of her home province of Hunan. Simple but flavorful, it's a dish that reflects Hu's outlook on life.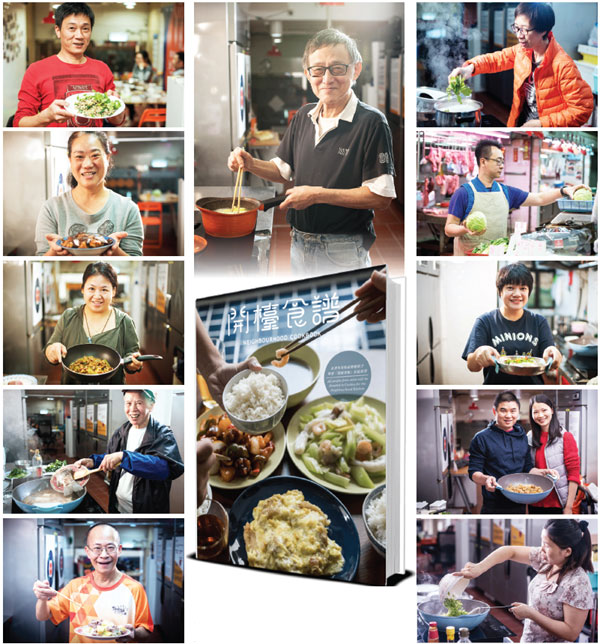 Neighbourhood Cookbook celebrates the spirit of community and resource-sharing among people living in subdivided flats. Photos by Tai Ngai-Lung / For China Daily