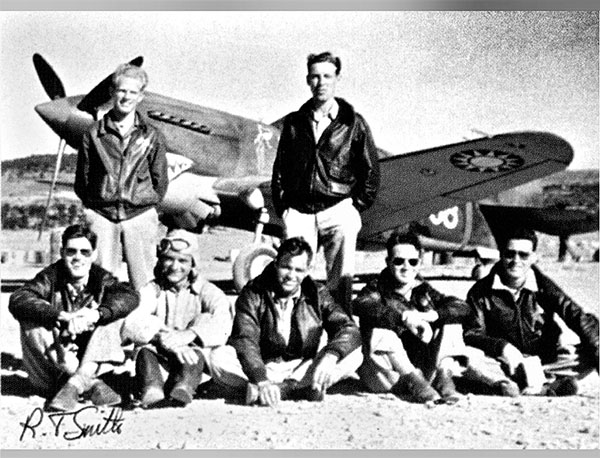 Members of the 1st American Volunteer Group, better known as the Flying Tigers, gather for a group photo at Zhijiang airport in Hunan province during World War II. [Photo/Xinhua]
  My father was the second youngest of 11 children, and one of five family members who fought in World War II. He rarely spoke about his experiences in the war.
  Three years ago, when I was home for Thanksgiving, he pulled out a briefcase that contained all his flight papers. I began to go through the briefcase with him, discussing each step in his selection and training for the air corp.
  He was a math student at Texas A&M University when the Japanese attacked Pearl Harbor. He was one of many Americans who decided to put their lives on hold and join the war. He was fortunate to be selected and he chose the air corp.
  After a year spent in different stages of training, his squadron was eventually sent to China. They flew from Miami to South America and then to the west coast of Africa, to Arabia, India and then Kunming, Yunnan province.
  The Flying Tigers' task was to destroy the Japanese supply lines and as much equipment as possible. My father said he was assigned to attack the Japanese forces and supply lines, which they had set up all the way from Beijing to Vietnam.
  A fellow pilot was shot down, but he survived and later returned to the base very healthy. It turned out he had been saved by Chinese villagers and taken to a hidden underground network, but he was not permitted to go back into battle so he could not reveal the network if he was shot down again and tortured by the Japanese.
  My family was not unique in New Orleans - all my friends' parents had active roles in the war.
  I remember when I was young, a friend's father talked about his wartime experience. He asked me about my father's service. I said he had been a pilot who flew P-51s in China with the Flying Tigers, and the man's expression made me realize that what my father had done was cooler than I had thought.
  I grew up hearing dad talking about the Chinese people, his great respect for their sacrifices, and the hard work and perseverance that he had seen. I think the sacrifices he had seen (in China) were far greater than anything seen anywhere else in the world. That was what he had brought home and talked about.
  I was impressed by his stories, but also by the notion he talked about - trying to understand a person from their perspective and understanding that their perspective is shaped by their history and family experiences, which might be very different to mine.
  I was curious about that, and it has led me to have more curiosity about China.
  James Bryant Jr. spoke with Li Lei.