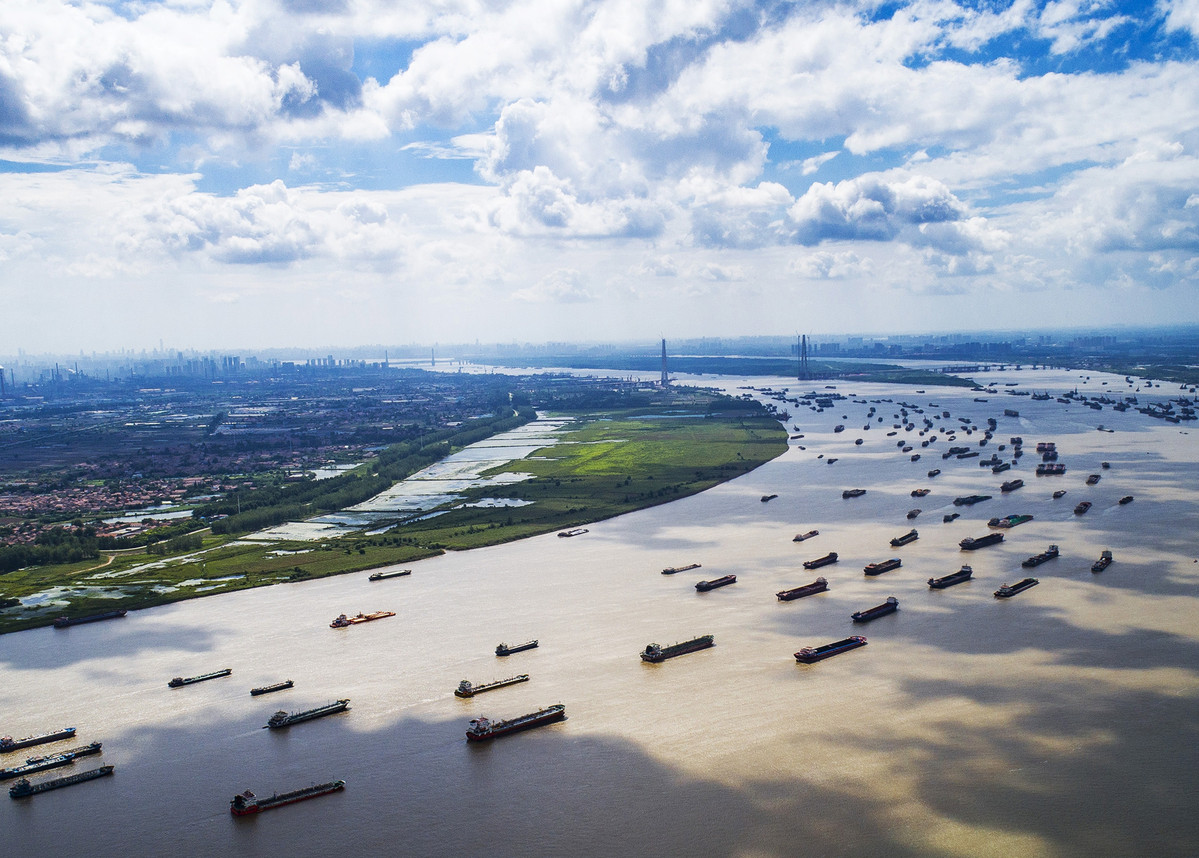 The Wuhan section of the Yangtze River. [Photo/Xinhua]
  Pollution remains high in some places and worsening in others, scientist says
  The management authority of the Yangtze River, together with 47 other government bodies and institutions, launched a science and technology coalition on Friday to promote the ecological restoration of China's longest river.
  Niu Xinqiang, head of the Changjiang Institute of Survey, Planning, Design and Research, a major designer of the Three Gorges Dam project, said the rehabilitation of the Yangtze is a serious task with complex challenges that require expertise from various sectors, including environmental protection, water conservancy and shipping.
  "It is urgent for these sectors to work jointly to tackle the key challenges with innovation and offer scientific support for Yangtze's restoration," said Niu, who is also a member of the Chinese Academy of Engineering, at the launch of the coalition in Wuhan, Hubei province.
  Members of the coalition will work jointly on forging an innovation platform and conducting scientific research. They will also share their technology resources, including information from monitoring, facilities for scientific research and research results.
  According to a draft three-year action plan drawn up by the coalition, members will work on 36 projects over the period. The work will include monitoring and controlling major natural disasters, protecting and restoring fragile ecological system and controlling agricultural and heavy metal pollution.
  Ma Jianhua, head of the Changjiang Water Resources Commission, said: "Today, we jointly initiate the technology innovation coalition on Yangtze rehabilitation and protection. Its aim is to strengthen integration of scientific resources, promote the capability of tackling key challenges and the transformation and application of scientific achievements."
  After decades of effort, China has established adequate systems for flood control and disaster mitigation and is making more efficient use of water resources. It is also improving the ecological protection of Yangtze waters, Ma said. But he warned that the country still faces many challenges in the river's management brought by increased human activity and climate change.
  The central government's requirement for high quality development in the Yangtze River Economic Belt, which covers 11 regions along the river, has yet to be met, he said.
  Polluting discharges along the Yangtze remain high and the situation is deteriorating in some places. About 30 percent of key lakes and reservoirs along the river are plagued by eutrophication, an excess of nutrients that can lead to algae blooms, the coalition said in a statement at the launch ceremony.
  The science and technology coalition is an initiative of nine government bodies and State-owned enterprises. Most of its members are institutions - including Tsinghua and Peking universities and the Changjiang Institute.
  China has been attaching increasing importance to Yangtze protection since early 2016 when President Xi Jinping urged officials from provincial areas along the river to concentrate on ecological restoration and protection, and avoid large-scale development.