Anker Innovations, a Changsha-based smartphone accessories company that few Chinese have heard of, recently outcompeted big-name giants including Tencent Holdings Ltd and Bank of China to grab the 10th place among the Top 50 BrandZ Chinese Global Brand Builders.
This came to light in a report jointly released by market research firm Kantar Millward Brown, and Google. The report evaluated Chinese companies' overseas brand image.
Founded by ex-Googlers, Anker makes batteries, cables, chargers, and the like. Many consumers find its products better than the ones from Apple and other well-known brands.
It has been the best-selling portable battery charger on e-commerce platform Amazon for the past four years, ahead of smartphone heavyweights Apple and Samsung.
Its products are available in more than 100 countries and regions. More importantly, about 98 percent of its 5.23 billion yuan ($767 million) revenue in 2018 came from markets outside China.
About 40 to 50 percent of its revenue was generated from the United States. Other revenue-contributing overseas markets are in the United Kingdom, Germany, France, Japan, and other countries. To better serve its global clients, Anker has opened offices in Seattle, Tokyo, Dubai, Jakarta and other cities overseas.
The eight-year-old company is part of a broader trend in China where new-generation small and medium-sized players are riding the e-commerce boom to make the most of their good product sense and emerge in the global consumer electronics arena.
Yang Meng, CEO of Anker Innovations, said: "Every year, the world produces 2 billion units of chargers for smartphones and 1 billion units for personal computers. That is a big market."
With consumers spending an increasing amount of time looking at their phone-screens, batteries are not lasting longer because of slow progress in lithium technologies.
Battery anxiety haunts a growing number of smartphone users, which makes effective portable battery chargers a basic need.
Yang saw such a desire for a better type of accessory - one that would not cost as much as a replacement straight from original manufacturers, but that would be of a high enough quality to earn consumers' trust.
The company developed a slate of faster chargers. Shenzhen's complete consumer electronics industry chain proved to be of great help for Anker in meeting stiff production deadlines and accelerate product research and development.
"We were able to make cellphone batteries that actually had the slightly better capacity," said Yang. He was a software engineer at Google before starting the company in Changsha, Hunan province, in 2011 and opening an R&D center in Shenzhen, Guangdong province, one year later.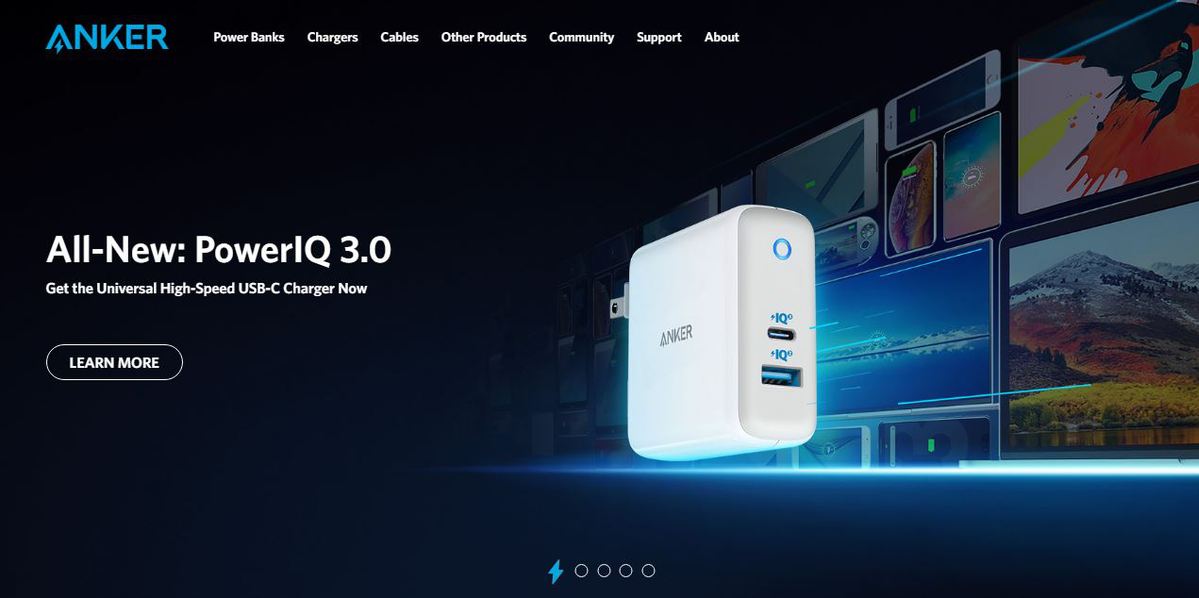 The website screenshot of Anker. [Photo/anker.com]
His past work experience helped Anker in forging close relationships with suppliers in Asia, including Panasonic and anode supplier BTR, to help test and quickly develop new batteries.
When the products were ready, Anker used the e-commerce channel of Amazon to access overseas consumers. That's because Yang had previous experience with Amazon's sellers' marketplace, a platform for third-party companies and one-or two-person teams interested in selling directly to consumers.
"Anker was born to leverage e-commerce to grow its business, which differentiates it from traditional export-oriented Chinese manufacturers," Yang said.
Xiang Ligang, director-general of the Information Consumption Alliance, an organization that aims to promote the consumption of information services and electronic products, said Anker's steady rise shows that it is possible to meet very specific consumer needs and ride the e-commerce wave to branch into other markets.
Leveraging the achievements in cables and wall chargers, Anker is moving to make products for smart homes and the auto market where a plug and a cable can solve a problem.
It has launched in New York an entire sub-brand of audio products under the SoundCore moniker, including affordable products such as the Space NC, a set of surprisingly lightweight noise-canceling over-the-ear wireless headsets.
Last April, Anker also unveiled a portable security camera on Kickstarter, a crowdfunding platform of innovative products. The camera promises a year-long battery life, outshining rival products that only have two-month battery life.
The product raised $3.1 million on Kickstarter, becoming the most funded home security product in Kickstarter history.
"We aim to make simple things the best. We make our products based on the feedback from our users. And once we make them, we go back to them," Yang said, adding the company attaches great importance to user feedback and reviews.
Anker also exploits offline sales channels to reduce its heavy dependence on Amazon. After three years of efforts, its products can be seen in hypermarkets such as Walmart. Offline retail channels now account for about 25.8 percent of its sales.
"We hope that the figure could hit 50 percent in the future," Yang said.