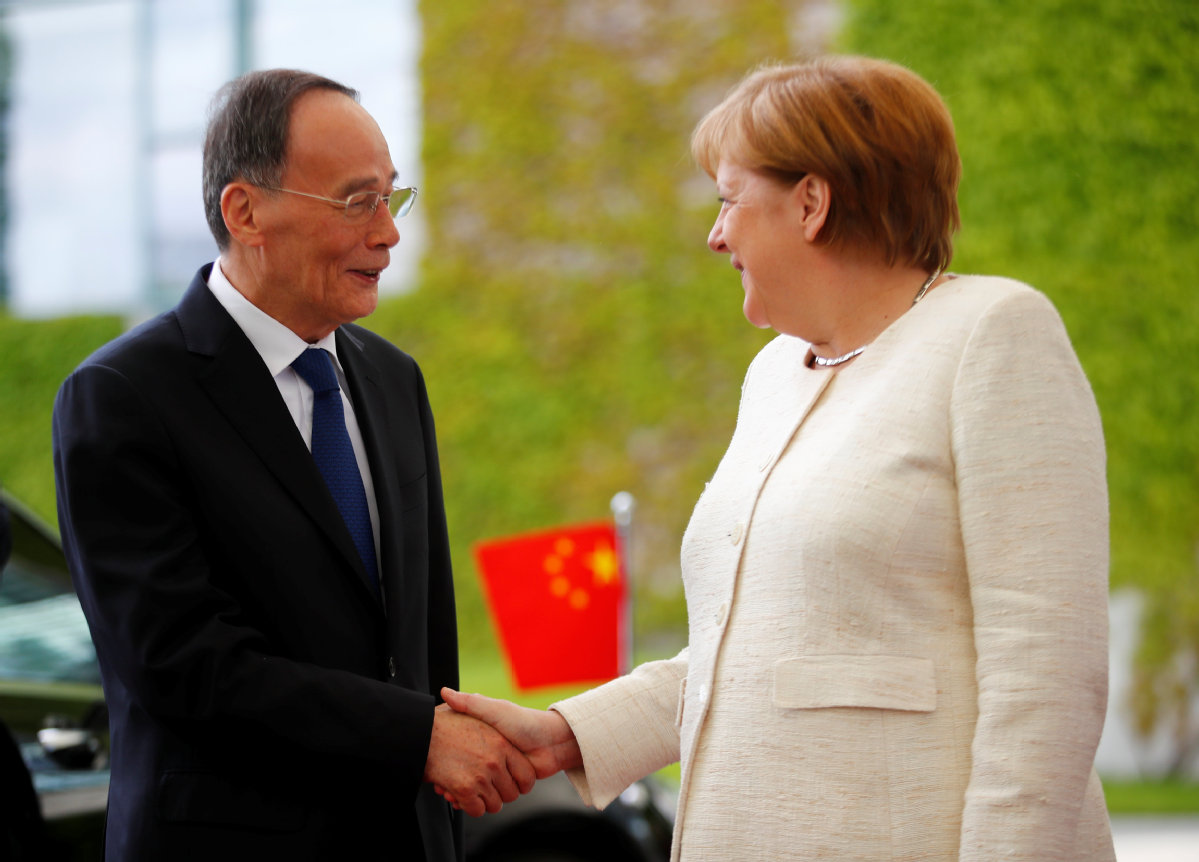 Vice-President Wang Qishan is welcomed by German Chancellor Angela Merkel on Friday in Berlin. [Rao Aimin/Xinhua]
Two nations to jointly face uncertainties amid volatile international conditions
China and Germany pledged to strengthen cooperation, safeguard the principle of multilateralism and jointly face uncertainties brought about by the current complex and volatile international environment.
Vice-President Wang Qishan visited Germany from Thursday to Sunday, at the invitation of the German government, during which time he met separately with German President Frank-Walter Steinmeier and Chancellor Angela Merkel.
In his meeting with Steinmeier, Wang said that relations between Beijing and Berlin have moved beyond a bilateral scope and now bear global significance.
Noting that bilateral ties are currently facing a new situation, Wang called on the two countries to establish a model of win-win cooperation for the world through deepening collaboration, bring about global stability through guiding China-EU cooperation and strengthen their power to safeguard multilateralism through boosting global governance.
Steinmeier said that the current international landscape is complicated and turbulent, and multilateralism is under threat. Germany and China, as well as Europe and China, should join hands to maintain world peace and stability, protect free trade and safeguard the existing international order.
When meeting with Merkel, Wang called on China and Germany, as all-around strategic partners, to strengthen cooperation in building a fairer and more reasonable global governance system and to jointly face uncertainties.
Facing the profound and complex changes in the international situation, China always insists on doing its own share, staying calm and clearheaded, showing composure, shouldering responsibility and reacting rationally, he said.
Merkel said that facing the current complex and volatile international environment in which various new problems are emerging, Germany remains committed to safeguarding the principle of multilateralism and the existing international order.
She said Germany advocates strengthening international coordination and collaboration through dialogue, and disagrees with the use of threats and pressure to solve problems.
Tian Dewen, deputy director of the Institute of European Studies at the Chinese Academy of Social Sciences, said that it is important that China and Germany, which are both firm supporters of economic globalization and multilateralism, reach a new consensus amid the complicated global situation.
"They both are major economies in the world, and their willingness to work together and safeguard multilateralism will definitely bring a positive impact to the world economy," he said.
He Yun, an assistant professor at Hunan University's School of Public Management, said that Germany and China share many overlapping interests that demand closely-coordinated efforts.
"As there is an increase in protectionism and unilateralism in the world, Berlin and Beijing's joint efforts to protect multilateralism, sustain global economic development and maintain regional and global stability are key to the world," she said.
In 2018, bilateral trade amounted to nearly 200 billion euros ($223 billion). Germany has been China's biggest trade partner in Europe for 43 consecutive years, while China has been Germany's biggest trade partner for three years, said Chinese Ambassador to Germany Wu Ken.