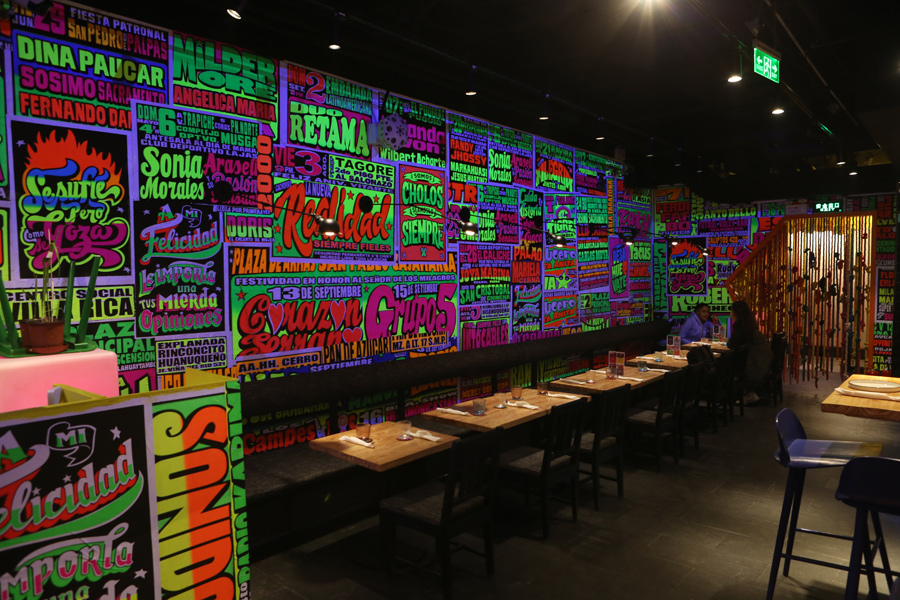 Peruvian restaurant Pachapapi aims to bring customers an unforgettable experience, with mouthwatering cuisine mixed with its unique drinks and a vibrant environment. [Photo provided to China Daily]
  Back in 2016, siblings Francisco, Maria and Juan Carlos opened a pop-up restaurant named Pachakutiq in Beijing, impressing local foodies with flavors from their home country of Peru.
  After that they were asked when they would open the capital's first Peruvian restaurant and, last year, the trio finally answered the call, opening Pachapapi in Beijing's Xinyuanli area.
  Peru has been named the world's "Best Culinary Destination" for six consecutive years by the World Travel Awards, and three of the country's eateries are listed among the world's 50 best restaurants.
  Francisco Carlos is very proud that Peruvian food is so well received the world over, and he believes that its popularity has much to do with immigrants flowing into Peru from different parts of the world, creating a literal melting pot of delicious flavors-European, African, Chinese and Japanese have all migrated to Peru, bringing their home cuisine with them.
  "The mixture of all these regions' flavors has enriched Peruvian gastronomy, but it is the biodiversity of our land, blessed with the Andes Mountains, the Amazon rainforest and the Pacific Ocean, that allows all of these cuisines to flourish, merging beautifully with each other," he says.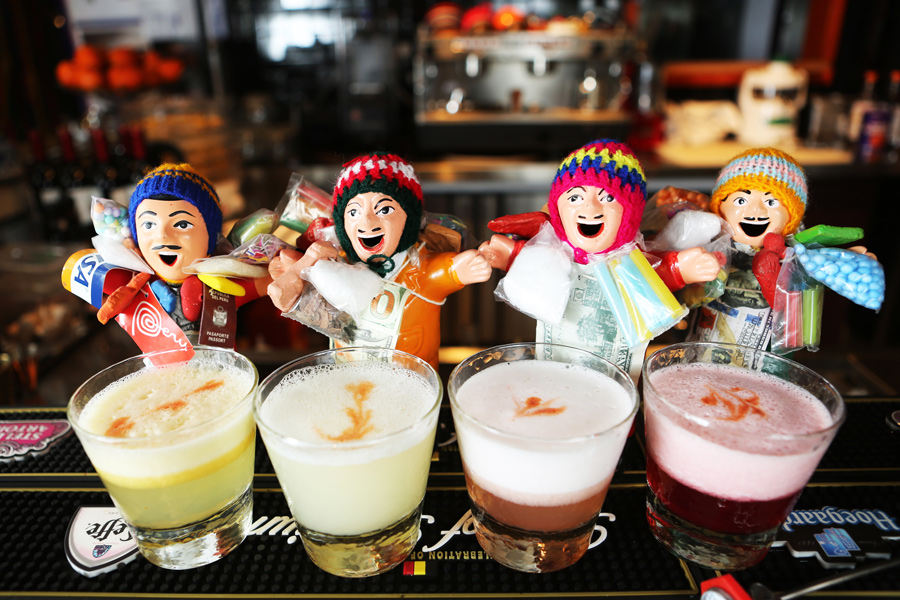 Pisco sour is one of the most popular cocktails in Peru. [Photo provided to China Daily]
  "Peru is a country where genetically modified organisms are completely banned, making Peruvian food even more special," he says.
  The trio now aims to bring customers an unforgettable experience with mouthwatering cuisine mixed with unique pisco drinks and a vibrant Peruvian-style environment.
  Nikkei cuisine is at the heart of this adventure, partnered with traditional Peruvian staples, audacious, strikingly colorful food, fresh aromas and tantalizing taste sensations.
  Nikkei, broadly defined as Japanese and Peruvian fusion food, combines key Japanese ingredients, such as soy sauce, miso and seafood with Peruvian aji peppers.
  "Nikkei food may have roots in Japanese cuisine, but it's relatively a new and quintessentially Peruvian invention," says Francisco.
  Tiradito is a traditional Peruvian dish featuring thin slices of raw fish that are dipped into different sauces that replace wasabi or soy sauce that usually accompany sashimi.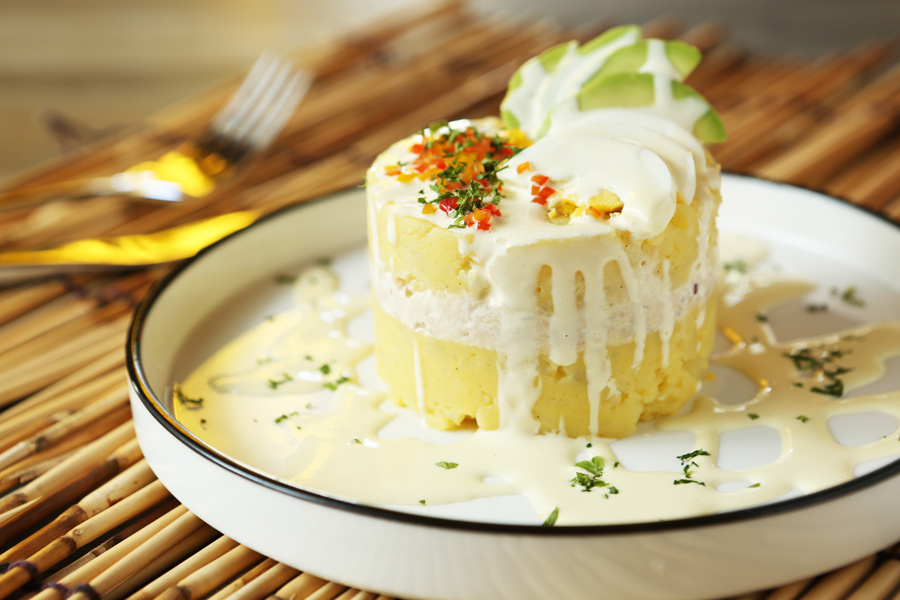 [Photo provided to China Daily]
  One striking feature of the menu are two pages of chili-based sauces-from curry sauce and garlic chili sauce to golden berry sauce and "tiger's milk", a sauce made with celery, lemon, fish, chili, ginger, coriander and garlic.
  According to Francisco, to ensure the authentic flavor of the food at Pachapapi, he imports three kinds of chilis from Peru, aji amarillo, aji panca and rocoto.
  "I've tried a dozen kinds of chilis in China, but none of them have the same flavor as the chilis from Peru," he says.
  Chifa is also a culinary tradition based on Cantonese elements fused with traditional Peruvian ingredients. Besides Nikkei and Chifa, Bachiche is another key type of cuisine in Peru which combines Peruvian and Italian cuisine.
  Causa de atun is a prime example of Bachiche, using smashed potato to make a pie with a tuna filling, topped with coriander, mayonnaise, egg, onion and avocado.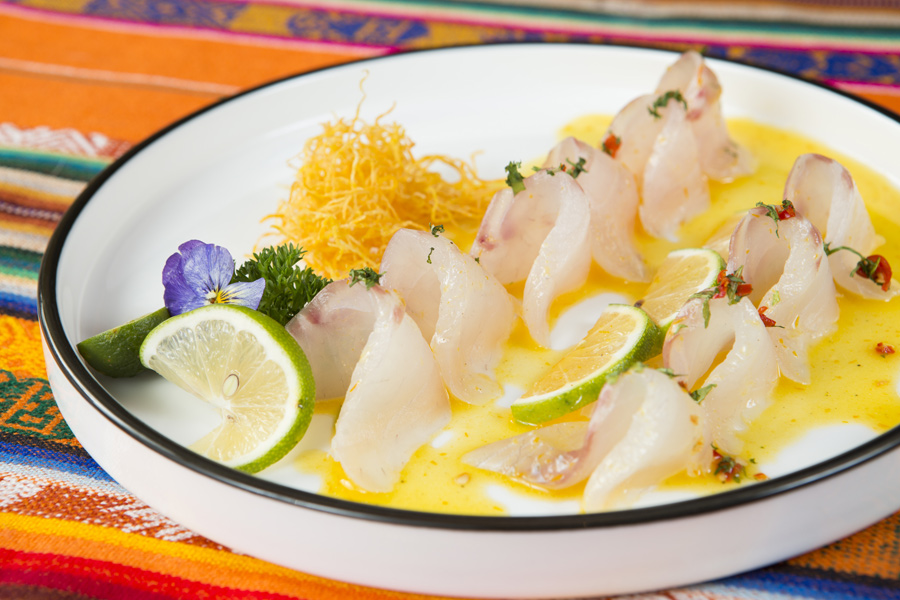 [Photo provided to China Daily]
  Ceviche is a traditional Peruvian dish. Pachapapi's classic ceviche uses sea bass, sweet potato, corn, coriander and "tiger's milk".
  Grilled beef heart is a tasty surprise, with its special spicy sauce brushed on the beef heart, which is served with potato and corn.
  The classic pisco sour drink was created in Lima in the early 1920s. After living in Lima for about 20 years, an American businessman named Victor Morris missed his whiskey sour cocktails so much that he decided to create a substitute using local spirits.
  He could never have imagined at the time that he was creating Peru's national cocktail that is so popular that it is enjoyed in most parts of the world and has now traveled half way across the globe to be served in the Chinese capital.
  "At Pachapapi, we use other fruits to make it a variety of different flavors," says Francisco. "I usually suggest my customers start their meal with a 'Pacha' shot, which is the soul of our restaurant and bar," he says.