Green energy, culture, education and poverty reduction among ways China is collaborating with the continent
  China has maintained friendly ties with Africa for thousands of years and relations are growing ever stronger across all fields.
  According to Chinese history books, Africa was one of the destinations of the ancient Silk Road during the Han Dynasty (202 BC-AD 220), as China-made silk was sold to Africa and African spices were sold in China.
  During the Tang Dynasty (618-907), porcelain took the place of silk to become the bulk of trade between China and Africa.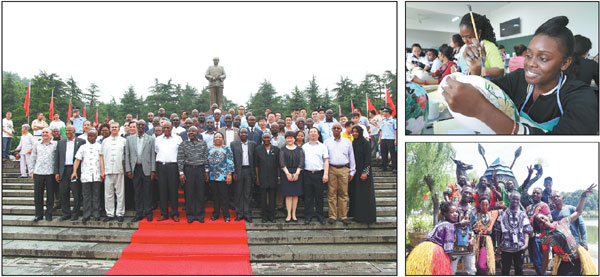 Clockwise from left: Delegates from African diplomatic missions in China pay a visit to Shaoshan, the birthplace of Chairman Mao Zedong, in 2015. African women learn porcelain-making skills in Liling, Hunan province. African artists pose for a picture before their performance in Hecun Cultural Park in the suburbs of Changsha. Photos Provided to China Daily
  Large quantities of porcelain wares were sold to East Africa and North Africa and it was a fashion among the noble people there to collect and use exquisite China-made porcelain, according to Chinese history books.
  During the same period, Africa's spices and ivory tusks were exported to China and the images of African people were on the wall paintings of the renowned Mogao Grottoes in Dunhuang in Northwest China's Gansu province.
  In the early Ming Dynasty (1368-1644), famed Chinese navigator Zheng He visited Africa four times.
  Zheng's goodwill trips marked the beginning of closer China-Africa exchanges, especially in the fields of economics and culture.
  His fleet delivered large quantities of porcelain, lacquer, silk and tea products to Africa, while the produce and cultures of Africa were brought back to China.
  According to history books, Zheng even brought home giraffes and zebras, giving many Chinese people a chance to see these African animals for the first time.
  Relations reached a height in recent years with the implemention of the Belt and Road Initiative and the convening of the Beijing Summit of the Forum on China-Africa Cooperation.
  During the summit held in Beijing in September 2018, an action plan was reached by participating delegates for strengthening all-around cooperation in the fields of politics, economics, social development, cultural and people-to-people exchanges and beyond.
  During the event, eight major initiatives were announced for China's collaboration with Africa in industrial promotion, infrastructure connectivity, trade facilitation, green development, capacity building, healthcare, people-to-people exchange, and peace and security. The announcement outlined the blueprint for China-Africa relations in the new era and opened an ambitious chapter in China-Africa cooperation.
  Xu Jinghu, special representative of the Chinese government on African affairs, told People's Daily that the eight initiatives are practical as they are scheduled to be applied through concrete projects and the willingness of all concerned parties are strong to realize win-win development and shared prosperity.
  Green energy
  A number of Chinese enterprises have participated in the development of clean energies in Africa.

  Hebei-based Yingli Group, for instance, has been engaged in the development of solar power systems in East Africa in cooperation with local partners since 2007.
  The company has sold its photovoltaic products to such countries as Uganda, Tanzania, Zambia, Rwanda, Ethiopia and South Sudan.
  "With the advancement of the BRI, we now have a strong presence in more than 20 countries involved in the BRI," said Song Dengyuan, chief scientist at Yingli.
  He added that his company has trained about 400 people in those countries, most of them in Africa, on photovoltaic technologies and transferred its technologies to more than 10 countries.
  Zhejiang-based Chint New Energy Development is one of the major investors in a large photovoltaic industrial park in Benban, Egypt. The company contracted the construction of 165.5-megawatt solar power station and provided nearly 50 percent of photovoltaic panels for the project.
  Zhang Lei, a Chint executive responsible for the solar power project, said his company has held many training sessions for local personnel.
  "As the designed service life of photovoltaic panels can reach 25 years, it is important for the operators' staff members to master knowledge on installation, maintenance and repair," Zhang said.
  World Bank President David Malpass praised the photovoltaic project as a successful example for Egypt to use its local advantages for investment cooperation and the experience is applicable in other sectors, according to Xinhua News Agency's report.
  Xinhua quoted Sahar Nasr, Egypt's minister of investment and international cooperation, saying that "Benban Solar Park comes as the country is taking unprecedented steps to create a modern legislative framework to attract foreign investment".
  The solar park will help bolster Egypt's use of renewable energy to meet 22 percent of the country's domestic energy needs by 2020, according to Xinhua.
  Culture, education
  Along with improving economic ties, cultural and educational exchanges between China and Africa have also reached a peak in recent years.
  The Chinese language is becoming more popular in Africa with the establishment of more Confucius Institutes on the continent.
  Ma Jianfei, Party chief of the Confucius Institutes' headquarters, said a total of 54 such institutes and 30 Confucius classrooms had been established in Africa, training more than 1.4 million students through the end of May 2018.
  Many African students view the Confucius Institutes as an effective channel to learn Chinese language and culture.
  Anthony Ekewensi, who studies at the Confucius Institute at Nnamdi Azikiwe University in Nigeria, said: "Through learning the Chinese language, I want to become an ambassador to promote Africa-China cooperation."
  Holding a Chinese level-5 certificate, Ekewensi said he spends two hours a day learning the language.
  Through various online apps, the Nigerian is helping his relatives and friends learn more about China - food, tourist attractions and sciences and technologies.
  "I just want to show my people a modernized country with long history and brilliant culture," Ekewensi said.
  Thanks to his proficiency in Chinese, Ekewensi entered the finals of the 17th Chinese Bridge Chinese Proficiency Competition for Foreign College Students and became the champion of the Africa group.
  Nan Gengxu is a Chinese immigrant in Botswana. He thinks the media is an important source for the Chinese and African peoples to know each other.
  He founded two media companies in Africa, operating a number of newspapers, magazines, TV stations and movie production, with services covering the entire continent.
  Nan is especially fond of movies so he is now promoting Chinese movies to Africa, especially in local schools.
  "The young people are set to be the major force to boost and consolidate China-Africa relations," he said.
  He is planning to invest in a number of mobile cinemas in Africa to show both Chinese and African movies.
  Poverty reduction
  China is willing to share its experience with Africa and offer its nations a helping hand.
  Zuo Changsheng, head of the International Poverty Reduction Center in China, said: "We want to enhance poverty relief cooperation with Africa under the framework of the Belt and Road Initiative."
  "We are planning to develop a number of pilot poverty reduction programs in communities, sharing the Chinese experience with the locals," Zuo added.
  According to a CCTV report, China had launched poverty reduction-related training programs in 52 African countries for 2,122 trainees by August 2018. The trainees included officials, scholars and other industry insiders.
  During a UNESCO forum on the development of world heritage in China and Africa, held on June 4 in Paris, Chinese tourism expert Zhang Chaozhi shared the unique poverty reduction experience of Zhangjiajie city in Hunan province.
  Zhang said in Zhangjiajie, heritage protection has been integrated with tourism development and involved the wide participation of local residents, communities, governments and enterprises. Residents have increasingly benefited from the tourism industry bolstered by heritage protection.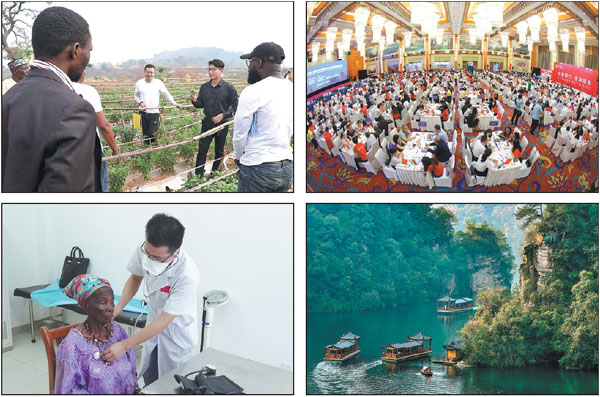 Clockwise from top left: Farmers and farming technicians in Nigeria learn from Chinese experts on growing vegetables. Chinese and African businesspeople sign cooperative agreements during a trade fair in Changsha in 2016. Chinese tourism expert Zhang Chaozhi said the poverty reduction experience of Zhangjiajie, a renowned tourist destination in Hunan, is applicable in Africa. A doctor from a hospital in Hunan serves a patient in Sierra Leone during a voluntary mission in the country. Photos Provided To China Daily