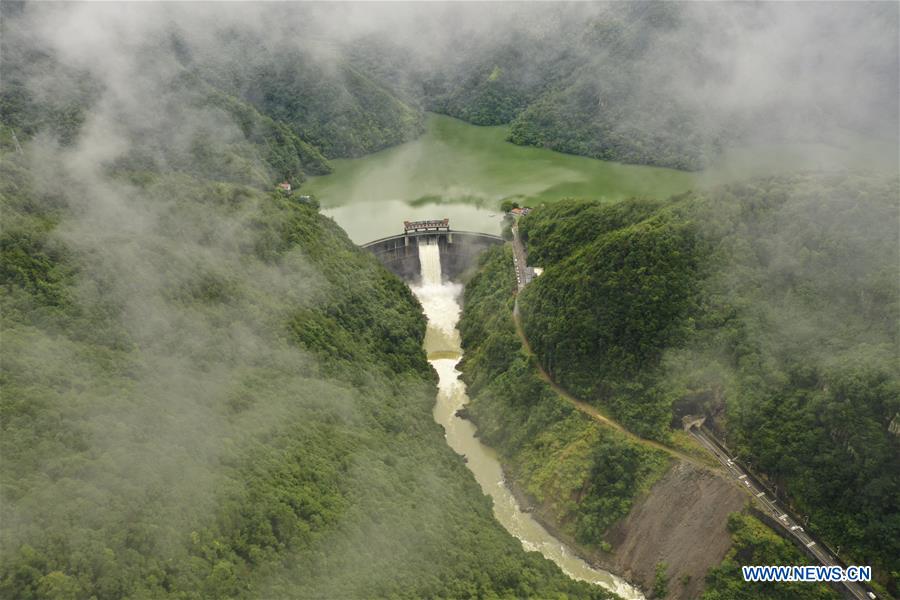 Aerial photo taken on July 10, 2019 shows water gushing out from the Jinxi Reservoir at Yongjia county in Wenzhou, East China's Zhejiang province. The reservoir started to discharge the flood water brought by continuous heavy rainfall on Wednesday. [Photo/Xinhua]
  The strong rains in past days have started to dwindle in southern China on Wednesday, but a new round of rain is on the way and will affect parts of southern China from Friday, according to the National Meteorological Center.
  The new weather system will be weaker than the previous one between Sunday and Wednesday, but secondary disasters such as mudslides may happen in the overlapping areas in Guangxi, Guizhou, Jiangxi and Zhejiang.
  On Friday, moderate to heavy rains will batter the middle and lower reaches of the Yangtze River, north-central Guangxi, Guizhou, Yunnan, southern Sichuan and southeastern Tibet. Heavy downpours may happen in some places.
  On Saturday, rains will continue and extend to southern Anhui, north-central Jiangxi and eastern Qinghai.
  The past strong rains have affected millions of residents in South China, with thousands resettled.
  In Hunan province, floods have affected 1.23 million individuals, causing 16 people to die or go missing, and direct losses have reached 1.69 billion yuan ($245.5 million) by 5 pm on Tuesday, local authorities said.
  Days of heavy rainfall have swollen rivers in many parts of Hunan. On Tuesday morning, a river broke through levees in Hengdong county, inundating three villages.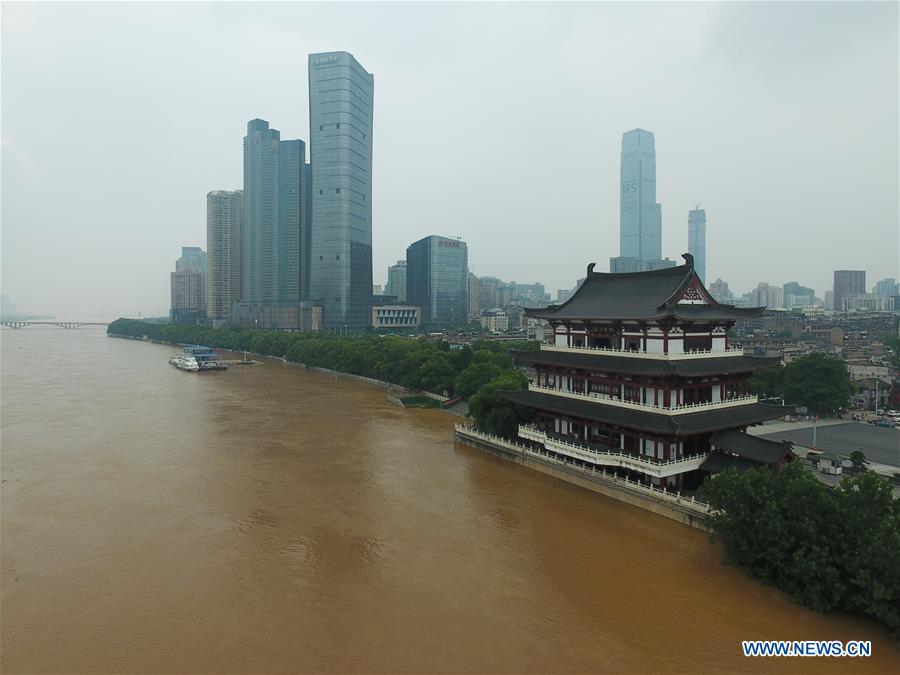 Aerial photo taken on July 10, 2019 shows the flooded Xiangjiang River in Changsha, Central China's Hunan province. The water level of Xiangjiang River is above warning line due to continuous heavy rainfall. [Photo/Xinhua]
  The Juzizhou Islet scenic area in Changsha was closed on Tuesday. A flood peak on the Xiangjiang River reached Changsha at 6:22 pm on Wednesday, and the water level rose to 38.31 meters, 2.31 meters higher than warning level.
  In Guangxi, local authorities said Wednesday rainfall had intensified since last Saturday, unleashing floods in nine cities in central and northern Guangxi, leaving one person missing while disrupting the lives of over 360,000 residents. The direct losses reached 743.96 million yuan.
  Floods inundated the airport in the city of Wuyishan, East China's Fujian province, on Tuesday. When the water receded, some animals were left, such as snakes and fish. Workers drove them away before resuming operations.
  In Jiangxi province, rains and floods affected 2.87 million residents, and about 326,000 were evacuated and 200,000 in urgent need of livelihood assistance in nine cities.
  Rains and floods have affected some 1.82 million hectares of cropland, of which 264,000 croplands will see no output. A total of 942 rooms collapsed, and some 10,000 rooms were damaged.
  China's disaster relief authority launched a level IV emergency response on Tuesday evening, as continuous rainstorms swelled water levels of rivers in some provinces, the Ministry of Emergency Management said Wednesday.
  The Office of State Flood Control and Drought Relief Headquarters dispatched four work teams to Hunan, Jiangxi, Guangxi and Guizhou to guide relief work, the ministry said.
  Under a level IV emergency response, monitoring of emergencies will be stepped up and reported to the State Council.
  More than 1,000 armed police officers have been dispatched to help with the flooding rescue and relief work over the past several days in southern China's Hunan, Jiangxi, Zhejiang and Fujian provinces.
  Local units of the armed police have been ordered to stand ready for more rescue and relief missions as parts of Zhejiang, Fujian, Jiangxi, Guangdong and Guangxi are expecting continuous heavy rain in the coming days.