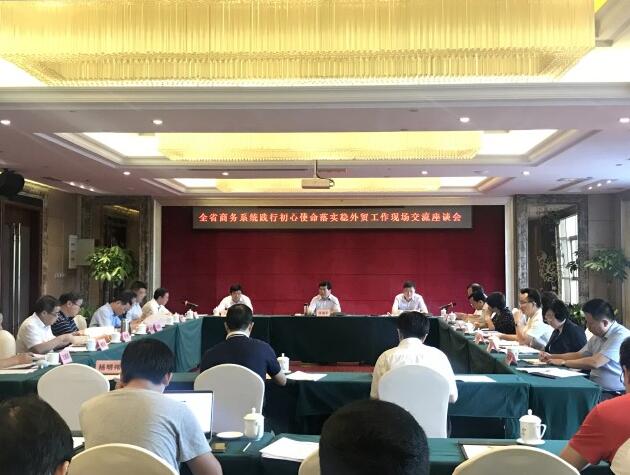 According to Xu Xiangping, director of the Hunan Provincial Department of Commerce, the total import and export value of Hunan Province reached 182.3 billion RMB, The growth rate increased 40.1% in the first half of 2019 comparing with the same period of the previous year, ranked the second in China.

According to Changsha Customs statistics, Hunan's foreign trade reached 40.93 billion yuan RMB in June, with an increase of 61.6%.Since March, the import and export volume of province has been rising steadily.
"Foreign trade initiatives are gradually taking effect," Xu Xiangping said that it will double the number and accelerate the construction of a comprehensive foreign trade service system; it will innovate and improve the construction of foreign trade financing service system;it will implement the action of "Enterprises of International Marketing" , and it will create a new foreign trade situation. Taking the China-Africa Economic and Trade Fair as an opportunity, Hunan will actively expand imports and exports. "These six initiatives have brought new growth points to Hunan"
It is reported that Hong Kong is the largest trading partner of Hunan, and hunan maintains a high growth rate for trading with the EU and ASEAN. In the first half of the year, Hunan's trade volume with Hong Kong was 27.35 billion yuan RMB, with an increase of 64.1%; trade volume with the United States was 15.01 billion yuan RMB,with the reducing rate of 2.6%; trade volume with South Korea was 9.94 billion yuan RMB, with an increase of 32.9%. In the same period, the trade volume of Hunan Province to the EU was 27.13 billion yuan RMB, with an increase of 62.3%; the trade volume to ASEAN was 24.89 billion yuan BMB, with an increase of 61.4%.
Xu also proposed to focus on building an international subway logistics system, from a convenient transportation system to an international logistics system. "I look forward to have 10 more international routes this year and next."
Link: 上半年湖南省进出口总值1823亿元,增幅全国第二