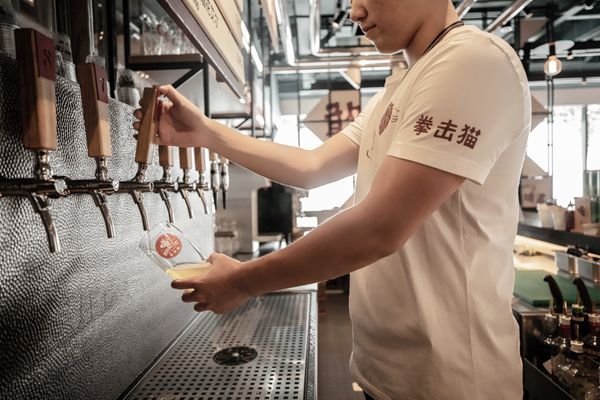 Boxing Cat Brewing is among the home-grown players that have benefited from the pro-local beer sentiment in Shanghai.[Photo provided to China Daily]
  In China, the world's largest beer market, craft beer consumption is on the rise as consumers turn their attention to premium, fresher products. Alywin Chew reports in Shanghai.
  From tiny, hole-in-the-wall bottle shops to cozy taprooms to lively bars complete with their own fermentation tanks, consumers in Shanghai today are spoilt for choice when it comes to craft beers.
  According to Dianping, a food delivery and business directory app, there are more than 280 craft beer establishments in Shanghai.
  Such is the prevalence of this alcoholic beverage in the city today that some might find it difficult to believe that just eight years ago, less than a handful of such places existed. One of these venues was a heavy metal-themed bar called Inferno. Although this bar shut down a few years ago, its founder Martin Aamodt hasn't quite left the craft beer scene. In fact, he now manages operations and branding for Stone Brewing, the California-headquartered craft beer company that opened its first Asia outpost in Shanghai last year.
  While Aamodt agrees that the craft beer scene in Shanghai has matured since he opened Inferno in 2011, he insists that the market is at a nascent stage where there is still enough room for competition. For starters, Stone Brewing's outlet in Shanghai has been experiencing consistent sales growth since its inception despite the seemingly fierce competition.
  12345Next >>|
[NextPage]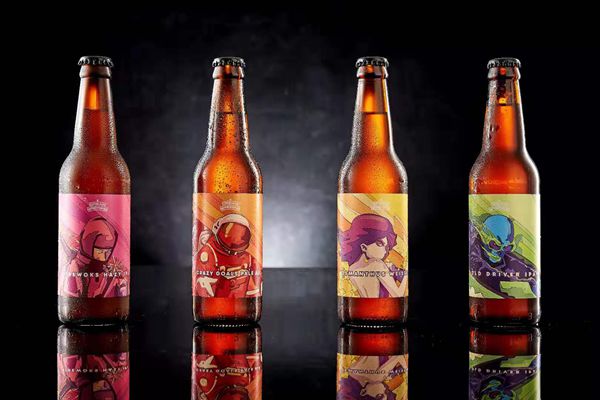 Dream Brewing is among the home-grown players that have benefited from the pro-local beer sentiment in Shanghai.[Photo provided to China Daily]
  The same could be said for the overall craft beer market in China. Over in Beijing, Great Leaping Brewing is one of the best examples of this. When the brewery first opened in 2010, it sold just 600 liters of beer per week. Today, the brewery's new facility in Tianjin is able to produce 153,000 liters per week.
  "Currently, the Beijing market alone has a dozen or so legitimate brands and breweries. There is room for a 1,000 percent increase in market size before we would see any evidence of stress on growth potential," says Great Leap Brewing's founder Carl Setzer.
  According to various research reports, the majority of Chinese drinkers still consume primarily local commercial brews such as Snow and Tsingtao. Snow, which is produced by China Resources Breweries, was ranked the best-selling beer in the world in 2017 in a report by Bank of America Merill Lynch, with 101.2 million hectoliters sold that year.
  However, the potential of the craft beer segment can be seen in the fact that while overall beer consumption has been decreasing, consumption of craft beer has actually been on the rise, notes Aamodt.
  |<>|
[NextPage]

  Stone Brewing's outlet in Shanghai has been experiencing consistent sales growth since its inception last year.[Photo provided to China Daily]
  Consumer preferences
  The main drivers behind this growth, Aamodt points out, is the increasing amount of disposable income the middle classes have and a growing sense of adventure among millennials when it comes to beer.
  Others have highlighted this as well. Mark Tanner, the managing director of Shanghai-based marketing and research agency China Skinny, says that Chinese consumers today are highly sophisticated and are more concerned about freshness than origin, something that is music to the ears of craft beer makers.
  According to a 2018 report by the EU SME Centre, "the volume of the total beer market has been decreasing, mainly due to the decrease in production and consumption of the Chinese mass-consumed beer segment. However, the value of the total beer market is showing year-on-year growth during the same period, driven by the market's move toward premium products."
  Craft beer is generally considered to be superior to commercial beer because higher quality ingredients are used in the manufacturing process.
  Research firm McKinsey has also found that a growing number of Chinese consumers are more inclined to support local brands. One of those that have benefited from the pro-local beer sentiment is Dream Brewing. According to its founder Shen Kai, sales of Dream Brewing's beer have been growing by 100 percent year-on-year since it was set up in 2015.
  "We started out selling only draft kegs but since July 2017 we have been selling bottled beer as well. We sold about 10,000 bottles of beer in 2017. This year, we expect to sell more than a million bottles," says Shen.
  Another local player that has ridden the wave of craft beer popularity is Boxing Cat Brewing, one of the first microbreweries in Shanghai.
  Founded in 2008, the microbrewery has won several awards for its beers over the years. It was also the first brewery from the Chinese mainland to win a medal at the 2016 World Beer Cup. There are currently two Boxing Cat outlets in Shanghai and one in Beijing.
  |<>|
[NextPage]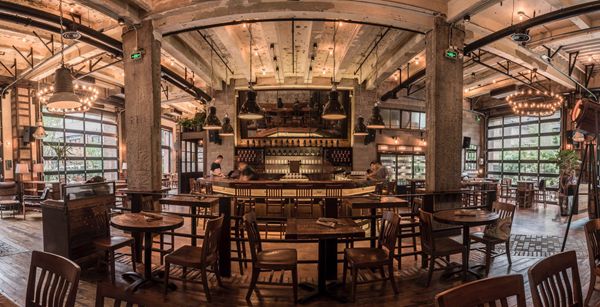 [Photo provided to China Daily]
  The spectre of Big Beer
  Given Boxing Cat's rise and the growing popularity of craft beer, it came as little surprise to industry players when Anheuser-Busch InBev (AB InBev), the world's largest beer company, acquired the Shanghai microbrewery in early 2017.
  But while this acquisition might be seen as a big win for some people, many within the craft beer community have furrowed their brows. Setzer is one of them.
  "AB InBev has ruined the craft beer scene in Shanghai... following the acquisitions of Kaiba and Boxing Cat and the importation of Goose Island, you've seen how quickly a once-great craft beer city can be completely stalled by a commercial brewery with no soul," says Setzer.
  "The reality is that AB InBev and now Carlsberg are losing their market shares to independent breweries around the world, and it's embarrassing... the answer to this was to dilute interest in craft breweries by confusing consumers as to what craft really is," he adds.
  On the other side of the fence, Nicolas Morelli, head of Craft &Specialties of ZX Ventures, AB InBev, APAC North, argues that the major companies and local breweries stand to benefit by partnering one another.
  |<>|
[NextPage]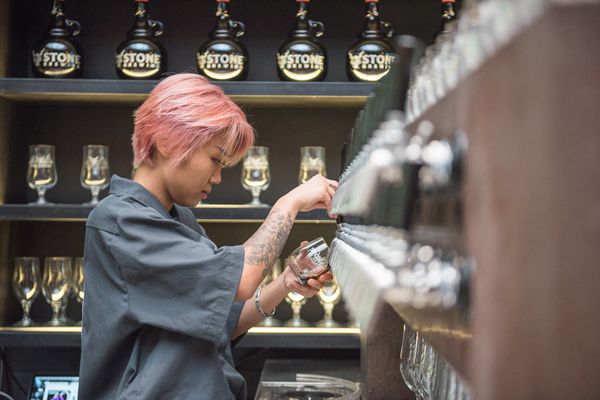 [Photo provided to China Daily]
  "Since we partnered Boxing Cat, the brand has achieved record-high volumes, launched bottles across the country and made the beer available to more consumers, as well as expanded the geography of Boxing Cat restaurants from Shanghai to Beijing," he says.
  "The majority of the consumers still don't know much about craft beer. This is how our Goose Island and Boxing Cat brewpubs are helping consumers to taste, learn and experience craft beer."
  Kelley Lee, one of the co-founders of Boxing Cat, also explains why she and her partners decided to sell their business.
  "We felt that it was necessary for the vision of the brand and more importantly, to achieve the goal we started 11 years ago-to make the beer we loved available to every person in China," she says.
  "Like it or not, our decision to sell the brand led to its wide availability and in turn will help to introduce more people to craft faster. Is independence important? Sure. But honestly speaking, only the owners of the brands know the huge financial burdens and risks necessary to build a nationwide brand."
  Boxing Cat is not the only local brewer with this perspective. Shen, too, is keeping his options open.
  "We are working hard toward our dream by ourselves, but we'll be open to any opportunities as long as the business gets to grow," he says.
  |<<Previous12345