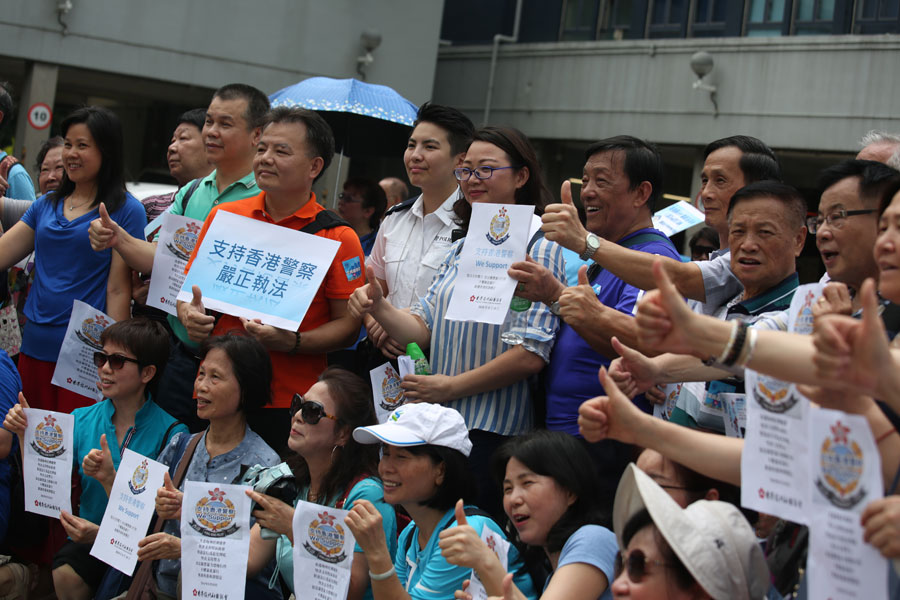 Supporters of the police in Hong Kong participate in a demonstration outside the city's Kwai Chung Police Station on Saturday. The region's government reaffirmed on Sunday that the police will strictly enforce the law against all violent and illegal acts. [Photo/China Daily]
  Policeman hospitalized with leg burns; large groups of residents thank officers
  Separate protests were held in various parts of Hong Kong on Sunday as the demonstrations entered their ninth week, while large groups of Hong Kong residents visited several police stations over the weekend to express their firm support and respect for the police force.
  On Sunday, a radical protestor hit a police officer with a gasoline bomb, and Commissioner of Police Lo Wai-chung later visited the officer, who had been hospitalized for burn wounds on his legs.
  A resident surnamed Chan, who visited Kwai Chung Police Station with his wife and son on Saturday, said: "The police have been working really hard to safeguard social order. We came here to show our support." The boy gave the police a handwritten card.
  Carrie Lam Cheng Yuet-ngor, chief executive of the Hong Kong Special Administrative Region, visited on Friday the Wong Tai Sin Police Station and dormitory, which had been attacked by radical protesters. Lam thanked the police officers for their hard work to safeguard the Hong Kong public.
  The HKSAR government and police condemned the illegal assemblies and said police will strictly enforce the law against all violent and illegal acts.
  Protesters who break the law should be brought to justice, the government stressed.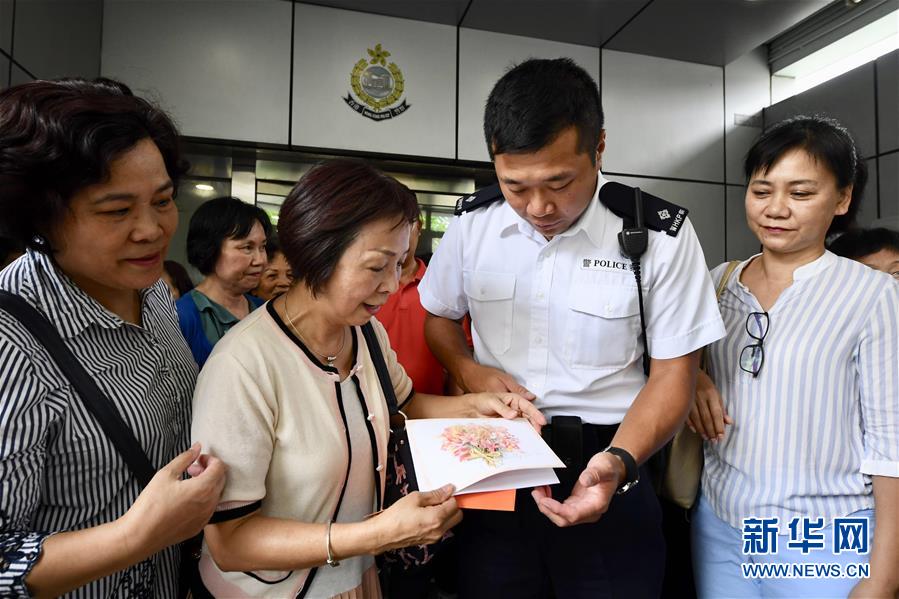 Local residents present a greeting card to a policeman at the Kwun Tong Police Station in Hong Kong, August 10, 2019. [Photo/Xinhua]
  The police reiterated that anyone participating in an unauthorized assembly will be committing an offense.
  Security at the Sham Shui Po Police Station had been strengthened as protesters turned out on Sunday for a banned rally in the district in the afternoon. They soon occupied Cheung Sha Wan Road and set up barriers along the main thoroughfare. Others surrounded the police station and, ignoring a police warning to disperse, targeted officers with laser pointers.
  At about the same time on the other side of the financial hub, demonstrators dressed mostly in black gathered in Victoria Park. Some were seen waving American flags.
  After a brief peaceful demonstration, they left the park to take over Hennessy Road, a major thoroughfare in the heart of the shopping district in Causeway Bay, blocking traffic and disturbing tourists. In hit-and-run tactics, they also went to Wan Chai, taking similar actions.
  Those protesters face the risk of arrest because they deviated from the planned rally's location.
  Under Hong Kong's Public Order Ordinance, participating in an unlawful assembly is punishable by five years' imprisonment, and rioting carries a maximum penalty of 10 years.
  Also on Sunday, demonstrators continued to occupy the Hong Kong International Airport arrivals hall for a third day.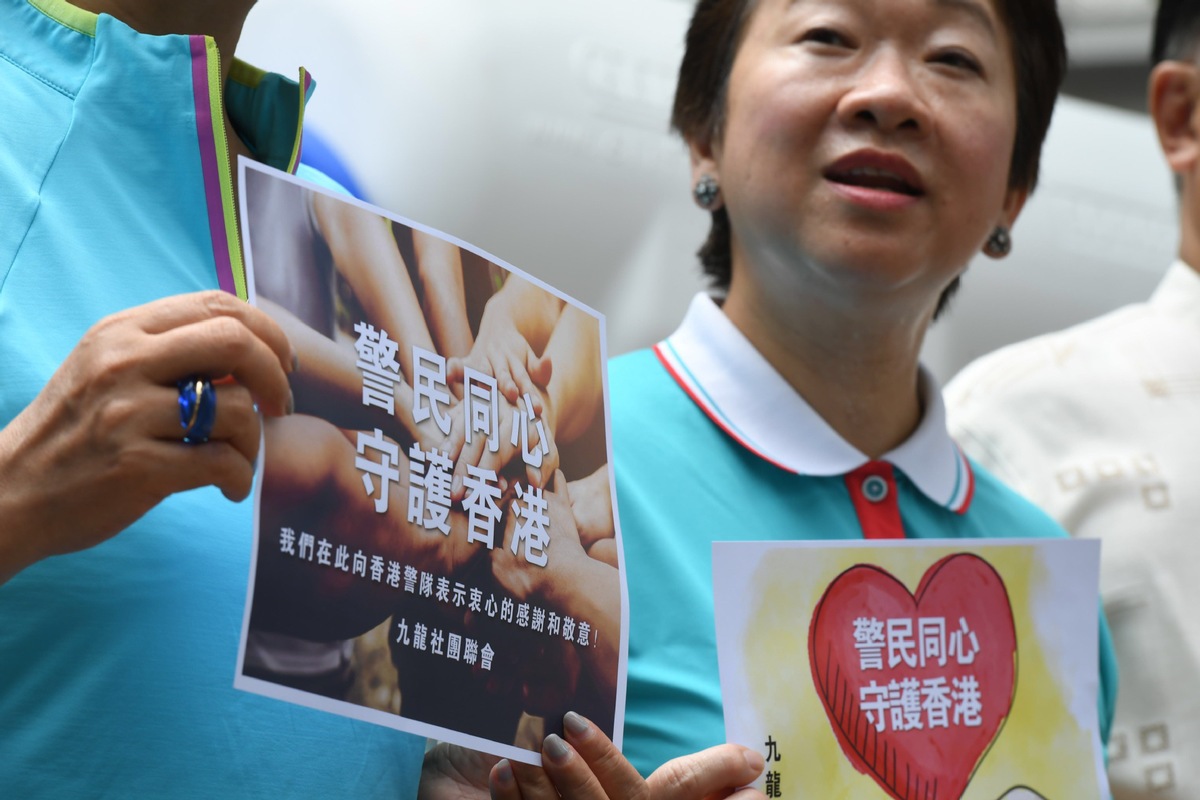 Local residents present greeting cards to policemen at the Kwun Tong Police Station in Hong Kong, August 10, 2019. [Photo/Xinhua]
  Riot suspect grounded
  In a separate development, the city's major airline, Cathy Pacific, confirmed on Saturday that a Hong Kong pilot charged with rioting for taking part in a recent protest has been grounded.
  On Friday, the embattled airline received a warning from the Civil Aviation Administration of China, the national aviation regulator, over the possible safety risk the pilot posed and queries from passengers and the public.
  The airline also confirmed that two of its employees had been dismissed for misconduct.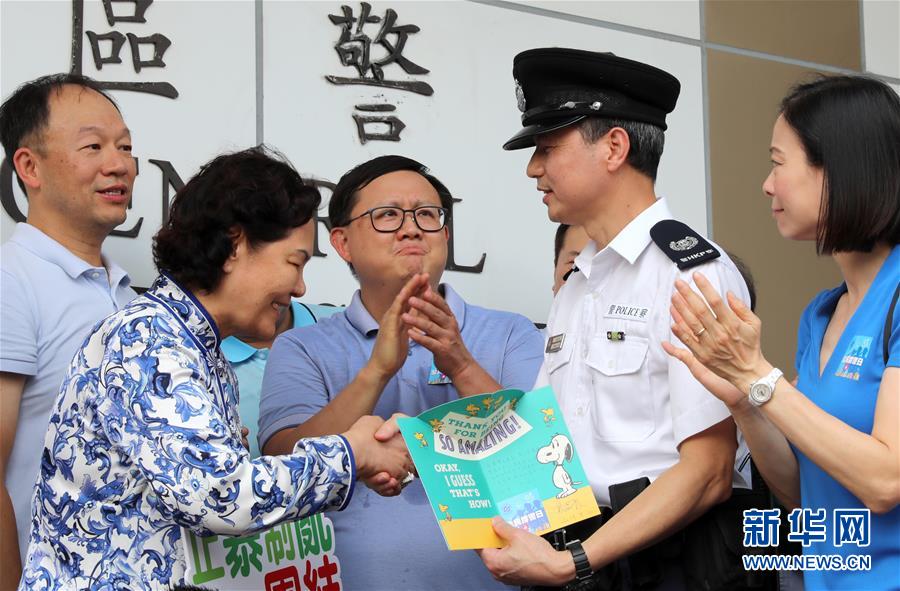 Local residents present a greeting card to a policeman at the Central Police Station in Hong Kong, August 10, 2019. [Photo/Xinhua]
  In Beijing, the Foreign Ministry urged the United Kingdom to stop interfering in China's internal affairs and to refrain from making random, inflammatory accusations regarding Hong Kong.
  The refutation came after the British Foreign Office said that new Foreign Secretary Dominic Raab spoke by telephone on Friday with Lam about the situation in Hong Kong.
  "I'd like to point out that Hong Kong today is a special administrative region of the People's Republic of China. Long gone are the days when it was under British colonial rule," Foreign Ministry spokeswoman Hua Chunying said on Saturday.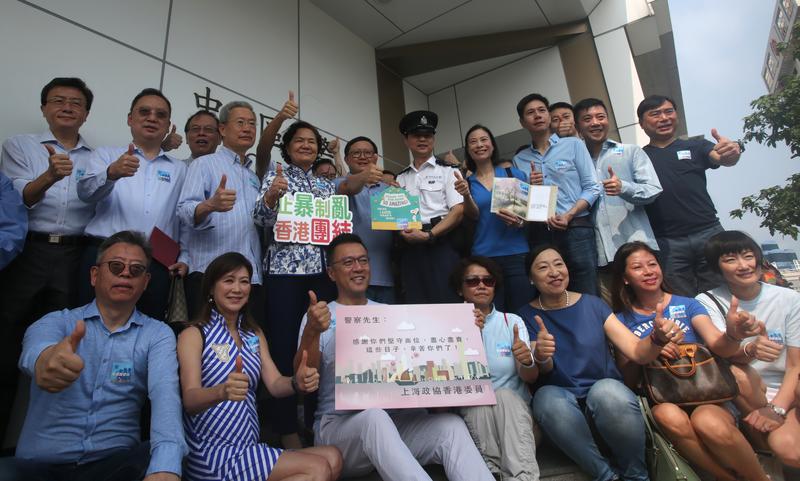 Groups of local residents gather outside the Central Police Station to show support for the Hong Kong Police Force, known as "Asia's finest", on Aug 10, 2019. [Photo/China Daily]